Lib Leaders Lock Horns
4 min read
<p><img width="802" height="404" src="https://tasmaniantimes.com/wp-content/uploads/2020/01/Libspill2.jpg" alt="Liberal leaders"></p> <p>The immediate future of Tasmania will be with either Peter Gutwein as Premier and Jeremy Rockliff as his Deputy, or Michael Ferguson as Premier and Elise Archer as his deputy. The matter will be decided at a meeting of the Liberal Party parliamentary wing on Monday, scheduled for midday. It will be first Liberal party […]</p> <p>The post <a rel="nofollow" href="https://tasmaniantimes.com/2020/01/lib-leaders-lock-horns/">Lib Leaders Lock Horns</a> appeared first on <a rel="nofollow" href="https://tasmaniantimes.com/">Tasmanian Times</a>.</p>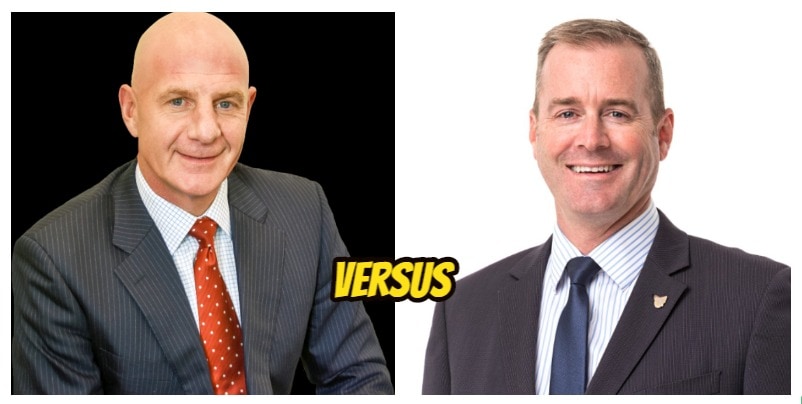 The immediate future of Tasmania will be with either Peter Gutwein as Premier and Jeremy Rockliff as his Deputy, or Michael Ferguson as Premier and Elise Archer as his deputy. The matter will be decided at a meeting of the Liberal Party parliamentary wing on Monday, scheduled for midday. It will be first Liberal party leadership vote in government since 1996 when Tony Rundle became Premier.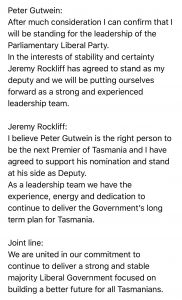 Little has been said publicly by the challengers, whose battle is presently to garner support of colleagues rather than the public. The Gutwein-Rockliff team they were "united in our commitment to strong and stable majority Liberal government focused on building a better future for all Tasmanians."
The Bass and Braddon MHAs would bring a wealth of experience to the top jobs, having both been in the Parliament since 2002. They are generally seen as moderates and would appear to be the business-as-usual choice to follow in the footsteps of Will Hodgman who resigned on 14 January.
Peter Gutwein is currently Treasurer and Minister for Environment, Parks and Heritage. Jeremy Rockliff holds the ministerial portfolios of Education and Training, Mental Health and Wellbeing, and Sport and Recreation.
Unofficial polls (such as by WIN Tasmania and psephologist Kevin Bonham) and general sentiment of political analysts has the Gutwein team as favourites. Their strength is greater popularity and experience. Ferguson and Archer have more appeal to party conservatives and in theory they hold the numbers.
They also have the advantage of being a north-south and a male-female duo and hence offering a broader representation than two male northerners. Ferguson gained a high profile while Health Minister, although it is also a vulnerability; he was moved sideways from that portfolio after numerous crises, including ambulance ramping and delays in the Hobart Hospital redevelopment.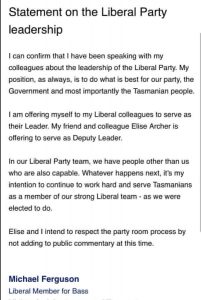 Michael Ferguson is currently Minister for Infrastructure and Transport, Science and Technology, Small Business, and State Growth. Elise Archer was elevated to the ministry in late 2017 after previously serving as Speaker. She holds the portfolios of Corrections, Arts, Building and Construction, Racing, and Justice.
It's complicated
Technically there are 15 votes available, being the 13 Members of the House of Assembly plus the 2 Legislative Councillors. Will Hodgman has stated he does not intend to vote, with the ballot to be carried out before his replacement has been elected. There is also speculation that estranged Speaker Sue Hickey may not be allowed to vote. A further complication is that Health Minister Sarah Courtney and Jacquie Petrusma are overseas and will have to cast their secret ballots remotely.
Apart from conviction and personal or factional alliances, Liberal members of Parliament must surely be considering what is in it for themselves. Among backbenchers Rod Tucker, Jacquie Petrusma, Joan Rylah (all House of Assembly), Leonie Hiscutt and Jane Howlett (both Legislative Council) there are enough votes to sway the leadership contest. With the new Premier needing a complete cabinet overhaul, they are all in the mix for a ministry.
The Labor Party meanwhile are taking the opportunity to slam the Liberals for disunity. "What we've seen in recent days is a Liberal party more consumed with itself than the very real problems facing Tasmania," said Opposition leader Rebecca White.
"The Liberal government has a budget in tatters, people are waiting too long for important surgery and secure housing, people are paying the highest rents in the country while taking home the lowest wages, and many feel left behind by a government that has touted a 'golden age' but done nothing to address growing inequality in this state. This is precisely the wrong time for the government to be tearing itself apart at the seams."
Labor MHA for Braddon Dr Shane Broad predicted the party-room meeting would be ugly. "We know that Sue Hickey and Elise Archer have been poisoning each other politically for years," said. "Their cold war was heating up after the Attorney General blacklisted the rogue Speaker from campaign materials late last year."
Sue Hickey has been highly critical of both Michael Ferguson and Elise Archer, and Broad believes she is backing Gutwein and Rockliff in an attempt to dull Ms Archer's ambitions. "It looks like the next Premier will be decided by a couple of votes, which means this broken relationship could define the future of our state. This is personality politics at its worst."
The Tasmanian Greens have not commented on the leadership battle but have instead noted that the changing of the guard is an opportunity for a fresh approach. "While Tasmania has experienced some good fortune and economic growth during Will Hodgman's time as Premier, there needs to be a much stronger emphasis on tackling social inequality, the impacts of global heating on this island and its people, and on setting a genuinely sustainable course for the future," said Greens leader Cassy O'Connor.
---
For comments, please see our Forum topic.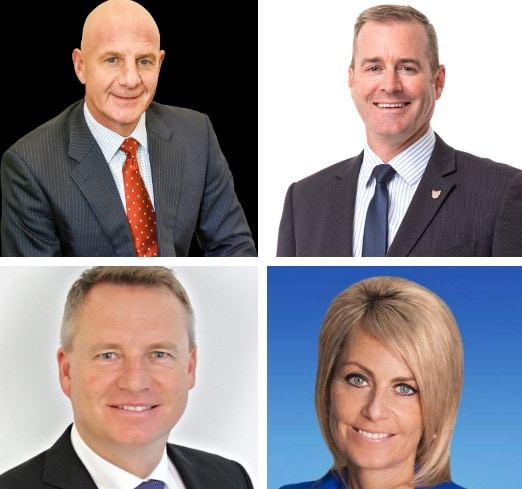 The post Lib Leaders Lock Horns appeared first on Tasmanian Times.
Source: Tasmanian Times https://tasmaniantimes.com/2020/01/lib-leaders-lock-horns/#utm_source=rss&utm_medium=rss&utm_campaign=lib-leaders-lock-horns