Letter from Papua New Guinea – the Army
5 min read
<p><img width="633" height="383" src="https://tasmaniantimes.com/wp-content/uploads/2020/01/Japanese_120mm_Gun_WC.jpg" alt=""></p> <p>Touchdown. I breathe a sigh of relief. Crossing the PNG highlands with the attending updrafts hasn't been pleasant. Landing in Wewak we exit the Army caribou to be hit by searing heat and humidity. A Sergeant from the Pacific Islands Regiment who doesn't appear to be discomforted greets us with a wave in the general […]</p> <p>The post <a rel="nofollow" href="https://tasmaniantimes.com/2020/02/letter-from-papua-new-guinea-the-army/">Letter from Papua New Guinea – the Army</a> appeared first on <a rel="nofollow" href="https://tasmaniantimes.com/">Tasmanian Times</a>.</p>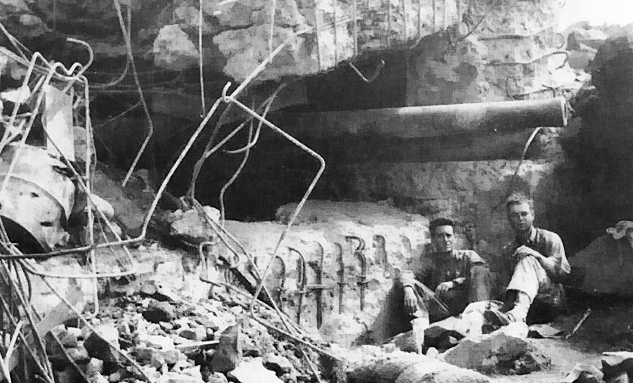 Touchdown. I breathe a sigh of relief. Crossing the PNG highlands with the attending updrafts hasn't been pleasant.
Landing in Wewak we exit the Army caribou to be hit by searing heat and humidity. A Sergeant from the Pacific Islands Regiment who doesn't appear to be discomforted greets us with a wave in the general direction of a personnel carrier.
We stare at the truck in amazement. "The damn thing doesn't have windows," exclaims a colleague. "How long is the ride to 2PIR?"
 "About two hours. Sorry about the transport. You'll get used to it. Don't blame me. Transport unit," he answers in a staccato manner.
 The ride to 2PIR in a windowless tin vehicle in stifling conditions is somebody's sick joke. Dehydration is imminent, a resultant death a distinct possibility, but after only twenty minutes the potential coffin on wheels slows to a crawl. Voices beyond the tin walls announce our arrival.
The 2nd Battalion of the Pacific Islands Regiment is located on one of four peninsulas, each the shape of a light bulb jutting into the Bismarck Sea. Cape Moem or 'Army peninsula' is about five kilometres past 'Hospital peninsula' which in turn is about four kilometres down the track from Wewak Point, colloquially known as 'Town peninsula'.
On 18 December 1942 four Japanese ships moored off the end of Wewak Point. Soon after, the ships' landing craft unloaded two thousand soldiers and supplies onto the beach. The Point was established as headquarters for the Navy in the region. Within months the entire peninsula was riddled with caves and bunkers. Rusted steel and jagged skeletons still remain – monuments to a failed mission.
Inland from Wewak, on an escarpment originally settled by missionaries, stands a row of heavy artillery installed to repel an anticipated Australian attack. Mission Hill provides an unimpeded view over the town. Now overgrown by jungle, the guns still point skywards in the general direction of Wewak Point.
The remaining peninsula, Cape Wom, was where Lieutenant General Adachi of the Imperial Japanese Forces signed the official surrender and handed his sword to Major General Robertson on a sweltering 13 September 1945.
2PIR has the appearance of a tropical paradise. Beautiful frangipani trees line the roads. Well-manicured lawns surround a gymnasium, a swimming pool and the married officers' quarters. Near the end of the peninsula stand two totem poles forming the entrance to the Sergeants' Mess and our living quarters.
Our truck turns sharply and grinds to a halt. As we pour ourselves out of the sweatbox and meander around admiring the surroundings, a thunderous roar greets us, "Get off my parade ground!"
An early warning to the rest of us that the Battalion Commanding Officer doesn't just have a loud voice, he angrily sits all day looking out his window waiting for someone to step onto his grass.
The Education Corps Headquarters is a two-story building with a breezeway in the centre. One of the outgoing Sergeants suggests we assemble there and wait for a formal greeting.
Captain Gus Dumont arrives shortly thereafter and all of us silently make the assumption that 'Gus' may not be his real name but one assigned by others in recognition of his goose-like appearance.
"Welcome to the second battalion of the Pacific Islands Regiment," he yells. "Some of you will serve two years here under my command. Others, the more intelligent of you, will recognise the importance of the Australian Army's presence here and will stay. I am your Officer in Charge; you will take instructions from me and me alone."
"You will be assigned an office which you will share with a colleague. In that office there is a microphone and speaker that links each of your offices with mine. That system is to be left turned on at all times. Is that clear?"
A control freak. He intends listening to our conversations.
Dumont's question is rhetorical. He pushes on. "You will report here at 0730 tomorrow. You will acknowledge me with a salute as you march past my office."
I can't resist a smile. Ego, Gus, ego!
"What are you smiling at Sergeant?"
Oops. "It's not a smile sir. I have a pain in my stomach."
"Have a shit! What is your name?" I tell Captain Dumont. Uninterested, he continues, "You will assemble here, at this very spot, and receive your chloroquine tablets for the day. You will not catch malaria; it is an offence to do so. Any questions?"
Without taking a breath presumably lest someone asks a question Dumont pushes on, "At the end of your working day you will march past my office and salute as you leave."
The others glance sideways to see my reaction. I am trying hard to contain my smile but do so lest I am marched to the toilet.
 *          *          *
 "Sergeant Walsh. Get down here."
Rory Walsh is the outgoing Sergeant responsible for teaching the agricultural course at 2PIR. He has just returned from showing us the small farm, including the pis pond – Melanesian Pidgin for "fish pond" (the locals can't sound their effs) – a small freshwater aquaculture project.
"Yes sir," Rory yells as he approaches Captain Dumont's office.
"Those cannas, they're not in a straight line. Straighten them," Dumont barks.
Adjacent to the road at the front of the Education Corps building and in full view of the OC's office stands two rows of deep red and yellow cannas in full bloom. Stunningly beautiful. Apparently seeing the opportunity to give us new boys a lesson on how to deal with Gus, Rory approaches the cannas with a smirk on his face.
Standing to attention at the end of the first row Rory intently looks down the line and then, to everyone's surprise, yells "third canna from the end two steps forward, move!"
At that Rory wonders off to his barracks leaving the rest of us laughing loudly. Whether he is embarrassed or not we'll never know because Captain Dumont simply pretends it never happened.
---
Gordon d'Venables has been, inter alia, a teacher, soldier, farmhand, lawyer and businessman. As a lawyer he travelled extensively for international clients. His letters from various times and places around the globe (PNG, England, Ireland, France, USA, Saudi Arabia, Serbia, Iran and others) refer to some of his experiences.
Images public domain via Wikimedia Commons.
The post Letter from Papua New Guinea – the Army appeared first on Tasmanian Times.
Source: Tasmanian Times https://tasmaniantimes.com/2020/02/letter-from-papua-new-guinea-the-army/#utm_source=rss&utm_medium=rss&utm_campaign=letter-from-papua-new-guinea-the-army