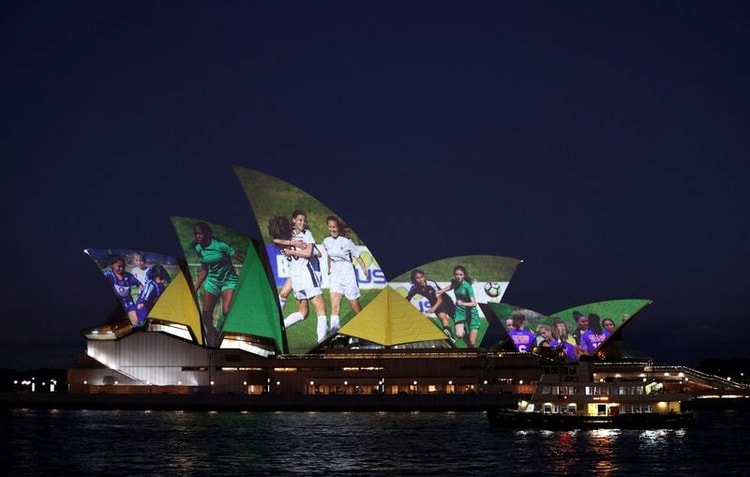 Launceston could possibly host 3 Women's Football World Cup matches after Australia and New Zealand won the joint hosting rights.
Launceston's UTAS Stadium was nominated as one of 12 potential cities to be used, with the final stadium decision to be made by FIFA at a later date.
The joint bid for the 2023 event beat out the bid from Colombia in a 23-12 vote that took place in a meeting of FIFA delegates overnight.
Football Tasmania CEO Matt Bulkeley said the successful Australian/New Zealand bid would help take women's football to the next level in Tasmania.
"27 per cent of all Tasmanian football players are female, meaning Tasmania already has one of the highest levels of female participation in the country," he said. "Our short-term goal is to see female participation rise to 30 per cent of our total registration base and having the FIFA Women's World Cup played in Australia will go a long way to helping achieve this."
Bulkeley said that regardless of where held, every four years the Women's World Cup caused 'a great spike' in new girls signing up to play football.
"We're optimistic that following this exciting announcement, female football in Tasmania will see an even bigger spike in participation than usual," he continued.
"The Matildas are already one of Australia's favourite sporting teams and have demonstrated their ability to inspire young girls, and boys too, to play football and follow their dreams of wearing the green and gold. Who knows, having the World Cup on Australian shores might even help Tasmania uncover its next Matilda?"
Although Tasmania has had players called up for the Young Matildas in recent years, the state has not had a breakthrough representative in the senior side.
Tasmanian Premier Peter Gutwein said the government was very proud to have contributed to and supported the bid. "This is a great win for football in Australia and presents some excellent opportunities for Tasmanian fans to enjoy world-class football stars here in our state," he said.
Minister for Sport and Recreation, Jane Howlett, said the Women's World Cup is a major event on the international sports calendar. "It has the ability to attract global media presence and significant broadcast audiences around the world, and we welcome the enhanced economic and social benefits this tournament will bring," she said.
This will be the first ever co-confederation hosted FIFA World Cup, the first ever FIFA Women's World Cup to be held in the Asia-Pacific region, and the first ever WWC to be held in the southern hemisphere.
According to FIFA research, total television audience reached for the 2019 Women's World Cup tournament was 993.5 million people. The estimate rises to 1.12 billion with digital media audiences included.
The Women's World Cup final drew an average audience of 82.18 million in-home viewers – 56% more than the 2015 final. The United States' 2-0 win over the Netherlands in Lyon, France, reached 263.62 million viewers for at least one minute of action.
Launceston's role
Tasmanian Times understands that the selection of the stadiums World Cup is largely based on technical requirements such as stadium suitability for players, fans and media; suitable team facilities such as hotels and accommodation; and logistics such as transport.
Use of York Park would at a minimum require the installation of extra (temporary) seating. Football Tasmania's role at this stage is to work with the state government to ensure that any required upgrades and adaptation can be completed.
Estimated upgrade costs in the bid document were budgeted as US$2,873,865 (indexed to 2023). Buses are envisaged as the main spectator transport to the matches in Launceston.
Proposed matches at York Park are one group stage game, one round-of-16 game, and the 3rd-v-4th playoff for official third place. Scheduling is for World Cup 2023 matches to take place over July and August of that year.
Other proposed host cities are Sydney (Stadium Australia and the rebuilt Sydney Football Stadium), Brisbane, Newcastle, Melbourne, Adelaide and Perth in Australia, as well as Wellington, Auckland, Christchurch, Hamilton and Dunedin.
Regardless of (current) UTAS sponsorship of the venue, it will be known as York Park for the World Cup as all stadia used must be 'clean' of non-FIFA names and signage.
Source: Tasmanian Times https://tasmaniantimes.com/2020/06/launceston-in-frame-for-womens-world-cup/#utm_source=rss&utm_medium=rss&utm_campaign=launceston-in-frame-for-womens-world-cup