Labor Calls for Inquiry into Insecure Work & Wage Theft
2 min read
<p><img width="400" height="266" src="https://tasmaniantimes.com/wp-content/uploads/2020/02/WageTheft_X.png" alt=""></p> <p>Tasmanian Labor have called for allegations of worker exploitation in seasonal fruit picking operations in Tasmania to be investigated. Shadow Minister for Workplace Relations Michelle O'Byrne said anyone who works in Tasmania deserves fair conditions and protection from exploitation, including foreign workers. "Most people would be horrified to hear of the living and working conditions […]</p> <p>The post <a rel="nofollow" href="https://tasmaniantimes.com/2020/02/alp-enquiry-wage-theft/">Labor Calls for Inquiry into Insecure Work & Wage Theft</a> appeared first on <a rel="nofollow" href="https://tasmaniantimes.com/">Tasmanian Times</a>.</p>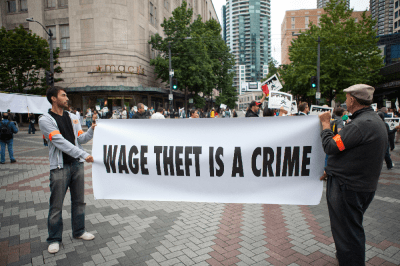 Tasmanian Labor have called for allegations of worker exploitation in seasonal fruit picking operations in Tasmania to be investigated.
Shadow Minister for Workplace Relations Michelle O'Byrne said anyone who works in Tasmania deserves fair conditions and protection from exploitation, including foreign workers.
"Most people would be horrified to hear of the living and working conditions for these people," she said. "For this to be occurring under a government scheme is even more concerning."
Ms O'Byrne said a Parliamentary inquiry into worker conditions is needed. Labor declared they will seek to establish a Parliamentary Inquiry in 2020 into wage theft and insecure work.  She claimed that in other jurisdictions 'reputable employers' want to have proper scrutiny to ensure the industry operates appropriately.
Overcrowding and exploitation
The call came following the evacuation last week of approximately 77 Tongan seasonal workers from a five-bedroom house in Shearwater due to overcrowding and inadequate conditions. The Latrobe Council was grilled in a packed council meeting on Monday about its handling of the situation.
Mayor Peter Freshney admitted there were concerns around the building's fire security. Tasmanian Times understands that at least one other property in the municipality, in Wesley Vale, is under investigation.
Criticism has also come in for Burnie Mayor Steve Kons over his lease of a property to third-party labour supplier Owen Pacific Workforce, based on the Gold Coast, which is engaged by fruit company Costa. Allegedly crowded, dirty and unsafe conditions have been criticised by the unions.
"It's shocking to see an employer going to great lengths to create squatter-like conditions at the consequence of a whole lot of workers over here to support the farming industry," Daniel Walton, national secretary of the Australian Workers' Union, said.
"Among the allegations we're hearing this week is that money is being held from workers' wages to pay for debt the company says is owed," said O'Byrne. "There is a need for new wage theft laws to combat systematic, widespread or blatant under and non-payment of wages and other employment benefits. Such an inquiry must not be limited in a way that would prevent investigation of labour hire practices."
The Tasmanian government and the Greens have been contacted for comment.
The post Labor Calls for Inquiry into Insecure Work & Wage Theft appeared first on Tasmanian Times.
Source: Tasmanian Times https://tasmaniantimes.com/2020/02/alp-enquiry-wage-theft/#utm_source=rss&utm_medium=rss&utm_campaign=alp-enquiry-wage-theft