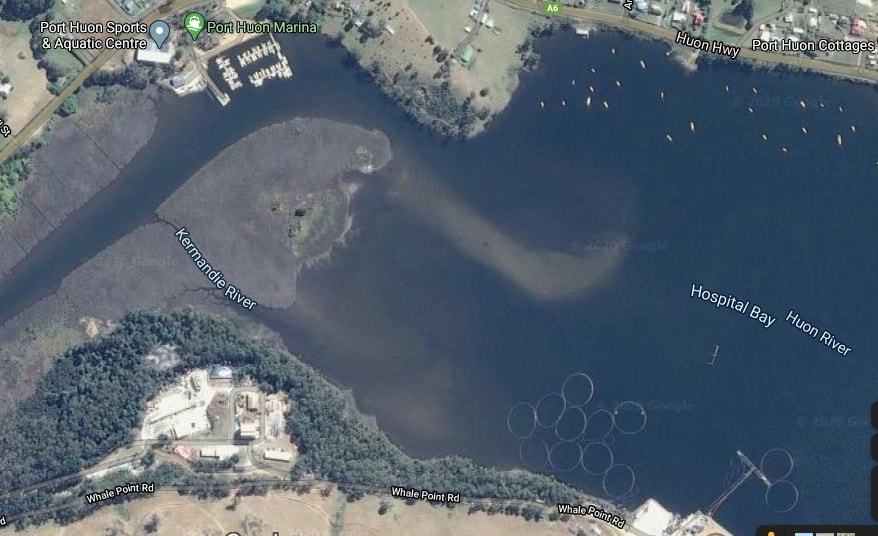 The fish farmer's Facebook excuses are not the legal defence they presented in court recently.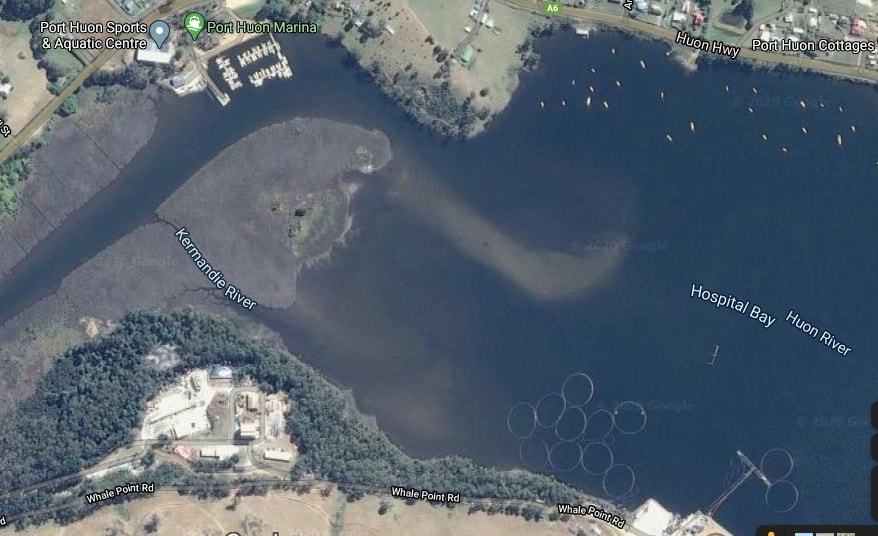 ex Post Facto
– Huon Aquaculture is making excuses in Retrospect
Industrial fish farmer, Huon Aquaculture, makes an absurd defence following its recent conviction for endangering the environment in the vicinity of Whale Point on Tasmania's Huon River.
In court it pleads guilty to environmental charges. Afterwards, when its managers and executives can never be challenged under oath, it presents excuses in a Facebook post.
In the post, Huon repudiates its own lawyer who told the Hobart Magistrates Court it accepted full responsibility for the offences. The lawyer, barrister Phil Zeeman, acknowledged the charges to which it pleaded guilty were serious matters. He even went on in court to say Huon apologised to the community for its failings.
On Monday, Huon pleaded guilty to, and was was convicted of, six environmental crimes.
By Wednesday (ex post facto) a terrible injustice seems to have occurred against the company.
Huon's defence amounts to:
the state's Environmental Protection Authority's rules are out of date and don't suit its operations and (presumably) should be ignored.

the area was historically an industrial site so it's fine that Huon dumped contaminated waste on to it – despite the land running down right on to the Huon River.

the magistrate (who let Huon off with a wrist-slapping fine of just $40,000) was wrong to say Huon's environmental management was clearly not a priority.
None of these excuses (they're too transparent to call them 'defences') were used in court.
They not only repudiate what Huon Aquaculture admitted through their representative but they totally fail to address the substance of the offences.
The company apparently does not appreciate Mr Daly's gentle summation of the events to which Huon Aquaculture pleaded guilty nor his generously light penalty of just $40,000 for threatening a sensitive environmental region – the foreshores of the Huon River – over a five-month period in 2018.
In its Facebook post, the company says "We totally reject claims that environmental management is not a high priority across the company."
By contrast, magistrate Daly stated, "It is something of a mystery as to how it was that the EPN [Environmental Protection Notice] was not at the forefront of the company's operation for such an extended period."
Mr Daly also said "… it was probably incumbent on the company after the 28 February [2018] incident to … have tumbled to the obvious situation that the company was governed by an EPN in regards to this particular situation and that, of course, had the force of law."
The company's attention to its environmental obligations, far from being a 'high priority' was so lax that its employees and managers did not even know about the regulations under which they were operating.
Of one visit by EPA Inspectors on 28 May 2018, Magistrate Daly said, "This time they found another situation where liquid waste water was draining from a pipe and dispersed into bushland near Hospital Bay and the salt marsh which is … close to 20 metres of the foreshore.
That waste water contained concentrations of ammonia, coper, zinc and lead at concentrations of environmental concern and at 80 times the acceptable threshold for protection of 95% of marine species. [Bold highlight by author]
"It is submitted that those concentrations would have been toxic to a range of marine species and would contribute to the environmental loads of any other deposits at the site. [The EPA's expert] led him to conclude that marine organisms such as juvenile and small fish, fish eggs and crustaceans and worms in the salt marsh would have been at risk as a result.
"An underlying cause of this was the company's failure to ensure that its people who were responsible for the activity of the [fish pen] net wash operation were familiar with the conditions of the EPN."
(By way of self-exculpation Huon Aquaculture's Facebook post states: "The discharge of this sediment and water onto Huon land was undertaken by staff who thought it would be beneficial to the land and would not cause harm."
Huon Aquaculture's attempts to exculpate itself do not to address the EPA's conclusions that highly-polluted discharge waste potentially endangered marine life in the salt marshes.
The company's Facebook post fails to reflect the fact that the company broke the rules not once, not twice but six times – despite repeated warnings from the EPA.
The facts are clear: breaches of environmental regulations were detected during sporadic, unannounced visits by EPA inspectors to Huon Aquaculture facilities on the Huon River. For their work in enforcing the law, the inspectors and the EPA are being condemned on Huon Aquaculture's Facebook page.
Huon Aquacuture's 'rotten luck'
Huon's excuses, in essence, claim the company's been amazingly unlucky: it just so happens that on the very days that inspectors arrived unannounced some very unfortunate things were happening on site.
By a terrible coincidence, on one day when the inspectors appeared 80-thousand litres of highly-polluted waste water was being pumped on to land that runs down to the Huon River foreshores. This because of broken equipment and employees ignorant of their responsibilities to environmental law.
In another unfortunate coincidence, inspectors arrived after heavy rain and found more toxic water had overflowed from holding facilities and was flowing down towards environmentally sensitive salt marshes on the Huon River.
A further coincidence resulted in inspectors happening to arrive on a day when there were uncovered fish pen nets (covered in anti-foul) pulled up ashore – again in breach of regulations.
Magistrate Mr Daly said "… as regards the [five-month] period over which the offending occurred … the Whale Point site is adjacent to Hospital Bay on the Huon River which is an area used for recreational fishing for trout, white bait [and] fish farming. I'm told it's an area of environmental significance [and] that threatened fish species have been found there.
"Sentencing in environmental matters must serve the purpose of general and public deterrence, a matter which is always highly relevant in matters such as this."
Since the six charges were never properly tested in court we will never know for sure why Huon Aquaculture flouted its environmental obligations. By pleading guilty, no employees, managers or executives had to give evidence under oath or face cross-examination.
It may be that the company regularly and knowingly breaks the rules because, as it states on its Facebook post: "So, yes, we were in breach of an outdated and nonsensical EPN talking about procedures and processes that we had ceased over 7 years before."
This implies that if the rules don't fit, they may be ignored. Hardly any of the 'facts', excuses or reasons that Huon Aquaculture puts in its Facebook post were put to the court as exculpation.
The company pleaded guilty and is now justifying itself in retrospect – in essence, it is re-writing history to suit its propaganda.
One is left to wonder that if the EPA had more inspectors and greater resources whether Huon Aquaculture, Tassal and Petuna might face court proceedings more often – or if their practices would be forced to change to reflect legislative and community expectations.
---
TASMANIAN TIMES: Huon Aquaculture Convicted of Environmental Breaches.
TASMANIAN TIMES: Industrial Fish Farmer, Huon Aquaculture, Guilty on Pollution Charges.
Source: Tasmanian Times https://tasmaniantimes.com/2020/05/huon-aquaculture-making-excuses/#utm_source=rss&utm_medium=rss&utm_campaign=huon-aquaculture-making-excuses