EXCLUSIVE: A chain of emails prove NSW Health knew about the risk of coronavirus aboard the Ruby Princess.
NSW Health has defended its actions to let passengers disembark from the Ruby Princess after exchanging emails with its physician and assessing the ship as "low risk".
A chain of emails, revealed last night by 9News, prove the department knew about the risk of coronavirus aboard the cruise, which has become Australia's COVID-19 epicentre.
Seven of the ship's passengers are now dead, more than 600 are infected with the coronavirus, and hundreds of sick crew members are awaiting test results.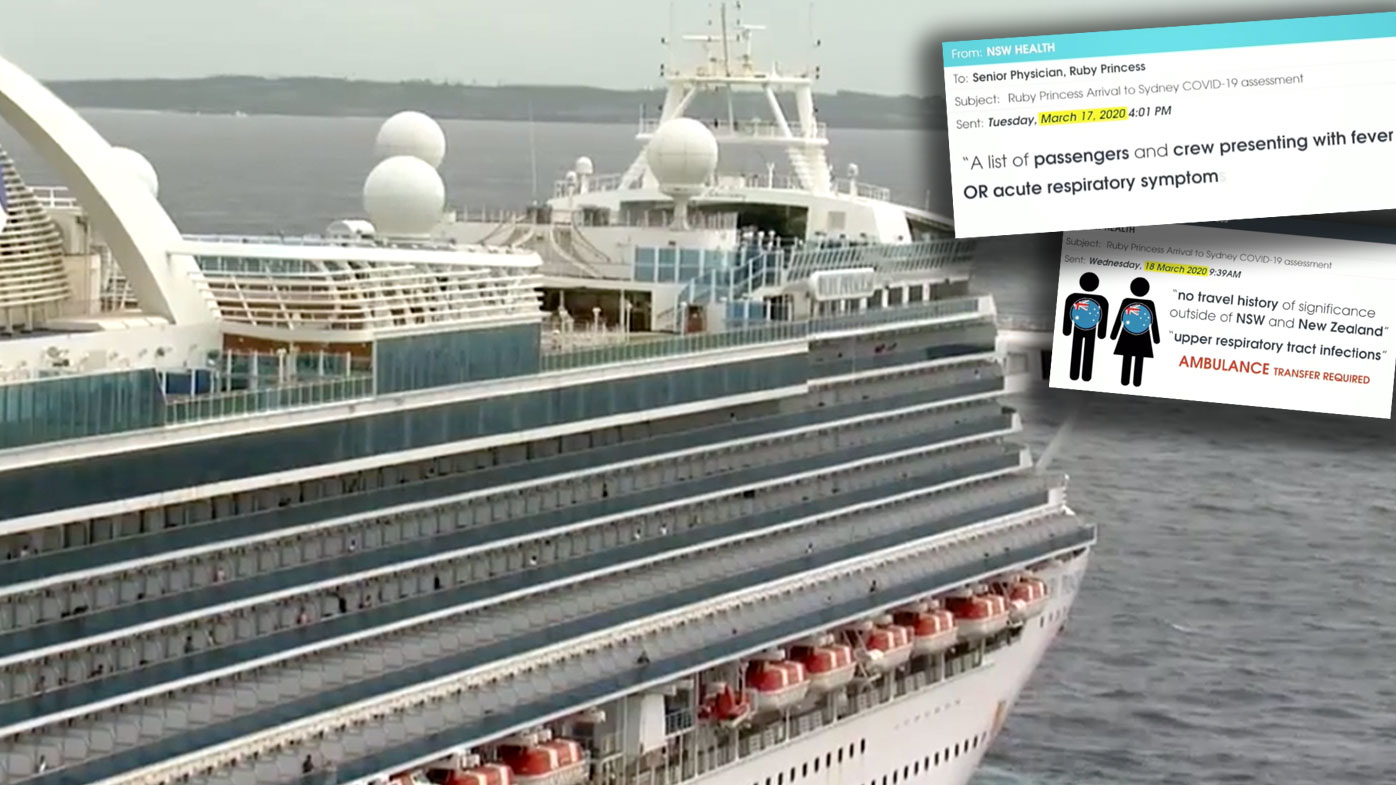 Last night, NSW Health said in a statement that during its assessment of the ship it balanced the risk of COVID-19 "against the benefit of removing passengers from a cruise ship on which the virus could be circulating".
"The Ruby Princess was assessed as low risk, based on the level of illness on board, the negative COVID-19 tests done on passengers while in New Zealand, and the positive influenza tests done on a large proportion of the passengers with influenza-like illness," it said.
The emails obtained by 9News reveal for the first time the correspondence between the ship's senior physician and NSW Health.
Two days before the vessel reached Sydney, NSW Health emailed the vessel.
The department asked for answers to eight questions, including a list of passengers and crew presenting with fever or acute respiratory symptoms, or both, and a list of any planned medical disembarkations.
The response from the Ruby Princess came the next day, confirming two Australians, a male and a female, with no travel history of significance outside of New South Wales and New Zealand, had upper respiratory tract infections and needed an urgent transfer to hospital.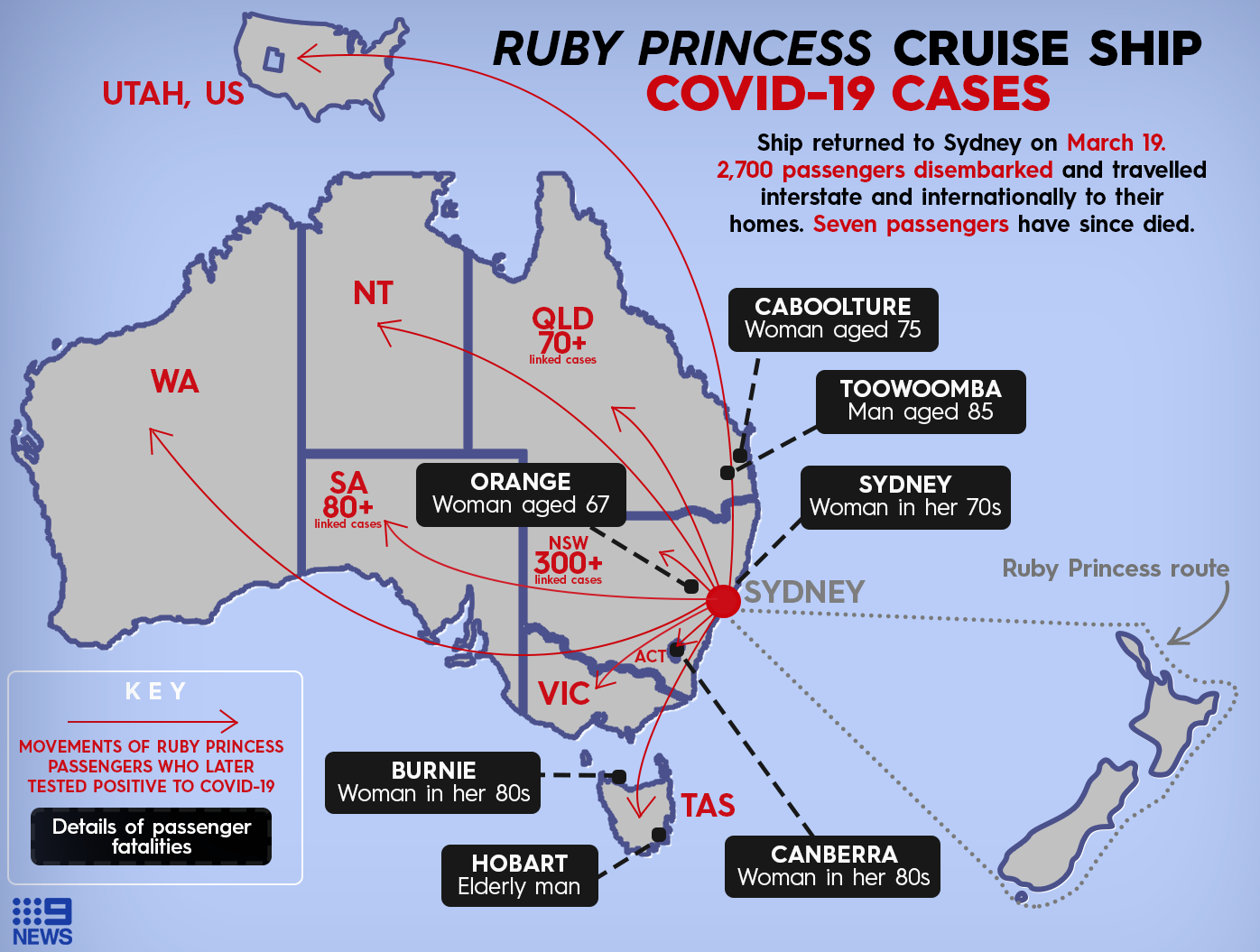 The ship's doctor told NSW Health they had collected viral swabs, but that they came back negative for influenza.
Later that afternoon, at 5.07pm, the health department responded.
"The NSW Health expert panel has assessed the Ruby Princess as not requiring on-board health assessment in Sydney," the department wrote.
"We could, however, ask you to send the 15 samples to our lab for COVID testing. You are free to disembark tomorrow."
In New South Wales alone, 340 people – 337 passengers and three crew – have tested positive to COVID-19.
The ship is still floating off Sydney, with more than a quarter of the 1000 crew on board sick and in isolation.
UPDATES: Queensland closes borders; global cases top one million; Outbreak at Sydney hospital
READ MORE: NSW warned about 'silent source' of COVID-19 as community-to-community transmission spreads
They are awaiting the results of coronavirus tests after medical crews boarded the ship yesterday.
Questions have been raised over who is to blame for the debacle, and this morning NSW Premier Gladys Berejiklian announced the state's police commissioner would be investigating.
Last week, Border Force Commissioner Michael Outram hit back at claims his officials were responsible for letting 2700 passengers off the ship.
Mr Outram instead laid the blame with NSW Health, saying his officers were only required to check visas and for contraband.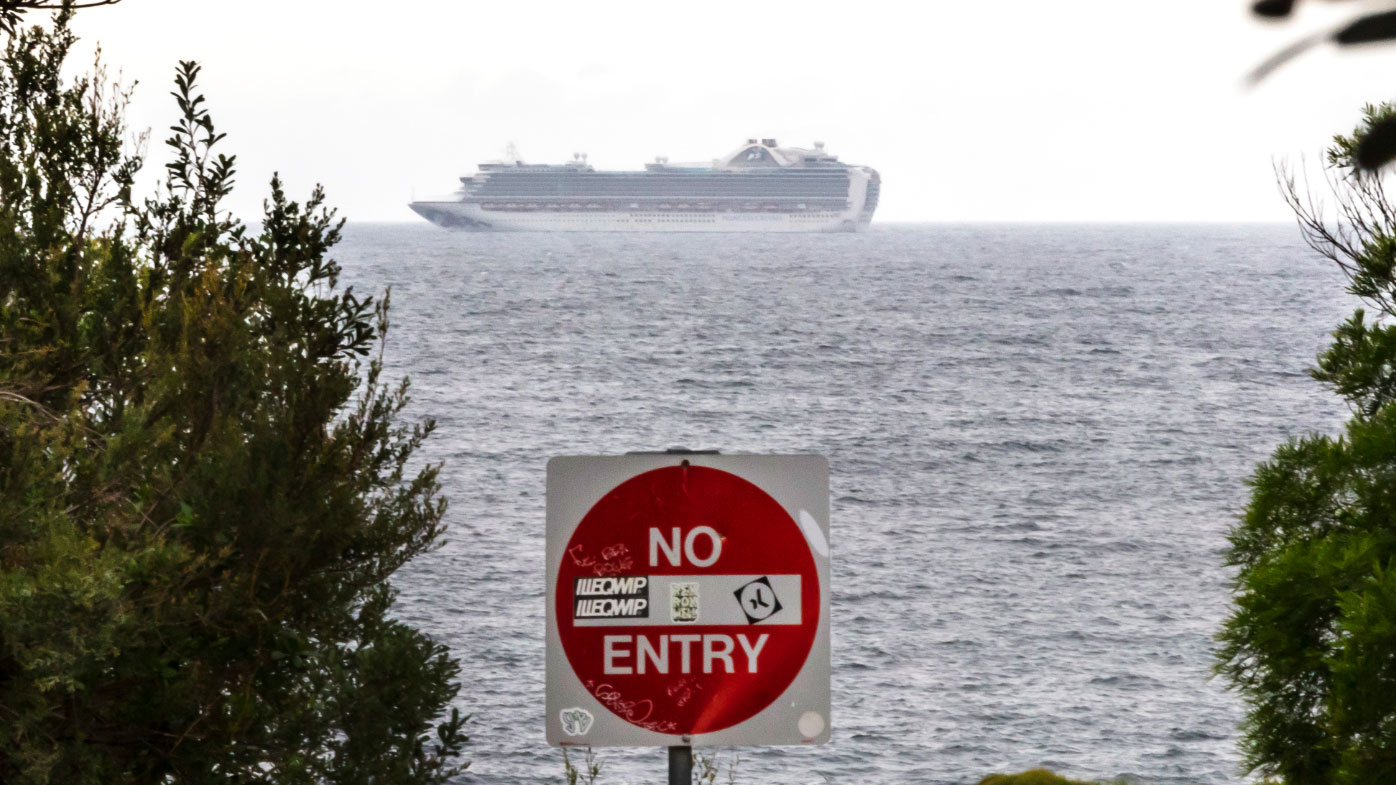 Yesterday, a 55-year-old man working on the vessel was evacuated for medical treatment and is being cared for in Sydney.
Police Commissioner Mick Fuller said today the man was taken off the ship because he needed "intense medical assistance".
"Yesterday there was an operation in relation to Ruby Princess, one man was taken off who needed more intense medical assistance," he said.
"We will continue to take anyone off those ships who requires New South Wales Health assistance.
"We're waiting for an update from Aspen in relation to the Ruby Princess and the condition of the crew."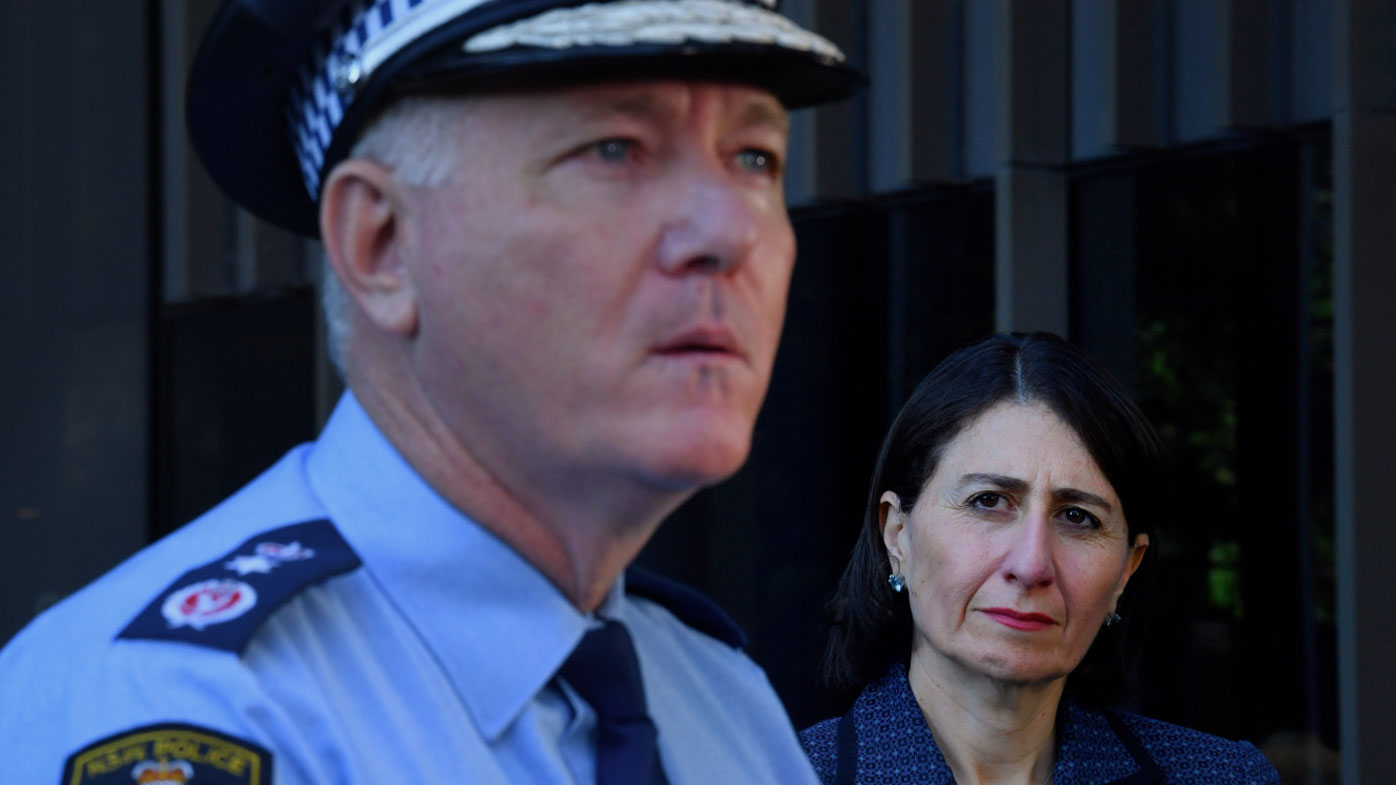 NSW Health's full statement:
 "To date there have been 342 confirmed cases of COVID-19 diagnosed in NSW in passengers who all acquired their infection while on, or in some cases, possibly before boarding the Ruby Princess cruise," they said.
"Transmission of COVID-19 amongst these passengers could not have been prevented by NSW Health staff. No cases of COVID-19 were identified on board the ship before it docked.
"The vast majority of these passengers reported they did not develop symptoms until after leaving the Ruby Princess.
"All passengers were advised to self-isolate for 14 days following disembarkation, which NSW Health has confirmed was provided by the Federal Department of Agriculture, Water and Environment
"Probable secondary transmission has been limited to 11 confirmed cases as of 3 April.
"International experience shows COVID-19 can rapidly spread among passengers if left on board, so self-isolation at home is a much safer option than leaving passengers on board.
"NSW Health had prepared plans in the event COVID-19 being identified on a cruise ship.
"On this particular voyage, it was known that influenza activity had been identified on the ship.
"The Ruby Princess was assessed as low risk, based on the level of illness on board, the negative COVID-19 tests done on passengers while in New Zealand, and the positive influenza tests done on a large proportion of the passengers with influenza like illness.
"The risk assessment process recognised that there is no "no risk" setting for COVID-19, but balanced the level of risk against the benefit of removing passengers from a cruise ship on which the virus could be circulating.
"Rapid influenza tests identify only a proportion of people who actually have the infection, meaning some people return a negative result even though they are infected with the flu. The illness and test results identified on board was consistent with influenza.
"This is reflected in email correspondence between NSW Health and the ship's doctor on the Ruby Princess who confirmed influenza was circulating on the cruise. However, in two sick patients referenced in the email, although they had tested negative to influenza, the cause of their respiratory infection was consistent with influenza for which they were receiving treatment.
"The reasons for ambulance transport requested by the treating doctor to NSW Health's assessment panel, were, one passenger had a heart condition likely caused by an infection which was responding to influenza treatment, and the second passenger was suffering severe lower back pain but was also receiving treatment for flu.
"Under the Commonwealth Department of Health cruise protocols, an ILI outbreak is defined when 'more than one per cent of the ships total passengers and crew have an influenza like illness'.
"The Ruby Princess had 2647 passengers and 1148 crew. The ship reported to NSW Health there were 104 acute respiratory infections of which 36 people had presented to the ship's clinic with influenza like illness during the cruise and its numbers fell short of the definition of an 'outbreak'.
"The Commonwealth Department of Health protocol on managing novel coronavirus disease (COVID-19 risk from cruise ship) states "provided there are no concerns about the COVID-19 risk profile of the ship or suspected COVID-19 cases reported …the ship may be allowed to continue voyage while samples are tested".
Deaths linked to the Ruby Princess
March 24 – A woman, in her 70s, dies in Sydney. She was originally from Queensland.
March 28 – A woman, 75, dies in Caboolture Hospital, Queensland.
March 29 – A woman in her 80s dies in North West Regional Hospital in Burnie, Tasmania.
March 30 – Elderly man dies at the Royal Hobart Hospital.
March 30-31 – A woman in her 80s dies in Canberra Hospital, becomes ACT's first victim.
April 1 – A woman, 67, dies in Orange Base Hospital.
April 2 – A man, 85, dies in Toowoomba, Queensland.
Source: 9News https://www.9news.com.au/national/coronavirus-ruby-princess-cruise-ship-epicentre-australia-nsw/41ea2774-6c76-4808-b330-88565ff2aea9