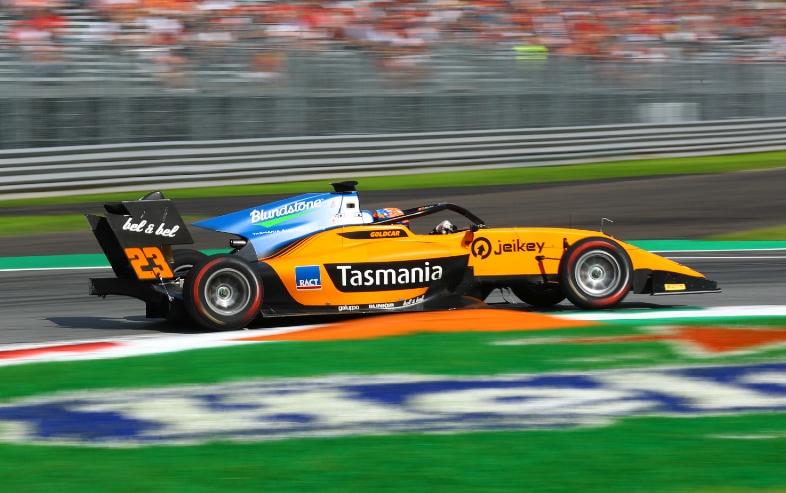 Location. Location. Location. It's the golden rule that underpins success in property and real estate – and motorsport is no different, explains 20-year-old Formula One aspirant Alex Peroni as he packs his bags in readiness for another long overseas flight. "If you want to do well in single seater racing, Europe is the only place […]
The post Hobart's Alex Peroni set to get Back on Track appeared first on Tasmanian Times.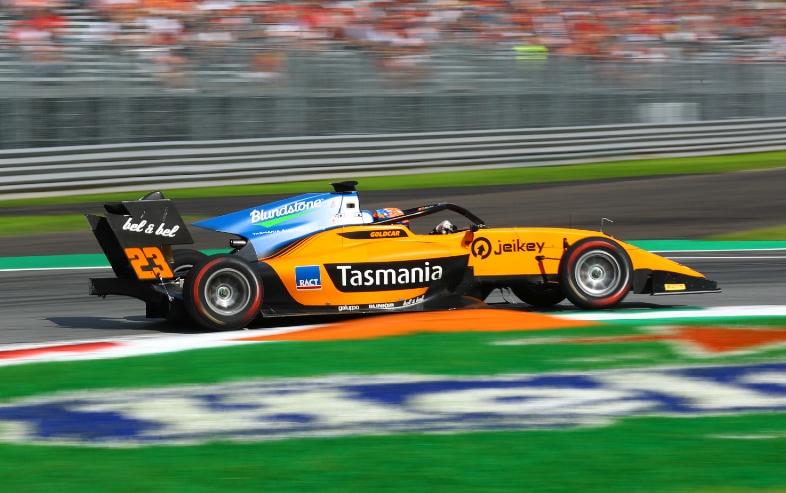 Location. Location. Location.
It's the golden rule that underpins success in property and real estate – and motorsport is no different, explains 20-year-old Formula One aspirant Alex Peroni as he packs his bags in readiness for another long overseas flight.
"If you want to do well in single seater racing, Europe is the only place to be," he says.
Peroni has pushed the re-set button on his international driving career as he heads to the Northern Hemisphere this week in readiness for an 18-race series in the 2020 FIA Formula 3 Championship that begins in Bahrain on March 1.
The Hobart-born driver made news bulletins around the world back in September when his Campos Racing open-wheeler clipped elevated track kerbing in a freak accident during the Italian round of the 2019 Formula 3 series.
Spectacular video footage shows the car being catapulted high into the air at the Parabolica, a renowned right-hand turn that precedes the start-finish straight at Monza's legendary race track. The bright orange vehicle with its Tasmania livery left the tarmac at 220km/h, barrel-rolling two-and-a-half times before striking safety barriers and catch fencing. Peroni came to rest upside down in his stricken vehicle, with startled safety marshals coming quickly to the aid of the unconscious driver.
Now fully rested after the incident left him hospitalised for five days in Italy with mild concussion and a fractured T6 vertebra in his spine, Peroni says he is looking forward to resuming competition again in the fiercely contested F3 category. He's spent almost four months recuperating in Hobart, constrained by an orthopaedic back brace that restricted all forms of physical fitness and training activity and only came off before Christmas.
"I don't have any recollection of the Monza crash at all," Peroni admits.
"I was knocked out for a short while. I was conscious pretty soon afterwards, but I have no memories of being helped out of the car nor of walking away and getting into the medical vehicle. I've seen the replays and it's like watching someone else – it's a bit weird – but I don't have any reservations about going racing again."
This will be the sixth year in a row Peroni has headed to Europe to pursue his dream of making his way to the top of his chosen field. His ultimate goal is to follow in the path of fellow Australian Daniel Ricciardo to secure a drive in Formula One, the single seater racing category most commonly regarded as the pinnacle of international motorsport.
Go-kart start
Peroni's family – his father Piero and mother Cathy in particular – have supported his endeavours every inch of the way. Indeed, he first strapped on a racing helmet at seven years of age, when he competed in a go-kart event at Orielton, outside Hobart. By the time he was 9 years old, Peroni had raced in karting events all over Australia and had even taken part in a test session with an Italian team while holidaying with his family at his grandparents' home in La Marche.
"I actually did a race with the team and finished fifth, so I guess you could say that was the start of my European career," Peroni smiles.
"Each year, we'd go back to Italy. From then onwards, I never got to compete in a full season of kart racing anywhere in Tasmania or on the mainland. We did a few State championship events and that was about it."
At 15 years of age, Peroni progressed to the FIA Formula 4 Championship, a globally-recognised stepping stone between karting and FIA Formula 3. Again, it was at the invitation of a team based in Italy. With the prospect of a full season of racing looming large in his mind, Peroni moved to Italy and established a home base with his father's parents.
Periodic racing success culminated in 2016 with Peroni winning 14 of 21 races in a single seater racing series called V de V Challenge Monoplace. That provided him with a championship title and the welcome attention of a handful of European motorsport teams. It also made Peroni the youngest Australian driver ever to win a single seater title in Europe.
A successful two-year campaign in the highly-regarded Eurocup Formula Renault 2.0 category in 2017 and 2018 prompted an invitation to test with Spain's Campos Racing as a prelude to its 2019 Formula 3 season.
The young Tasmanian's race-craft and professionalism soon earned him the respect and support of team principal Adrian Campos.

"I think he is a great talent," says the former Formula One driver and founder of Campos Racing.
"He is one of the best drivers we have had in the 21 years of Campos Racing. He is one who knows on the inside how to do his job. People respect him, because even though he is young he doesn't say stupid things. He works hard and shows his humility. He only says things that are important to improving his team's racing."
Peroni's crash during the penultimate round of his Formula 3 championship cut short a season of mixed fortunes. Ironically, Peroni looked set to record his best result in 13 races with Campos Racing. Within two laps of the start, Peroni moved from 13th position on the grid to 10th among a field of 30 highly-skilled drivers. By lap 8, the Tasmanian had moved to seventh, and was within reach of a position on the winner's podium when his car left the track with only four laps of racing remaining.
To add insult to injury, Peroni's 380bhp race car was written-off in the potentially fatal crash, leaving his cash-strapped Australian support team with a damages bill of $160,000. Unlike drivers competing in Formula One, those in lower categories like Formula 3 do not receive a salary during their racing season and are required to seek private investment and corporate sponsorship in order to fund their seat on the grid. Peroni also receives financial backing from State Government-owned instrumentality Events Tasmania.
This year's Formula 3 calendar will see Peroni competing in nine countries during his six-month race season. That will require an eye-watering annual budget of around $1.6 million to sustain the Tasmanian's race pace at close to 300km/h.
In mid-November, Peroni kissed goodbye to his beloved racing helmet and driving suit at a 'Get Alex Back on Track' fundraising dinner held in Hobart. More than 320 guests attended the event, with several dozen leaving the Wrest Point Convention Centre as proud owners of Team Peroni memorabilia and specially-donated auction lots.
Alex Peroni and his helmet
Hobart-based sponsors Blundstone Australia made the evening's top bid of $29,000 to secure the battle-scarred helmet that struck Monza's catch-fencing during Peroni's swift descent from the heavens.
The auction result provided the Hobart driver with a bitter-sweet moment of reflection. Along with his car's mandatory halo safety device – a rigid metal bar structure mounted above the cockpit to protect the driver's head – Peroni credits his $10,000 state of the art race helmet with his crash survival.
"I'd love to have been able to keep it," Peroni mused after the fundraiser.
"Not only did it help save my life in Monza, it was the helmet I was wearing when I won my Formula Renault Eurocup race at Monaco in 2018. But if we're to get back on track in Europe again, it's just one of many sacrifices you have to make – along with not living with your family and friends, not speaking the same language as your team members, and having to travel long distances in order to compete."
Days later, in a truly amazing gesture of support and camaraderie, Blundstone handed the helmet back to Peroni, asking that he look after it for them in perpetuity.
"This won't go on forever," says Piero Peroni as he contemplates the relentless financial treadmill that funds his son's motorsport on an international level.
"It's clear that at some point Alex will either make it or he won't. It's not like we're going to be doing this for the next 10 years. The reality is that 2020 and 2021 will be really critical to Alex's career. Beyond that, we'll have to pause to draw some conclusions on what comes next."
All donations to 'Get Alex Peroni Back on Track' are tax deductible and can be made via the Australian Sports Foundation. Click here for details.
---
Hobart's Mark Smith wrote his first Tasmanian lifestyle column back in 1994. Now more than 1600 features and 25 years later, he continues to share the achievements, innovations and best practice of individuals and companies that enhance the quality of Tasmanian lifestyle.
The post Hobart's Alex Peroni set to get Back on Track appeared first on Tasmanian Times.
Source: Tasmanian Times https://tasmaniantimes.com/2020/01/hobarts-alex-peroni-back-on-track/#utm_source=rss&utm_medium=rss&utm_campaign=hobarts-alex-peroni-back-on-track