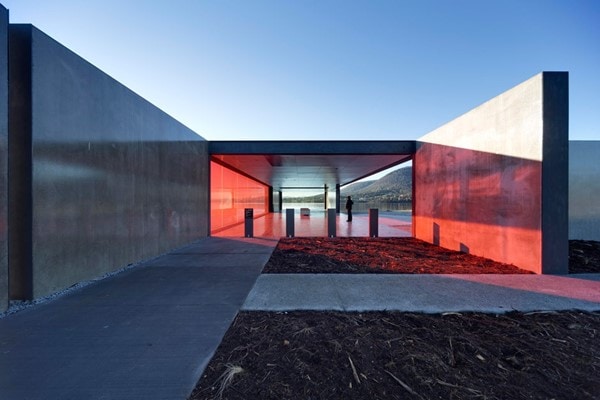 Glenorchy Council has left arts project GASP struggling to survive after a sudden withdrawal of its recurrent funding. The Council voted 9-1 to not renew the 3-yearly funding.
"The decision, which will see Council pull funding of $104,000 per year from GASP Inc., will not result in any loss of public access to the much-loved GASP infrastructure (the boardwalk and pavilion) at Montrose Bay and Wilkinsons Point," the Council said in a statement.
GASP is the organisation which curates the Glenorchy Art and Sculpture Park along the Montrose Bay foreshore and at Wilkinsons Point.
Mayor Kristie Johnston said "we simply cannot justify continuing to give more than $100,000 per year of our ratepayers' money to an independent and private arts company for curatorial purposes."
"We've been extraordinarily generous in directly funding GASP Inc for over six years, but it's now time for this private company to stand on its own two feet."
GASP has been in existence for ten years as an incorporated body with base funding support from the Council. During this time, GASP Inc. has received two rounds of funding from Council, each with 3-year allocations, the most recent beginning in 2017 before the election of the current Council.
Under the current funding agreement, Council carries out all the maintenance of the GASP boardwalk and pavilion at Wilkinsons Point, in addition to providing direct funding of $104,000 per year to GASP Inc. Council's current funding agreement with GASP Inc. expires on 30 June 2020 according to the Council statement.
GASP released a terse statement – by David Palmer, GASP Chair, and Frances Butler, Artistic Director /CEO –  expressing concern about the process of the decision and the Mayor's characterisation of their organisation.
"We were extremely disappointed this morning to learn that the Glenorchy City Council (GCC) had tabled a report to its meeting last night that was not on its Agenda, and which the Glenorchy Art & Sculpture Park (GASP) was not party to, regarding GCC's funding of GASP," they said.
Tasmanian Times understands that GASP had provided information as recently as 18 May to Council on 'scenarios' related to funding.
"On ABC Radio Hobart this morning, the Mayor reiterated the media release claim that GASP is a private company, which is not correct," their statement continued. "GASP is a public Company Limited by Guarantee with DGR (charitable) status, registered with the ACNC, so it is Incorporated and Not-for-profit."
They pointed out that GASP is governed by a volunteer Board of Directors, and the Glenorchy Mayor has had a mandated position as a Director on the Board since inception of the organisation, but which had been relinquished by Johnston in mid-2018. "From this date forward the Board and the CEO have been working with Council in order to re-establish that link."
The infrastructure and public art in question are located on a site subject to a joint agreement between the Council and GASP. The agreement extends until mid 2021. Council's refusal to fund GASP raises the question of whether it intends to renew the site agreement or not.
"GASP secured the funds it did (and from which the Council and community now benefit) for the Boardwalks, Pavilions and Public Art on the site, as a publicly incorporated body, which we understand was Council's primary purpose for initiating GASP's independence," said GASP.
Tasmanian Times put four questions regarding the matter to the Council but did not receive a reply.
GASP said that their "Board of Directors will shortly meet to determine the organisation's future in light of the funding withdrawal."
Responses
Alderman Kelly Sims confessed in a Facebook comment that she was the one who voted against the decision. "I raised the same questions formally and voted against it due to lack of transparency with all parties including the community.. and lack of Arts and Culture effort or considerations by our current team! Absolute shame the way things are led at times… makes me ashamed to be part of it!"
Other commenters linked the move to the Council's in-principle decision to support the sale of the adjacent Derwent Entertainment Centre and surrounding land to the state government to facilitate a basketball team. "Gearing up to give it all away to the basketball guy…" said Rachael Garrett.
"I'm deeply saddened by the decision," said former Alderman Jenny Branch-Allen. She said the Council had not had sufficient commitment to GASP for it to be able to realise its vision.
"A Mayor needed to lead for its success and drive investment," she said. "This doesn't seem to  be the case during the last few years. Art and Culture is an opportunity for Glenorchy and should have the utmost commitment by Council.  It is a proven fact the Arts adds so much to the health and wellbeing of a community."
Glenorchy Council taking the decision behind closed doors appears to conflict with its own Cultural Development Policy, "Item 1.1.3 Improve community consultation and participation processes." Item 4.3.2  meanwhile directs the Council to "Partner with community groups, business and not for profit organisations to achieve community outcomes."
---
DISCLOSURE OF INTEREST: The author of this article is a ratepayer in Glenorchy.
Source: Tasmanian Times https://tasmaniantimes.com/2020/05/gasping-for-survival/#utm_source=rss&utm_medium=rss&utm_campaign=gasping-for-survival