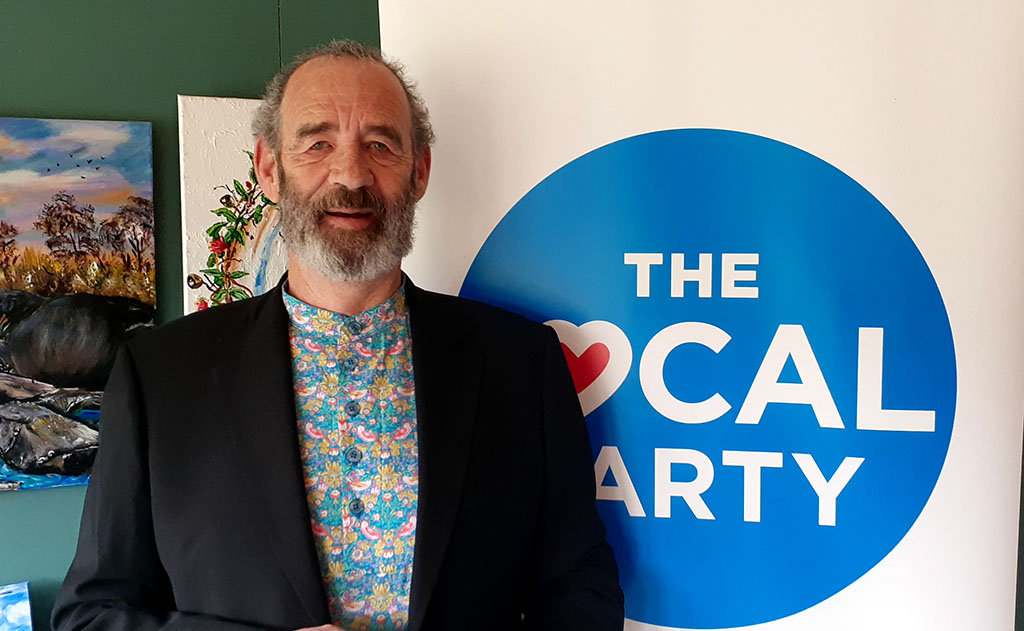 Pat Caplice confirmed as the first candidate for the Local Party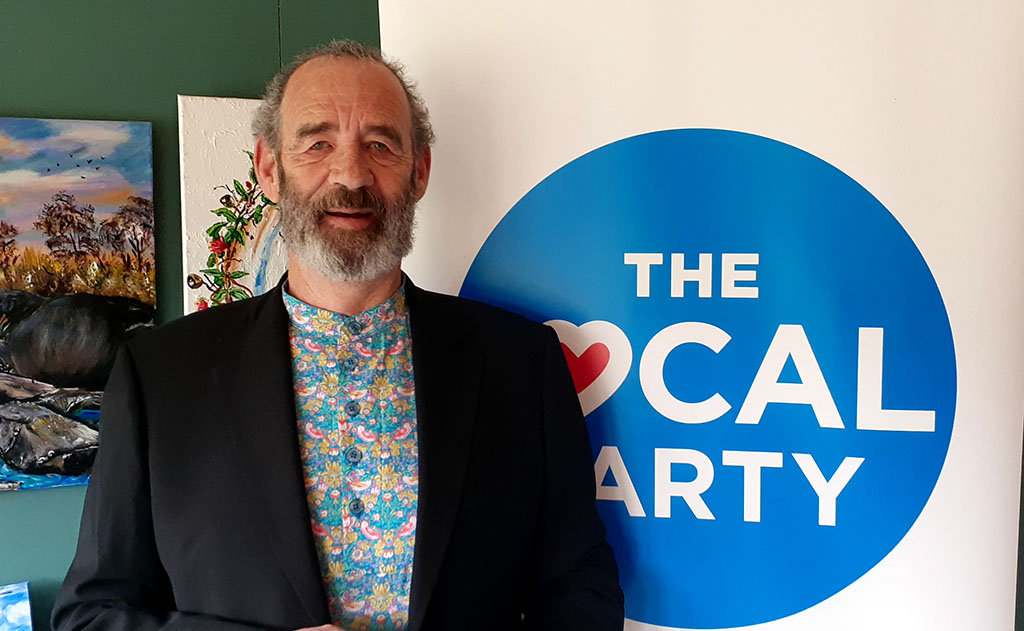 On Saturday morning in Margate's Brookfield Shed, Pat Caplice announced that he will stand as a Local Party candidate in the upcoming by-election for the Legislative Council seat of Huon.
Caplice, a father of five, is perhaps best known as an anti-pokies campaigner.
"I've never been a member of a political party," he said. "But The Local Party is different. There are no factions and no vested interests. Candidates, once elected, answer to their communities not to backroom party people."
The Local Party was co-founded in November of 2020 by Fern Tree Tavern publican Leanne Minshull, and ex-Jacqui Lambie staffer Anna Bateman.
"When the Local Party was being formed a few really good words got hold of me," said Caplice.
"Encourage action with kindness, empathy and respect — that's the underlying principle of the Local Party, and I went, oh man, that sounds really good, and that's a party that I want to be involved with. I like the people, I like the way they deal with themselves, and I liked the way they decided to form a party for the good of the community rather than themselves.
"With our current and somewhat peculiar political circumstances in Tasmania where politics is ripping itself apart, where really good people in politics are leaving politics because they can't stand it, the opportunity has come up where there is to be by-election in the area that I live, in this area the Huon.
"I believe I've got the life experience to be able to make good judgments, to make fair judgments, and to represent this community, to put the people of Tasmania above the needs of the vested interests, and to help balance politics and governance in Tasmania.
"It's not going to be an easy road forward to win an election, and I know I'm going to need the support of our community and I'm going to need the support, intelligence and political savvy of the Local Party.
"I am extremely proud to be one of the first who's going to nominate for the Party in an elected position. And I look forward to, I hate to say the word fight, but I look forward to fighting that fight and becoming the representative in the Legislative Council for the areas that I love, the Channel, the Huon.
Let's just do it and put the voice of community into Parliament."
Anna Bateman, one of the founding partners of the Local Party, explained.
"The Local Party is registered in Tasmania and as we grow our numbers we will lodge our federal registration. There's a lot of shame around party politics at the moment. And I think a lot of people will kind of go, oh no, not politics, you know, no transparency, dirty money, no action on climate, and so on.
"We are finding the need to explain to people that it's actually a coalition of independents. That's what it is. We are a network of independents.
"So exactly what Pat said, he will have to go to his community and say, hey, this is what I know, what do you know about. Our electoral candidates will have to use their electoral allowance to pay for citizen juries. This is why we have embedded citizen juries in the Constitution, because we're not just about getting people, great people like Pat elected, but actually about changing the system.
"Community voices are being shut out, and they've been shut out for too long, and there are lots of solutions that the community know already but views have been abrogated, more and more our power as citizens is now with a small group of these people who have even more power; and who we only ever see when we're coming up for an election."
 When asked about his background, Caprice advised:
"I was born in the Hydro villages in Tasmania to Irish parents and I grew up in the Hydro villages. I then spent my youth in Glenorchy, an area that I really love. I played footy there and I've worked there. Through my later life I've worked a myriad of jobs and I have travelled the world extensively. I've decided to live here in Tasmania, and particularly here in the Channel to raise my children, because it's a fantastic place for raising children.
"When I saw what was happening to my hometown of Glenorchy, with the damage that the Pokies were doing, I used my experience of gambling, because one of those jobs that I had was 10 years playing cards, playing blackjack in casinos around the world.
"I took the knowledge I had of how gambling works, the knowledge that I've gathered on how Pokies are addictive, and I formed the group by 'Reign in the Pokies' and became, I think, a pretty good advocate in the current fight that's going on to try and reduce the harm from Pokies in Tasmania. I now want to take that enthusiasm I have for that area, into every area that is going to affect us small people in Tasmania and support us as the small people rather than the big money people with the vested interests.
"Both these parties have close ties with vested interests whose needs often run counter to Tasmania's best interests. Maintaining and increasing independent voices is essential
"One of the strengths of the Local Party that really attracts me is that you [the community] are the voice, you're the conscience, and it is you who makes the vote. If we happen to be successful in the election then we are the voices of the community.

"I am not the font of all wisdom, there's a lot of wisdom in our community and you don't close your ears and must not say I know it all. We've got to listen and respect what people say, take their wisdom and try and make it a part of yours."
Audience comment
"Be careful, you don't want to be doing that, you don't want to sound like a politician. We actually need a point of difference here and do not do that, otherwise, I'll volunteer to be the guy behind you with the nodding head.
"A huge mistake anyone coming into this arena makes is trying to solve everything. The only way to solve the problem is to dissect it, start at a start point and go, fix this bit and then move on to the next bit. Because you see, the smaller players just get loaded with every issue, and it weakens you and will stop you from achieving anything. I would encourage you Pat to just solve something, solve something and that'll make you feel like … f*ck, we did that, beauty, what's next.
Bateman added in closing: "The Local Party is actually about changing the system. We've got members already from all over Australia and we are building a lot of momentum. To assist in sharing our vision and community interests we are providing really great webinars. Next week we have Tim Jacobson, the secretary of the Health and Community Services Union, the largest union in Tasmania, who recently stepped aside from the Labor Party.
Membership into the Local Party is available online https://www.thelocalparty.net/join. Tick box confirmation is required that you are registered to vote in Australia and are not already a member of any other political party.‎
Source: Tasmanian Times https://tasmaniantimes.com/2021/10/fresh-new-candidate-for-the-huon-mlc/#utm_source=rss&utm_medium=rss&utm_campaign=fresh-new-candidate-for-the-huon-mlc