Major highways remain cut, theme parks are closed and dozens of vehicles have been swamped as up to 300mm of torrential rain hits Queensland.
Torrential rain has shut down Gold Coast theme parks and drenched drought-ravaged New South Wales regions in a wild 24 hours of downpours.
Up to 300mm bucketed down on southeast Queensland overnight. The system is now sliding south, drenching parts of NSW with 250mm already.
Queensland's busiest highway, the M1, was closed for six hours.
It wasn't the only thing closed due to rain, theme parks Dream World, Movie World and Whitewater World Theme Park on the Gold Coast were all forced to shut their gates to visitors.
Two people were rescued after trying to drive through floodwater on the Gold Coast, with police receiving more than 50 reports of flooded roads across the city.
https://www.instagram.com/p/B7b_8HWpf_J/
The deluge hit the Gold Coast the hardest with 325mm of rain falling at Loders Creek and more than 200mm in the Gold Coast Hinterland.
According to the weather bureau, triple the monthly rainfall has fallen on the Gold Coast in the past 12 hours.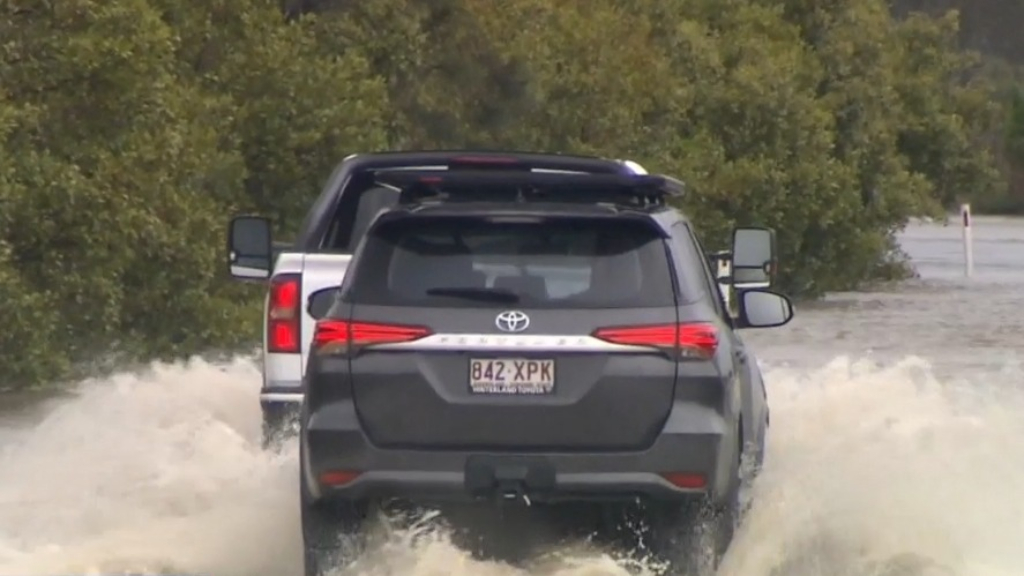 A Qantas flight from Dallas to Sydney had to be diverted to Noumea because of the wild weather on the east coast.
The State Emergency Service (SES) has been called to more than 150 jobs across the Gold Coast in the past 12 hours.
The slow-moving cell is now impacting northern NSW as the storm cell moves offshore, but more rain has been forecast for the region across the weekend.
"There is an 80 per cent chance of more storms and shower activity, but nothing to the extent that we have seen overnight," a BoM spokesman said.
New South Wales
Heavy rainfall will continue to provide relief to parts of drought-stricken NSW today after a long period of hot, dry weather and high bushfire risk.
The system that has bucketed rain and caused flashflooding in Queensland has begun moving south.
"It's sliding down into the north-east and Northern Rivers," BOM forecaster Abrar Shabren said.
"The rainfall will continue for the next 24 hours and substantial rain is expected at those locations."
The Tweed and Northern Rivers regions copped the state's biggest falls, with Clothiers Creek receiving 250mm in the 24 hours to 9am on Saturday.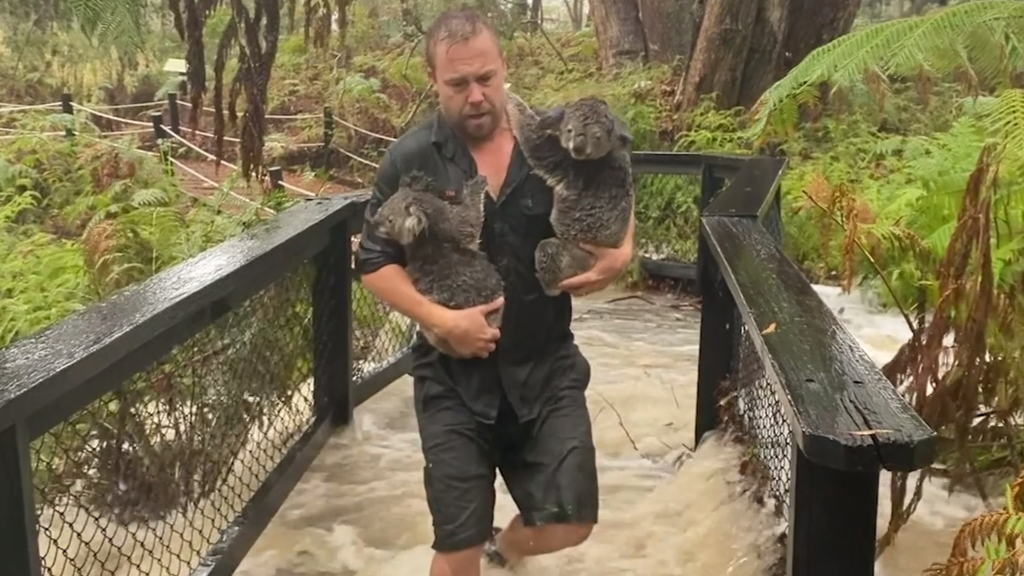 Tumbulgum (243mm), Tumbulgum (243mm), Bilambil Heights (212mm), Tweed Heads (195mm), Kingscliff (189mm), Murwillumbah (173mm) also experienced heavy falls.
On the mid north coast, Grafton had 155mm and Killabakh had 112mm.
Heavy rain caused flash flooding in parts of the state yesterday with the Australian Reptile Park on the Central Coast forced to close for the day as a result of the huge deluge.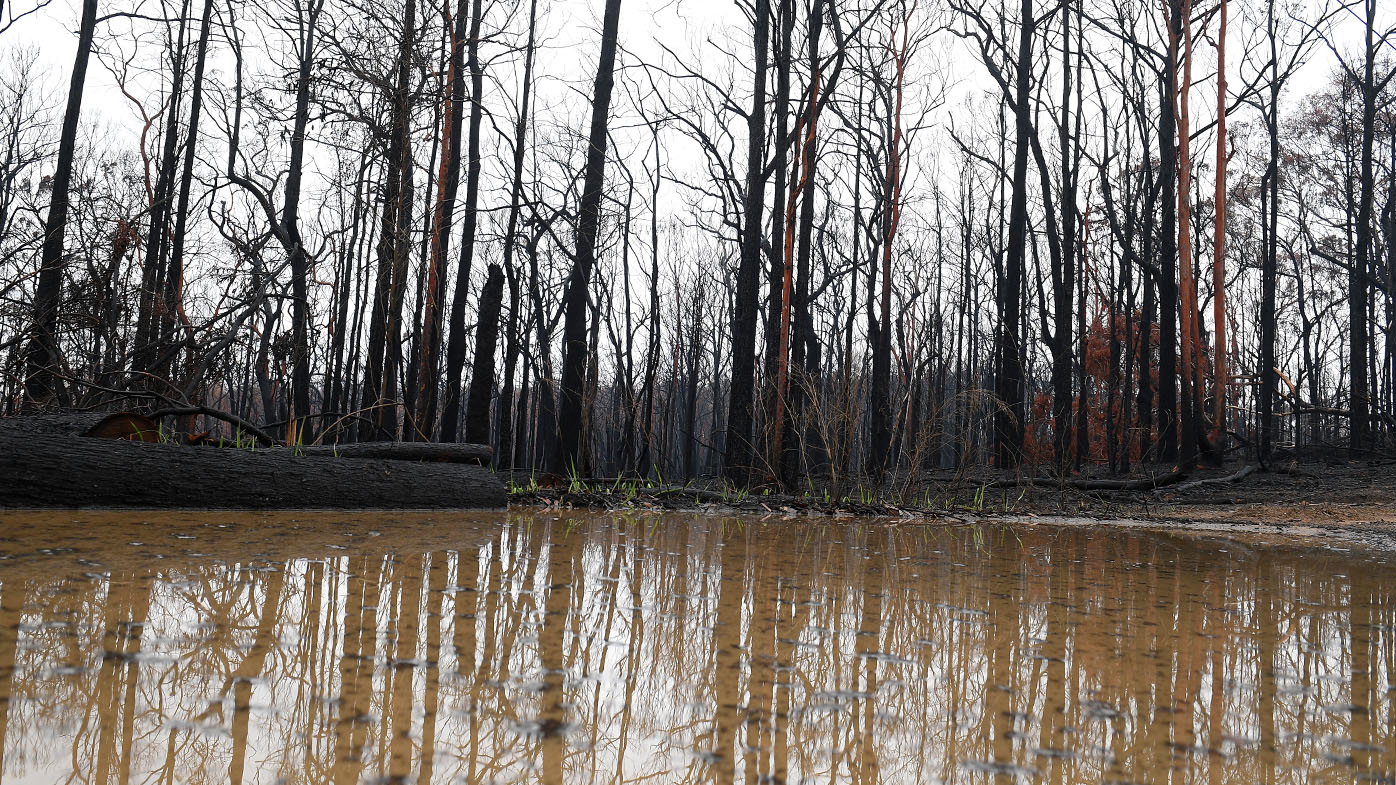 Rain over the last several days has provided relief for a state ravaged by the bushfire crisis.
According to the NSW Rural Fire Service, there were 73 fires burning on Saturday afternoon, down from 111 six days earlier.
However, there are concerns that heavy rain could lead to flashflooding and landslips in parts of the south-east and south coast as it moves down the state over the next 24 hours.
"It could cause heavy blasts of rain as well which would come with gusty conditions," Mr Shabren said."It could be damaging to areas that have had bushfires.
Trees that have been damaged could be vulnerable.
We could also have run-off of debris, soil and even rocks and that could lead to landslides.
"A strong wind warning has been issued for the Byron, Illawarra and Batemans Coast regions, and flood warnings for the Orara and Bellinger Rivers on the North Coast.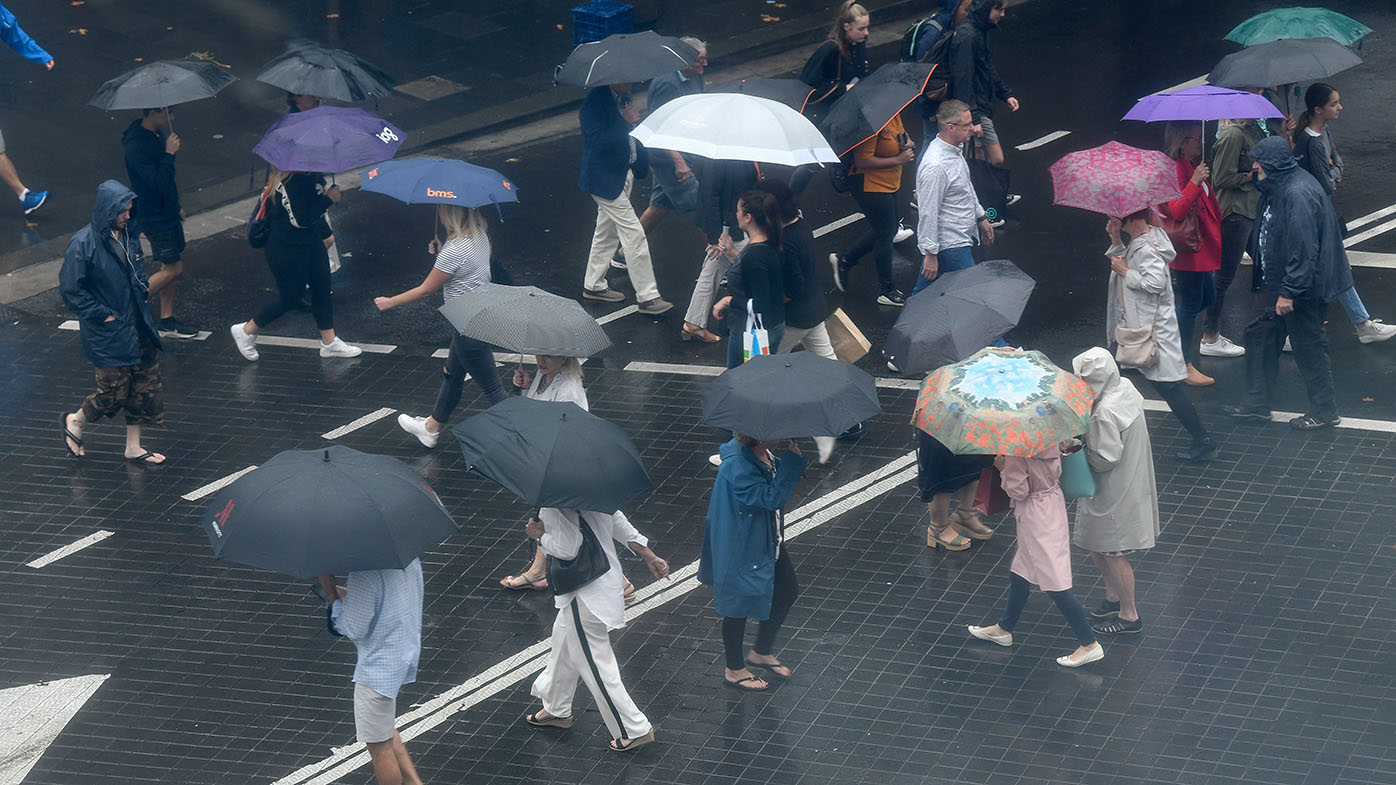 Forecast from Weatherzone
A low pressure trough in the east is likely to generate more thunderstorms and widespread rain across eastern parts of NSW, southeast QLD and central/east VIC tomorrow. There is also the chance of showers across far inland areas of NSW. Any storm that develops  across southern central NSW and across central VIC (including the Melbourne area) has the risk of being severe (damaging wind gusts, flooding rainfall and hail).
The same trough in the east has again generated significant rainfall totals over the 24 hours to 9am this morning across the southeast of QLD and northeast NSW. Miami (QLD) received 305.6mm, the Gold Coast Seaway 254.8mm (heaviest 24 hour rain since June 2005 (350.8mm fell) and heaviest January 24 hour rain in 21 years), Coolangatta Airport 205.6mm (heaviest January rain in 32 years), Brisbane 71.6mm (heaviest January rain since 2017) and Tweed Heads 195mm. Avalon Beach picked up the highest for the Sydney area with 75mm.
A cold front moving across South Australia tonight is likely to drop temperatures significantly. The forecast maximum temperatures for Clare may be as much as 10 degrees lower than the January average maximum. Adelaide may be as much as 7 degrees below the January average with a top of 23 degrees expected. A more significant cold front is likely to move over the south and southeast on Tuesday and Wednesday.
-With AAP
Source: 9News https://www.9news.com.au/national/rain-bomb-slams-nsw-qld-as-states-lashed-with-heavy-downpours/089b9244-4ab5-4c08-a442-c3c366b2a3cf