Finland to Build New Spirits after German Deal Collapses
2 min read
<p><img width="1000" height="563" src="https://tasmaniantimes.com/wp-content/uploads/2020/02/Hammershus_X-1024x576.jpg" alt=""></p> <p>TT-Line has signed a Memorandum of Understanding with Finnish ship builder, Rauma Marine Constructions (RMC), to deliver the new Spirit of Tasmania vessels. RMC appears to have existed just 6 years and has built one completed vessel. The company launched the Hammershus in 2018, a 158 metre long and 23.5 metre wide ferry with a […]</p> <p>The post <a rel="nofollow" href="https://tasmaniantimes.com/2020/02/finland-to-build-new-spirits-after-german-deal-collapses/">Finland to Build New Spirits after German Deal Collapses</a> appeared first on <a rel="nofollow" href="https://tasmaniantimes.com/">Tasmanian Times</a>.</p>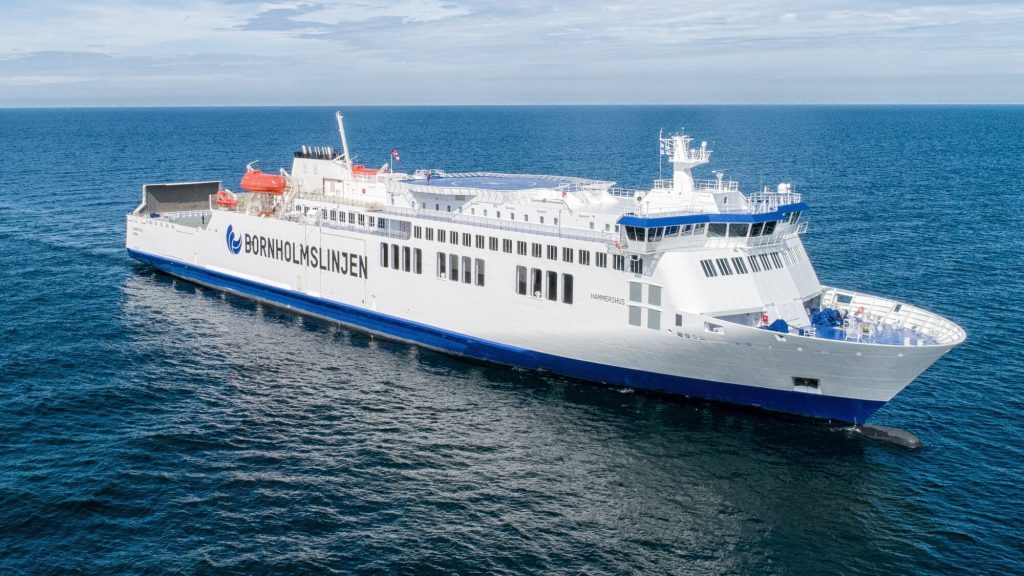 TT-Line has signed a Memorandum of Understanding with Finnish ship builder, Rauma Marine Constructions (RMC), to deliver the new Spirit of Tasmania vessels.
RMC appears to have existed just 6 years and has built one completed vessel. The company launched the Hammershus in 2018, a 158 metre long and 23.5 metre wide ferry with a passenger capacity of 720 and top speed of 17.7 knots.
Their website says the company was formed in 2014 and "specialise in the construction and maintenance of multi-purpose icebreakers, car and passenger ferries, and vessels for use by the armed forces." They have a number of projects under way and forward contracts.
The new builder follows mutual agreement between the government-owned TT-Line and German shipyard Flensburger Schiffbau-Gesellschaft (FSG) shipyard to cancel the contracts. FSG have had cash flow issues and there has not been substantial progress on the new ferries.
"No payments to FSG have been made, and no payments will be made," said Minister for Infrastructure and Transport Michael Ferguson. "Furthermore, the majority of the work undertaken to date on the new vessels by TT-Line and their expert consultants is transferrable and can be utilised in the detailed design phase and contract negotiations with the new shipbuilder."
TT-Line will now commence contract negotiations with RMC, including final design specifications. "This will include finalising the delivery date, for which the MOU targets late 2022 for hull 1 and late 2023 for hull 2," said Ferguson.
Opposition Leader Rebecca White said the shipping bungle was a trademark 'kiss of death' by Michael Ferguson. She also referenced the ongoing delay over the opening of the new K Block at the Royal Hobart Hospital, a project for which Ferguson was responsible when Health Minister until late last year.
Just two months ago Ferguson was adamant the ships would be delivered on schedule. "While FSG's cashflow issues have been well-reported, TT-Line advises me it continues to have a strong contract in place with the shipbuilder to build the new Spirit of Tasmania vessels for a 2021 operational start date," he advised the Government Business Enterprise scrutiny hearing on 6 December 2019.
The Opposition labelled the replacement of the ferries at 'the biggest infrastructure project in Tasmania's history' and said Michael Ferguson and Peter Gutwein 'cannot afford to let this new contract slide the way they did the contract with FSG'.
TT understands that RMC initially bid for the Spirit of Tasmania contract but were passed over in favour of FSG.
---
For comments please have your say in the TT Line topic in the Forums.
The post Finland to Build New Spirits after German Deal Collapses appeared first on Tasmanian Times.
Source: Tasmanian Times https://tasmaniantimes.com/2020/02/finland-to-build-new-spirits-after-german-deal-collapses/#utm_source=rss&utm_medium=rss&utm_campaign=finland-to-build-new-spirits-after-german-deal-collapses