Extinction Rebellion – Gutful of Greenwash State of the State Protest
2 min read
<p><img width="1000" height="728" src="https://tasmaniantimes.com/wp-content/uploads/2020/03/5-Peters-XR-flags.jpg" alt=""></p> <p>Media release – Extinction Rebellion, Hobart, 3 March 2020 XRTAS has had a gutful from the Ministry of Greenwashing: Stop misleading the public! As the Tasmanian government returned to parliament on March 3, around 40 Rebels descended upon Parliament House grounds to express their physical disgust toward the greenwashing coming from the Minister for Climate […]</p> <p>The post <a rel="nofollow" href="https://tasmaniantimes.com/2020/03/extinction-rebellion-gutful-greenwash-state-of-the-state-protest/">Extinction Rebellion – Gutful of Greenwash State of the State Protest</a> appeared first on <a rel="nofollow" href="https://tasmaniantimes.com/">Tasmanian Times</a>.</p>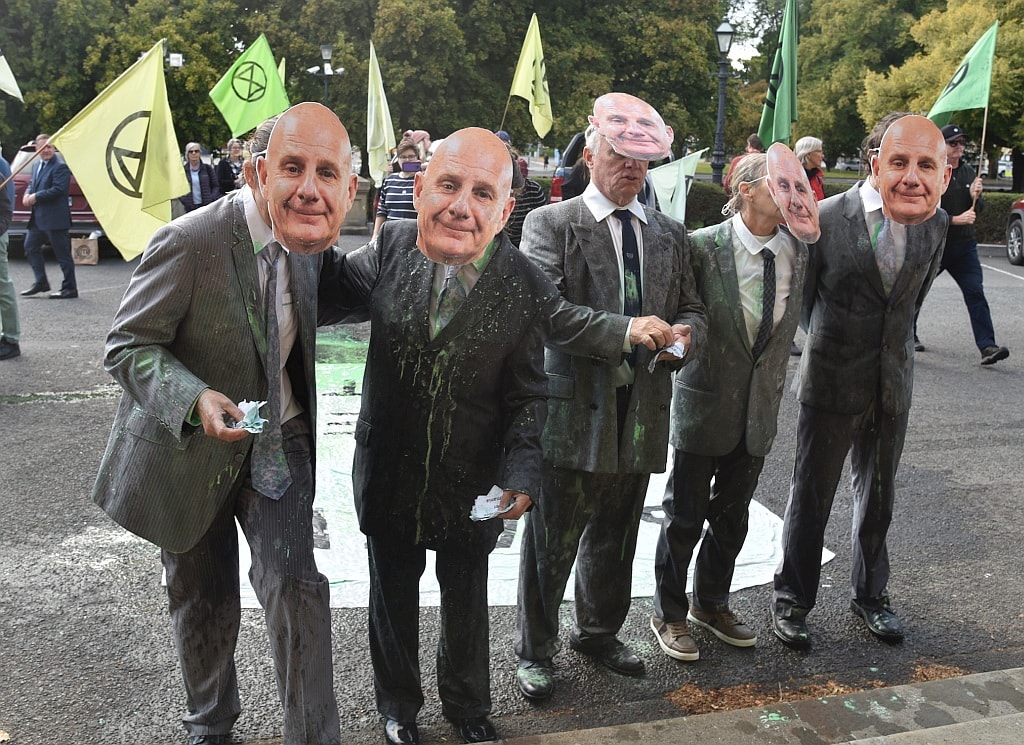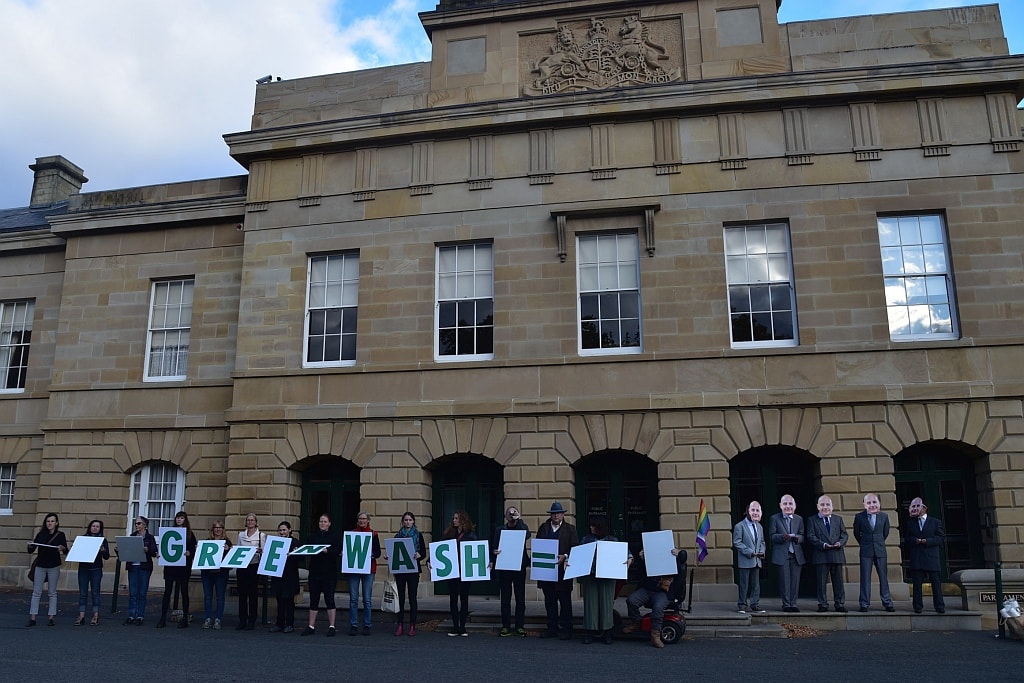 Media release – Extinction Rebellion, Hobart, 3 March 2020
XRTAS has had a gutful from the Ministry of Greenwashing: Stop misleading the public!
As the Tasmanian government returned to parliament on March 3, around 40 Rebels descended upon Parliament House grounds to express their physical disgust toward the greenwashing coming from the Minister for Climate Change.
Rebels dressed as the Minister for Greenwash, Mr Peter Gutwein, were splashed with their own greenwash as they spruiked empty words: 'sustainable forests', 'net zero emissions', 'leading the nation'.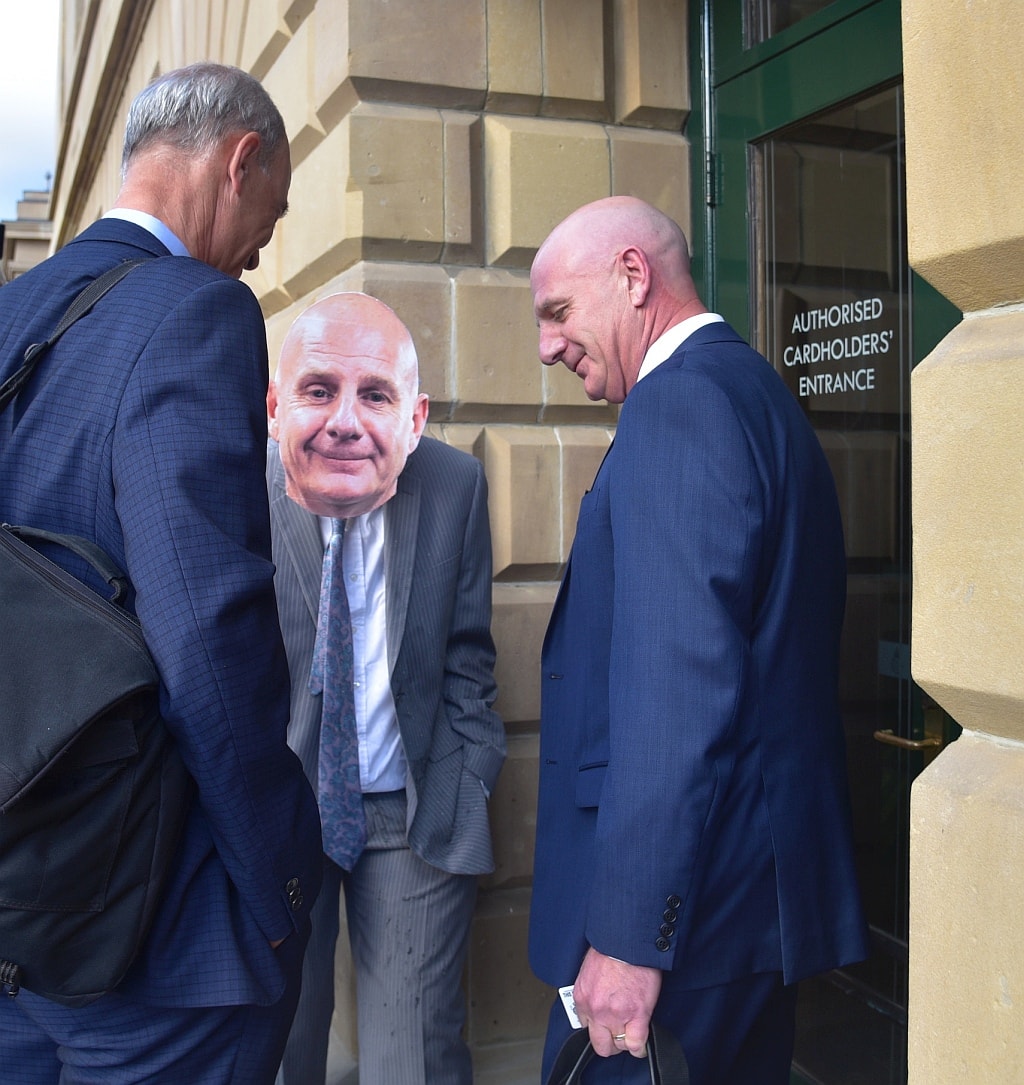 Rebels handed out greenwashing bingo cards inviting staff and politicians to join in a game of greenwash bingo during the Minister for Greenwash's State of the State address.
How quickly will the Gutwein's speech reach the sickening level of greenwash?
Since announcing himself the Minister of Climate Change, Premier Peter Gutwein has defended clear fell logging of ancient forests as 'sustainable' and has boasted about reaching net zero emissions which are the result of protecting native forests, yet his parliament is preparing to open up areas of forest heralded as carbon sinks and crucial habitat for threatened species.
In an ecological and climate emergency the greenwashing must stop! Every ecological community that is damaged is harming our children's future – Claire Burgess.
Extinction Rebellion Tasmania demands that the government tell the truth about the scale of the emergency by declaring a climate and ecological emergency and reverse policies and practices that undermine this position.
The Tasmanian Governments must act now to urgently protect ancient forests, halt biodiversity loss and lead Australia by cutting greenhouse gas emissions to be negative by 2025.
---
PETER GUTWEIN: State of the state address.
The post Extinction Rebellion – Gutful of Greenwash State of the State Protest appeared first on Tasmanian Times.
Source: Tasmanian Times https://tasmaniantimes.com/2020/03/extinction-rebellion-gutful-greenwash-state-of-the-state-protest/#utm_source=rss&utm_medium=rss&utm_campaign=extinction-rebellion-gutful-greenwash-state-of-the-state-protest