Experts Say 500,000 Australian Deaths Possible
5 min read
<p><img width="1000" height="568" src="https://tasmaniantimes.com/wp-content/uploads/2020/02/Coronamap.jpg" alt=""></p> <p>COVID-19 is the name of the disease caused by a new strain of Coronavirus, SARS-CoV-2, that has not been previously identified in humans. The latest World Health Organisation situational report indicates a 3 per cent mortality rate in China, and some commentators have suggested that we are on the verge of a pandemic. We asked […]</p> <p>The post <a rel="nofollow" href="https://tasmaniantimes.com/2020/02/experts-say-500000-australian-deaths-possible/">Experts Say 500,000 Australian Deaths Possible</a> appeared first on <a rel="nofollow" href="https://tasmaniantimes.com/">Tasmanian Times</a>.</p>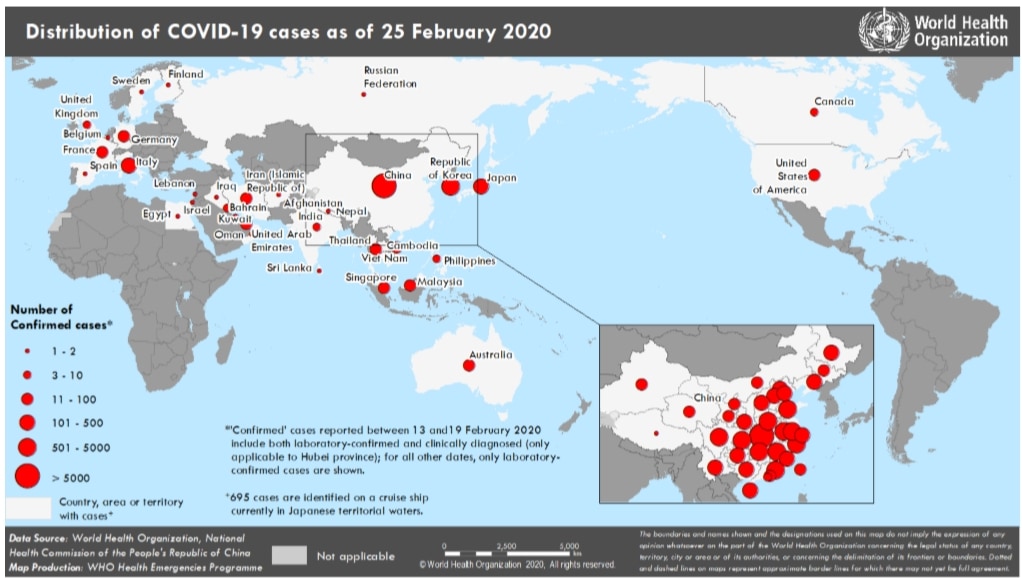 COVID-19 is the name of the disease caused by a new strain of Coronavirus, SARS-CoV-2, that has not been previously identified in humans. The latest World Health Organisation situational report indicates a 3 per cent mortality rate in China, and some commentators have suggested that we are on the verge of a pandemic. We asked experts to provide an update on the disease and the latest key issues that currently surround the virus.
THERE ARE CURRENTLY NO CONFIRMED CASES OF CORONAVIRUS IN TASMANIA.
cases reported in 4 new countries in last 24 hours
Australia has had 22 cases, with no new reports
WHO advises that aslthough for most people COVID-19 causes only mild illness, it can make some people very ill. More rarely, the disease can be fatal. Older people, and those with preexisting medical conditions (such as high blood pressure, heart problems or diabetes) appear to be more vulnerable. 
---
Professor Raina MacIntyre is Head of the Biosecurity Program at the Kirby Institute at the University of NSW. She is an expert in influenza and emerging infectious diseases
How deadly is the disease?
"To put it in context, the case fatality rate of the 1918 flu pandemic was 5 per cent, and the 2009 pandemic, 0.01 per cent.
Sustained transmission in Australia may result in anywhere from 25-70 per cent of the population getting infected. So, a case fatality rate of 2-3 per cent is high.
If 50 per cent of Australians became infected that is 492,000 to 738,000 people dying, over 3 million people needing a hospital bed and over 1 million people needing an ICU bed."
Has the mortality rate changed or are we not clear enough on the total numbers of people infected to know this?
"The 3 per cent rate is based on data from all cases confirmed in China to date. Inclusion of asymptomatic cases would reduce this, but we can assume 3 per cent of symptomatic cases may die."
Will our worries be over once a vaccine is produced?
"A vaccine will help by preventing infection, but may not be available for 12-18 months."
How likely is it that we are on the verge of a pandemic? Is Australia doing enough to control the virus and what will we need to do if infection numbers start to accelerate here?
"We are close to a pandemic, but there is still hope the epidemics in Iran, Italy, South Korea etc can be controlled. Australia has done an excellent job of preventing sustained transmission in the country.
However, if epidemics grow in other countries, so will the risk. Lockdowns in Hubei are also being relaxed, alongside phased lifting of travel bans in Australia and other countries. Hopefully the trends of a declining epidemic in China will continue."
——–
Professor Nigel McMillan is the Director in Infectious Diseases and Immunology at Menzies Health Institute Queensland, Griffith University
"How deadly is the disease? At this time the fatality rate in China is around 3 per cent while it's 1 per cent for the rest of the world.
We don't understand this difference clearly but it could relate to the standard of care, virus strain differences (unlikely), or even genetic backgrounds of the populations.
For pandemic planning, we can use models, but right now most are inaccurate as we don't know two important things – how many people get infected (infection attack rate), and how many get sick (clinical attack rate). That is, we suspect there are a large number of people who aren't identified as having COVID19 because they have a mild cold. We can make guesses, but it will take time to get this information. The mortality rate hasn't really changed much over time.
A vaccine is 18 months away and will be useful but only after the virus goes pandemic. It will eventually become just another cold/flu type virus we have to deal with and that mostly kills old and very young people.
There are a number of media reports that are over sensational and this will become more problematic if a pandemic occurs (and the chances are now high that it will). We don't wish to induce panic food or petrol stockpiling, etc when for 95 per cent of the population, this will be a mild cold.
A pandemic is more likely than not now we have spread in several countries. Travel bans will no longer be useful or make sense and so health authorities need to prepare for the next phase. This includes preparing our hospitals for a large influx of patients, stockpiling any antivirals (some appear to work to slow the virus), and advising the public that when the time comes they will need to think about things like stay at home if ill, social distancing, avoid large gatherings etc."
——–
Associate Professor Adam Kamradt-Scott is an expert in the spread and control of infectious diseases at the Centre for International Security Studies at the University of Sydney
"The announcements of further cases in Iran, Italy and South Korea reflect a disturbing development in the international spread of the coronavirus COVID-19, but there are still a number of unanswered questions about how these cases have emerged. If it is revealed these cases have occurred because there is widespread local community transmission in countries other than China, it does raise the prospect the World Health Organization would move to declare this outbreak a pandemic.
Having said this, even if the WHO declares a pandemic it is unlikely to significantly alter the international response to COVID-19 at this point in time, as governments all around the world have been carefully following developments and progressively increasing their domestic responses accordingly. The WHO has been on a heightened state of alert for a number of weeks, and while the virus continues to spread, the majority of patients infected have continued to exhibit only mild symptoms."
---
WORLD HEALTH ORGANISATION: Situation report, 25 Feb 2020.
ROSALIE WOODRUFF: Reassurance about Coronavirus Pandemic Preparations Needed.
The post Experts Say 500,000 Australian Deaths Possible appeared first on Tasmanian Times.
Source: Tasmanian Times https://tasmaniantimes.com/2020/02/experts-say-500000-australian-deaths-possible/#utm_source=rss&utm_medium=rss&utm_campaign=experts-say-500000-australian-deaths-possible