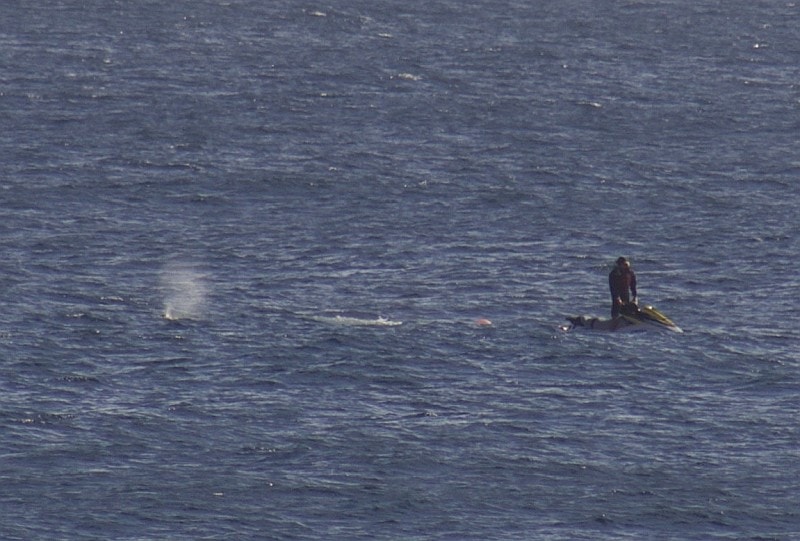 Drones would be better than nets at protecting swimmers from sharks, say Sea Shepherd.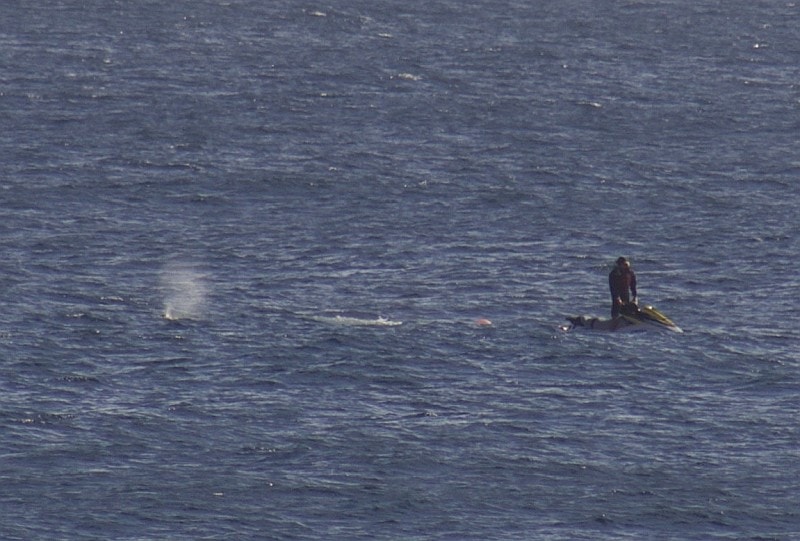 A distressed baby whale that was entangled in a shark net off Burleigh Heads, in southern Queensland, has been cut free by a concerned onlooker who was believed to be frustrated the authorities weren't acting rapidly enough.
The juvenile humpback whale was spotted by a drone operator around 7am Tuesday morning off Burleigh Heads, just south of the Gold Coast.
This is the first case of whale entanglement this season but conservationists say it is likely there will be more if the Queensland Government doesn't remove the nets during whale migratory season.
Onlookers were very concerned for the whale which may have been entangled for an extended period of time. It is unknown how long the whale may have been struggling to release itself from the net.
Rescuers from Sea World arrived at the beach but were waiting for approval from the QLD Department of Fisheries before they could take action to release the whale calf. In the meantime, a man jumped in and cut the net to release the whale.
Reportedly the local diver, known as Django, is being threatened with a fine by the Department.
"Basically I just tried to untangle him," he said. He just had his pectoral fin sort of wrapped up and he was about eight to nine metres deep."
Django declined to confirm how much he had been fined but said shark nets are 'a waste of time'.
"I've dived my whole life," he said. "And sharks just swim around them."
Early season
Griffith University marine biologist Dr Olaf Meynecke said it was the first time in 60 years a whale had been entangled in sharks nets during May.
"The condition are also extremely unusual for entanglement," he said. "It's quite windy, it's choppy — usually the whale stays further away when these south-easterly conditions are prevailing."
"We're not quite sure what exactly is happening, but we know that there's more sub-adults migrating a lot earlier in the season."
Dr Meynecke said the first whales of the season were spotted off the Gold Coast in April, which is about a month earlier than previous seasons.
"There is a shift happening," he said.
Drones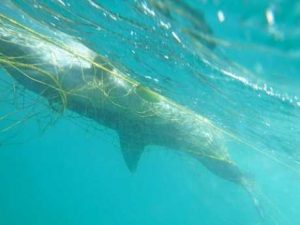 Removal of dangerous shark nets during the whale migration season is urgent and campaigners say they could easily be replaced by more modern swimmer protection technology such as drones.
NSW has already removed shark nets from 55 beaches along their coast after recognising that they are dangerous for migrating whales. NSW has committed to removing the nets annually for the migration season. Sea Shepherd Australia wants Queensland to follow the lead of New South Wales.
"Sea Shepherd calls for the removal of the shark nets," said Jonathan Clark, Queensland coordinator of Sea Shepherd's Apex Harmony Campaign. "Their removal during the whale migration season would be a good start and could be accompanied by the serious proving of other technologies such as drones. This must happen now."
Clark said the drones work by identifying animals in the water and notifying the land-based crews of the presence of sharks. "The AI (artificial intelligence) is very good these days, it's able to differentiate between whales, sharks, dolphins and so on," he explained. See below for a video sample of how the technology works.
He said Queensland had been too slow to respond to the annual calls for the shark nets to be removed for the whale migration season. The Queensland Shark Control Program Scientific Working Group is on record as considering removing some nets for this season.
"They are already too late as the entirely predictable event of whale entanglements in these useless shark nets has commenced," said Clark.
As whales begin their highly anticipated three-month journey from Antarctica to the warmer waters of Queensland there is an increasing concern for their safety. Last year five whales were caught in shark nets but as whale populations recover, it is possible there will be more casualties.
"We've seen whales dragging fishing gear all the way from Tasmania right up the east coast of Australia," Clark told Tasmanian Times.
The Queensland government's shark net and drumline program targets nineteen species of shark considered a threat to humans.

However the nets target marine life indiscriminately and whales, dolphins, turtles, rays and other marine life are caught by the nets and drumlines.
Sea Shepherd claims that there is no scientific evidence to show that drumlines and shark nets are effective in increasing swimmer safety.
"When large whales are caught, people can often bear witness to the tragedy," said Clark. "Yet, these nets pose a threat to marine life year-round and the agonising deaths of smaller animals usually go unnoticed. "
He said the attempts to release the animals from nets are dangerous for rescuers and often futile, ending in death many hours, or even days, after the animals find themselves trapped. If whales are released they can end up with tissue damage and infection, or die from starvation with their injuries preventing them from foraging.
Source: Tasmanian Times https://tasmaniantimes.com/2020/05/drones-could-clear-whale-migration-routes/#utm_source=rss&utm_medium=rss&utm_campaign=drones-could-clear-whale-migration-routes