David Beckham Says He's Proud Of Friend Prince Harry 'For Growing Up'
3 min read
<div><p><a href="https://www.huffingtonpost.com.au/news/david-beckham/">David Beckham</a> spoke about his friend <a href="https://www.huffingtonpost.com.au/news/prince-harry/">Prince Harry's</a> experience with being a young father during an interview with ET Online Wednesday.</p><p>The former footballer denied talking to the Duke of Sussex about anything involving <a href="https://www.huffpost.com/entry/meghan-markle-prince-harry-senior-royals_n_5e1621fcc5b6c7b859d4aa79" target="_blank" rel="noopener noreferrer">his royal step back</a> and subsequent move to Canada alongside wife <a href="https://www.huffingtonpost.com.au/news/meghan-markle/">Meghan Markle</a>.</p></div><!-- start relEntries --><div><h3>Related...</h3><ul><li><a href="https://www.huffingtonpost.com.au/entry/prince-harry-name_au_5e56e239c5b66137fb5d3adb?ncid=other_huffpostre_pqylmel2bk8&utm_campaign=related_articles" aria-label="Prince Harry Wants You To Just Call Him 'Harry'"> Prince Harry Wants You To Just Call Him 'Harry' </a></li><li><a href="https://www.huffingtonpost.com.au/entry/we-checked-and-yes-harry-and-meghan-will-have-to-pay-tax_au_5e4dc574c5b6a8bbccb84c1d?ncid=other_huffpostre_pqylmel2bk8&utm_campaign=related_articles" aria-label="We Checked And, Yes, Harry And Meghan Will Have To Pay Tax"> We Checked And, Yes, Harry And Meghan Will Have To Pay Tax </a></li><li><a href="https://www.huffingtonpost.com.au/entry/prince-harry-goldman-sachs_au_5e448ad0c5b671eafe1e4701?ncid=other_huffpostre_pqylmel2bk8&utm_campaign=related_articles" aria-label="Prince Harry In Talks For Guest Appearance"> Prince Harry In Talks For Guest Appearance </a></li><li><a href="https://www.huffingtonpost.com.au/entry/harry-meghan-markle-commonwealth-day_au_5e433d85c5b61b84d341af52?ncid=other_huffpostre_pqylmel2bk8&utm_campaign=related_articles" aria-label="Harry And Meghan Are Going Back To London ... For Now"> Harry And Meghan Are Going Back To London ... For Now </a></li></ul></div><!-- end relEntries --><div><p>"I haven't spoken to Harry about him moving. We speak as friends and that's the most important thing for me," Beckham said. "I think he's enjoying being a young father for the first time and that's what we always spoke about. When you are a parent, it changes everything for you. He always needs to be happy."</p><p>Beckham told the outlet that he and his wife, Victoria, "love" the Duke. The couple has been close with both Harry and Meghan for some time; they were among the guests at their royal wedding on May 18, 2018.</p><p>"We love him and he's an amazing person ― and that's the most important thing ― but I'm proud to see him growing up as an individual and being that person that every father wants to be," the soccer star said. "Every father wants to be loving to their children and that's what I see with him."</p></div><img src="https://img.huffingtonpost.com/asset/5e57f8592300008d0bdddaad.jpeg?ops=scalefit_630_noupscale" alt="Prince William (left) and Prince Harry flank David Beckham at a reception in Johannesburg on June 19, 2010, in honor of the 2010 Football FIFA World Cup." data-caption="Prince William (left) and Prince Harry flank David Beckham at a reception in Johannesburg on June 19, 2010, in honor of the 2010 Football FIFA World Cup." data-credit="Owen Humphreys - PA Images via Getty Images" data-credit-link-back=""><div><p>Harry is <a href="https://www.huffpost.com/entry/prince-harry-back-uk-go-by-harry_n_5e566d2cc5b62e9dc7dae1cb" target="_blank" rel="noopener noreferrer">back in the UK</a>, carrying out the last of his engagements before his time as a working royal ends on March 31. At an event on Wednesday on behalf of his sustainable travel initiative, Travalyst, the prince insisted on just being introduced as "Harry." </p><p>His older brother, Prince William, and wife Kate Middleton are also back to work this week, after taking last week off to spend time with their children, as <a href="https://www.huffpost.com/life/topic/prince-george" target="_blank" rel="noopener noreferrer">Prince George</a> and <a href="https://www.huffpost.com/life/topic/princess-charlotte" target="_blank" rel="noopener noreferrer">Princess Charlotte</a> were on a school break. </p><p>William revealed that he and Kate <a href="https://www.huffpost.com/entry/prince-george-charlotte-school-break-lambing_n_5e553a70c5b66729cf62b54c" target="_blank" rel="noopener noreferrer">took their children "lambing"</a> during their time off. </p><div data-rapid-cpos="5" data-rapid-subsec="paragraph" data-rapid-parsed="subsec"><p>"Charlotte wasn't sure at first but George was straight in there. Louis loves the tractors," the Duke of Cambridge said, according to <a href="https://uk.sports.yahoo.com/news/william-shares-farming-tales-attends-180026473.html?guccounter=1&guce_referrer=aHR0cHM6Ly93d3cuZ29vZ2xlLmNvbS8&guce_referrer_sig=AQAAAI4ZCnSy58DWb2sXTKAI57xIWUJiy8YgGFl5tQuRI0lQrcio5FW5CTEKhkEO9c51JV_YTVF-MhQCgOtv9y5u0IjketgNHN5EuRYMJRwokiS5b3ys9n54_H7LNfSJm1WijCL3eO_9rdp01IaGxlYujVMLqChFuWNl8WIqzwniy9Ep" target="_blank" rel="noopener noreferrer" data-rapid-parsed="slk">PA Media</a>. "They love seeing the lambs and feeding the lambs." </p><p>After returning from break, the royals' elite private school, Thomas's Battersea, sent four children home over fears of a coronavirus outbreak, <a href="https://www.dailymail.co.uk/news/article-8048461/Pupils-Prince-George-Princess-Charlottes-school-placed-isolation-coronavirus-fears.html" target="_blank" rel="noopener noreferrer">multiple</a><a href="https://www.mirror.co.uk/news/uk-news/breaking-pupils-prince-george-princess-21584582" target="_blank" rel="noopener noreferrer">outlets</a> reported on Wednesday. </p></div></div><div><blockquote data-instgrm-permalink="https://www.instagram.com/p/BxqMgq0FOcA/?utm_source=ig_embed&utm_campaign=loading" data-instgrm-captioned data-instgrm-version="12"><div><a href="https://www.instagram.com/p/BxqMgq0FOcA/?utm_source=ig_embed&utm_campaign=loading" target="_blank" rel="noopener noreferrer"><div><div></div><div><div></div><div></div></div></div><div></div><div></div><div><div> View this post on Instagram</div></div><div></div><div><div><div></div><div></div><div></div></div><div><div></div><div></div></div><div><div></div><div></div><div></div></div></div><div><div></div><div></div></div></a><p><a href="https://www.instagram.com/p/BxqMgq0FOcA/?utm_source=ig_embed&utm_campaign=loading" target="_blank" rel="noopener noreferrer">A post shared by Kensington Palace (@kensingtonroyal)</a> on May 19, 2019 at 2:31pm PDT</p></div></blockquote></div><div><div data-rapid-cpos="5" data-rapid-subsec="paragraph" data-rapid-parsed="subsec"><p>George, 6, and Charlotte, 4, attend the Kensington branch of the school. Their sibling, Prince Louis, remains at home (he turns 2 in April).</p><p>The virus, named COVID-19, <a href="https://www.huffpost.com/entry/cdc-warns-americans-coronavirus-spread_n_5e556b10c5b63b9c9ce47a7c" target="_blank" rel="noopener noreferrer">has killed around 2,700 people</a> and sickened more than 80,000 people worldwide. Thomas's Battersea released a statement about the potential outbreak, saying, "We are taking very seriously the potential risks." </p><p>"We currently have a very small number of students who have been evaluated and these individuals currently remain in their homes waiting to receive the results of their exams," the statement said, according to The <a href="https://www.mirror.co.uk/news/uk-news/breaking-pupils-prince-george-princess-21584582" target="_blank" rel="noopener noreferrer">Mirror</a>. "All parents have been informed and we have maintained regular communication with our school community to ensure that councils are shared and important information circulated." </p><p>Kensington Palace had no official comment. </p><p>Some schools in the UK <a href="https://www.bbc.com/news/education-51643556" target="_blank" rel="noopener noreferrer">decided to shut down</a> after students returned from school break on Monday. Most of the institutions that closed had students or staff that returned from skiing in Italy, the BBC said, which has experienced an outbreak of the virus in the northern part of the country. </p><p>Health Secretary Matt Hancock told the BBC that the "goal was to keep schools open." </p><p>"Once the results arrive, those who test negative will be advised individually about returning to education," Hancock said. "In most cases, closure of the childcare or education setting will be unnecessary but this will be a local decision based on various factors including professional advice."</p></div></div><section><h5></h5><div></div></section>
David Beckham spoke about his friend Prince Harry's experience with being a young father during an interview with ET Online Wednesday.
The former footballer denied talking to the Duke of Sussex about anything involving his royal step back and subsequent move to Canada alongside wife Meghan Markle.
"I haven't spoken to Harry about him moving. We speak as friends and that's the most important thing for me," Beckham said. "I think he's enjoying being a young father for the first time and that's what we always spoke about. When you are a parent, it changes everything for you. He always needs to be happy."
Beckham told the outlet that he and his wife, Victoria, "love" the Duke. The couple has been close with both Harry and Meghan for some time; they were among the guests at their royal wedding on May 18, 2018.
"We love him and he's an amazing person ― and that's the most important thing ― but I'm proud to see him growing up as an individual and being that person that every father wants to be," the soccer star said. "Every father wants to be loving to their children and that's what I see with him."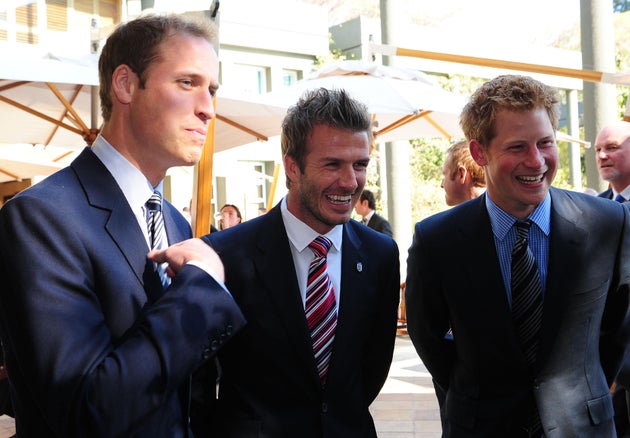 Harry is back in the UK, carrying out the last of his engagements before his time as a working royal ends on March 31. At an event on Wednesday on behalf of his sustainable travel initiative, Travalyst, the prince insisted on just being introduced as "Harry."
His older brother, Prince William, and wife Kate Middleton are also back to work this week, after taking last week off to spend time with their children, as Prince George and Princess Charlotte were on a school break.
William revealed that he and Kate took their children "lambing" during their time off.
"Charlotte wasn't sure at first but George was straight in there. Louis loves the tractors," the Duke of Cambridge said, according to PA Media. "They love seeing the lambs and feeding the lambs."
After returning from break, the royals' elite private school, Thomas's Battersea, sent four children home over fears of a coronavirus outbreak, multipleoutlets reported on Wednesday.
George, 6, and Charlotte, 4, attend the Kensington branch of the school. Their sibling, Prince Louis, remains at home (he turns 2 in April).
The virus, named COVID-19, has killed around 2,700 people and sickened more than 80,000 people worldwide. Thomas's Battersea released a statement about the potential outbreak, saying, "We are taking very seriously the potential risks."
"We currently have a very small number of students who have been evaluated and these individuals currently remain in their homes waiting to receive the results of their exams," the statement said, according to The Mirror. "All parents have been informed and we have maintained regular communication with our school community to ensure that councils are shared and important information circulated."
Kensington Palace had no official comment.
Some schools in the UK decided to shut down after students returned from school break on Monday. Most of the institutions that closed had students or staff that returned from skiing in Italy, the BBC said, which has experienced an outbreak of the virus in the northern part of the country.
Health Secretary Matt Hancock told the BBC that the "goal was to keep schools open."
"Once the results arrive, those who test negative will be advised individually about returning to education," Hancock said. "In most cases, closure of the childcare or education setting will be unnecessary but this will be a local decision based on various factors including professional advice."
Source: Huffington Post Australia Athena2 https://www.huffingtonpost.com.au/entry/david-beckham-prince-harry_au_5e583bedc5b6450a30bc2397