Corrections in Crisis
4 min read
<p><img width="638" height="410" src="https://tasmaniantimes.com/wp-content/uploads/2020/02/RBMSP-Div-7-Completed-Courtyard_DeptJustice.jpg" alt=""></p> <p>In almost two decades of advocating on behalf Tasmania's prisoners and seeking reform of what is the worst performing sector of government in this State, I have seen a cricket team of ministers come and go. Only Vanessa Goodwin, the sadly now-deceased MP who had a criminology background, appeared capable of understanding that sensitivity and […]</p> <p>The post <a rel="nofollow" href="https://tasmaniantimes.com/2020/02/corrections-crisis/">Corrections in Crisis</a> appeared first on <a rel="nofollow" href="https://tasmaniantimes.com/">Tasmanian Times</a>.</p>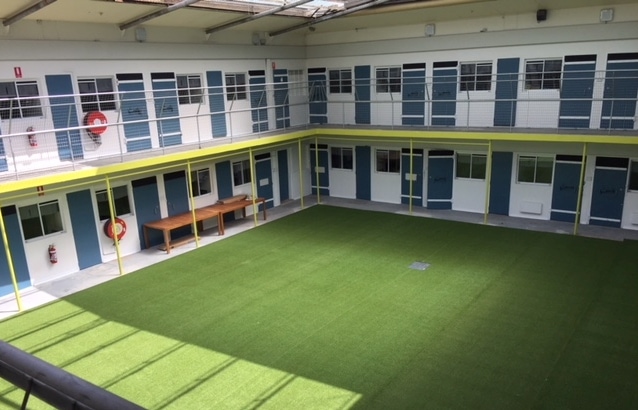 In almost two decades of advocating on behalf Tasmania's prisoners and seeking reform of what is the worst performing sector of government in this State, I have seen a cricket team of ministers come and go.
Only Vanessa Goodwin, the sadly now-deceased MP who had a criminology background, appeared capable of understanding that sensitivity and rational evidence-based policy was essential to ensuring that prison life in Tasmania was about rehabilitation not simply warehousing. Dr Goodwin was Minister for Corrections from 2014 until 2017 when she had to quit because of poor health.
Sadly her successor Elise Archer, who took on the Corrections portfolio in October 2017 appears cut from the cloth that says prisoners can be treated as less than human. She thinks it's all about, as a former South Australian Minister once said, "rack em, stack em, and pack em."
Two aspects of Ms Archer's regime are particularly troubling. Leaving aside the chronic overcrowding, failure to support prisoners transitioning to live on the outside, and the parlous state of occupational health and safety (see stats box below) that prison workers deal with daily, Ms Archer has intervened to remove a major incentive for prisoner rehabilitation. She has also failed dismally to plan for what could be a world class therapeutic prison in Westbury.
For the vast majority of prisoners in Tasmania, the promise of being able to move from maximum to minimum security is a key plank of rehabilitation. Knowing that if they undertake programs, and that if their behaviour within the prison environment is good, they will be able to move to the less restrictive minimum security, known as the Ron Barwick prison, is critical for a safe prison environment and lowering recidivism rates. Every Corrections Minister I have dealt with since 2003 has understood this to be the case.
Mismanagement
But Ms Archer has decided that – to use a vernacular phrase – "fuck that, my political skin is more important than a safe and functioning Tasmanian Prison Service." Last year, after an escape from Risdon Prison in September, Ms Archer demanded that the bureaucrats and prison administrators cut minimum security in half and that any prisoners who had been convicted of serious offences such as murder had to be returned to medium and maximum security, irrespective of the fact they had been rehabilitation role models.
Last week I had it confirmed by prison administrators that one prisoner who was a role a model for other prisoners in terms of that prisoner's commitment to turn their life around, had been removed from minimum simply because of 'reclassification'.  In other words, the Minister's say so.
Ms Archer's micro-managing of the fallout from the escape last September was an exercise in political narcissism and dangerous.  She knows nothing about prison management, practising as a lawyer in nothing other than bourgeois areas like commercial law and workplace relations. What was worse, having made the decision she has refused to be interviewed about it by the media.
The result of Ms Archer's capricious action has been a rise in violence and a deterioration on workplace safety for officers. Prisoners who had worked exceptionally hard to reach minimum security are now stuck back in medium and maximum security understandably bitter and angry about how the system has let them down. As Chair of the Prisoners Legal Service, the unions and prison staff are not natural allies, but on this issue we are at one.
Ms Archer's second disaster in the making is the issue of the new prison at Westbury in the State's north. At the outset, one had sympathy for the Tasmanian Government and Ms Archer on this one. Communities whip themselves up into a frenzy about a prison being hell on earth if located in their patch. Ironically, once built they become dependent on it for economic growth and when the prison closes, those same communities protest that they want it to stay open.
However, Ms Archer is missing an opportunity to create an Australian first in Westbury. That is, a prison which does not look like one, which is based on the Nordic and Northern European model of healthcare, education and social skills development. A prison environment where integrating with the local community is seen as a positive gesture because the men and women in the prison are not seen as outsiders.
The current Westbury proposal is a public relations disaster for Ms Archer and the government. But if she took the time and had the patience to listen and learn from those of us who know that a Westbury prison space can be a win-win, then it can be turned around.
---
Greg Barns is Chair of the Prisoners Legal Service and a barrister practising in Hobart.
---
CORRECTIONAL OFFICERS: Monday 3 Feb 24-hour strike over pay and conditions affects Supreme Court.
WESTBURY PRISON: See our Introduction to the issue with links to the full series of articles.
W.R.A.P: Minister Archer In Their Sights.
The post Corrections in Crisis appeared first on Tasmanian Times.
Source: Tasmanian Times https://tasmaniantimes.com/2020/02/corrections-crisis/#utm_source=rss&utm_medium=rss&utm_campaign=corrections-crisis