Children's Future Under Threat
5 min read
<p><img width="800" height="528" src="https://tasmaniantimes.com/wp-content/uploads/2020/02/Children-and-climate_X.jpg" alt=""></p> <p>The World Health Organisation (WHO) and the United Nations Children's Fund (UNICEF) have released a report declaring the health and future of every child and adolescent worldwide is under immediate threat. The multiple hazards include ecological degradation, climate change, and exploitative marketing practices that push fast food, sugary drinks, alcohol and tobacco at children. The […]</p> <p>The post <a rel="nofollow" href="https://tasmaniantimes.com/2020/02/childrens-future-under-threat/">Children's Future Under Threat</a> appeared first on <a rel="nofollow" href="https://tasmaniantimes.com/">Tasmanian Times</a>.</p>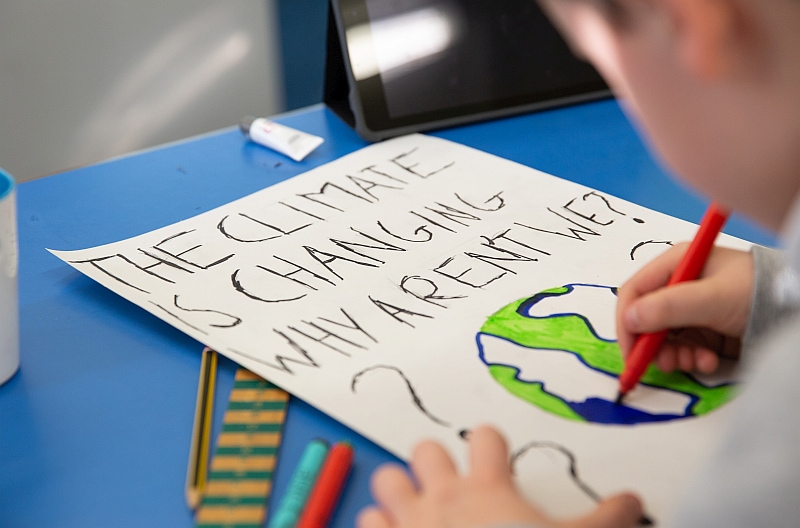 The World Health Organisation (WHO) and the United Nations Children's Fund (UNICEF) have released a report declaring the health and future of every child and adolescent worldwide is under immediate threat.
The multiple hazards include ecological degradation, climate change, and exploitative marketing practices that push fast food, sugary drinks, alcohol and tobacco at children.
The report includes a new global index of 180 countries comparing performance on child survival and well-being, based on health, education, nutrition and sustainability, as well as greenhouse gas emissions, and equity or income gaps. While Australia is ranked 20th for its performance on child survival, we are ranked as one of the top ten worst greenhouse gas emitters. The authors call for a new global movement for children that drives the reduction of CO2 emissions, achieves sustainable development, improves policy and investment for child health and rights, and regulates commercial marketing.
"Despite improvements in child and adolescent health over the past 20 years, progress has stalled, and is set to reverse," said former Prime Minister of New Zealand and Co-Chair of the Commission behind the report, Helen Clark. "It has been estimated that around 250 million children under five years old in low- and middle-income countries are at risk of not reaching their developmental potential, based on proxy measures of stunting and poverty. But of even greater concern, every child worldwide now faces existential threats from climate change and commercial pressures."
Australia
Australia came in for specific criticism from experts in relevant fields. "It's a reminder of the need for long-term perspectives when seeking to protect the health of our children and future generations," said Associate Professor Grant Blashki from the Nossal Institute for Global Health at the University of Melbourne. "So what's really at stake amongst our political debates about action on climate change is nothing less important than the future health of Australian children."
"The truth is that a dry continent such as Australia is especially vulnerable to climate change impacts as we have seen over this summer with severe drought and bushfires and now flooding, and in the longer term as a country, the long-term well-being of our children needs careful attention to these global upstream determinants such as climate change," he stated.
The report also highlights the need for tighter regulation on food advertising to children and Australia like many countries around the world faces an epidemic of the noncommunicable diseases such as diabetes, obesity and related illnesses.
Lived environments
Senior Professor Anthony Okely, Director of Research in Early Start at the University of Wollongong, said that Australian children are growing up in environments that are not supporting their right to an active, healthy life. "Children are living more sedentary lifestyles, spending large amounts of time using electronic media for entertainment," he observed. "This exposes them to marketing of unhealthy foods, displaces time they could spend being physically active, and compromises healthy sleep patterns."
With the vast majority of Australian children living in cities he called for more attention to their needs and giving young people a voice in the planning of our urban environments. "More needs to be done to promote active transportation," he argued. "Our reliance on motor vehicles has resulted in deteriorating levels of air quality and long periods of time spent sitting. Better infrastructure in the form of footpaths, cycleways/bike lanes, and the rights of pedestrians is needed. Our children need better access to parks and playgrounds and to be able to move freely around their neighbourhoods without fears about safety or the traffic."
Harmful commercial marketing preys on children – with childhood obesity increasing 11-fold
The report also highlights the distinct threat posed to children from harmful marketing. Evidence suggests that children in some countries see as many as 30,000 advertisements on television alone in a single year, while youth exposure to vaping (e-cigarettes) advertisements increased by more than 250% in the USA over two years, reaching more than 24 million young people.
Professor Anthony Costello, one of the Commission's authors, said, "Industry self-regulation has failed. Studies in Australia, Canada, Mexico, New Zealand and the USA – among many others – have shown that self-regulation has not hampered commercial ability to advertise to children. For example, despite industry signing up to self-regulation in Australia, children and adolescent viewers were still exposed to 51 million alcohol ads during just one year of televised football, cricket and rugby. And the reality could be much worse still: we have few facts and figures about the huge expansion of social media advertising and algorithms aimed at our children."
Children's exposure to commercial marketing of junk food and sugary beverages is associated with purchase of unhealthy foods and overweight and obesity, linking predatory marketing to the alarming rise in childhood obesity. The number of obese children and adolescents increased from 11 million in 1975 to 124 million in 2016 – an 11-fold increase, with dire individual and societal costs.
Intensifying climate change threatens every child's future
The report includes a new global index of 180 countries, comparing performance on child flourishing, including measures of child survival and well-being, such as health, education, and nutrition; sustainability, with a proxy for greenhouse gas emissions, and equity, or income gaps. [Top & Bottom 10 countries; Interactive Index, Full Global Index on pp. 35-38]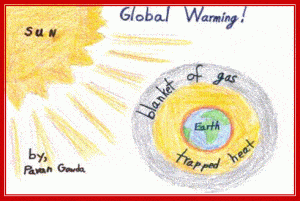 While the poorest countries need to do more to support their children's ability to live healthy lives, excessive carbon emissions –disproportionately from wealthier countries – threaten the future of all children. If global warming exceeds 4°C by the year 2100 in line with current projections, this would lead to devastating health consequences for children, due to rising ocean levels, heatwaves, proliferation of diseases like malaria and dengue, and malnutrition.
The index shows that children in Norway, the Republic of Korea, and the Netherlands have the best chance at survival and well-being, while children in Central African Republic, Chad, Somalia, Niger and Mali face the worst odds. However, when authors took per capita CO2 emissions into account, the top countries trail behind: Norway ranked 156, the Republic of Korea 166, and the Netherlands 160. Each of the three emits 210% more CO2 per capita than their 2030 target. The United States of America (USA), Australia, and Saudi Arabia are among the ten worst emitters.
"More than 2 billion people live in countries where development is hampered by humanitarian crises, conflicts, and natural disasters, problems increasingly linked with climate change," said Minister Awa Coll-Seck from Senegal, Co-Chair of the Commission. "While some of the poorest countries have among the lowest CO2 emissions, many are exposed to the harshest impacts of a rapidly changing climate. Promoting better conditions today for children to survive and thrive nationally does not have to come at the cost of eroding children's futures globally."
The only countries on track to beat CO2 emission per capita targets by 2030, while also performing fairly (within the top 70) on child flourishing measures are: Albania, Armenia, Grenada, Jordan, Moldova, Sri Lanka, Tunisia, Uruguay and Viet Nam.
The post Children's Future Under Threat appeared first on Tasmanian Times.
Source: Tasmanian Times https://tasmaniantimes.com/2020/02/childrens-future-under-threat/#utm_source=rss&utm_medium=rss&utm_campaign=childrens-future-under-threat