"Black Panther" director and co-writer Ryan Coogler revealed that his late friend Chadwick Boseman helped come up with one of the film's most memorable lines.In an emotional tribute to Boseman, who died at his home…
In an emotional tribute to Boseman, who died at his home in Los Angeles on Friday after a lengthy battle with colon cancer, Coogler explained how Boseman was deeply involved in the filmmaking process.
"He would come to auditions for supporting roles, which is not common for lead actors in big budget movies. He was there for several M'Baku auditions. In Winston Duke's, he turned a chemistry read into a wrestling match. Winston broke his bracelet," Coogler said on Sunday. "In Letitia Wright's audition for Shuri, she pierced his royal poise with her signature humor, and would bring about a smile to T'Challa's face that was 100% Chad."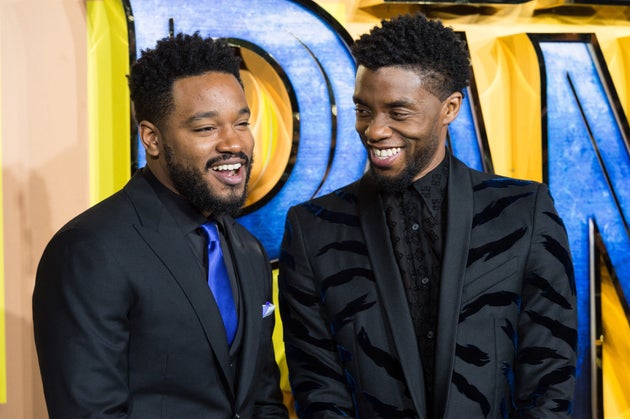 During filming, Coogler said he and Boseman would often meet to "discuss lines and different ways to add depth to each scene."
"We talked costumes, military practices. He said to me, 'Wakandans have to dance during the coronations. If they just stand there with spears, what separates them from Romans?'" he continued. "In early drafts of the script, [Erik] Killmonger's character would ask T'Challa to be buried in Wakanda. Chad challenged that and asked, 'What if Killmonger asked to be buried somewhere else?'"
The director was referring to Michael B. Jordan's character, Killmonger, whose final line in the film is, "Why? So you can just lock me up? Just bury me in the ocean with my ancestors who jumped from ships, 'cause they knew death was better than bondage."
Last year, Marvel Studios Chief Kevin Feige told The Hollywood Reporter that he thought the line was "one of the best lines" he had ever read, and that he'd even encouraged filmmakers to "build more of the movie around it."
Since Boseman's death, fans and co-stars in the Marvel community have come out in droves to mourn his loss. On Monday night, Jordan shared a similarly heart-wrenching tribute to his friend.
"I've been trying to find the words, but nothing comes close to how I feel. I've been reflecting on every moment, every conversation, every laugh, every disagreement, every hug…everything," he wrote on Instagram. "I wish we had more time."
Source: Huffington Post Australia Athena2 https://www.huffingtonpost.com.au/entry/chadwick-boseman-helped-create-this-iconic-black-panther-line_au_5f4e6d3dc5b697186e3bd7b4