The Bridge project going nowhere is emblematic of the Liberals' fumbling of major projects, says Shane Broad.
With last week's announcement from Peter Gutwein that Tasmania's post COVID-19 economic recovery will be led by infrastructure spending, it is timely to examine the government's infrastructure track record.
Of course, the Premier is correct in saying infrastructure spending will stimulate the economy, both saving and creating jobs. But we've heard all this before – this time the spin is just 'paintbrush ready' and 'screwdriver ready' projects.
At the last election, the Liberals touted infrastructure investment as one of the key planks of their long-term plan for Tasmania.
On paper, it may have looked impressive, with pretty artistic concepts of projects like an underground bus mall in Hobart, a fifth lane on the Southern Outlet and a new bridge over the mudflats of Launceston's Tamar River.
But, scratching beneath the surface revealed the reality of these projects – rather than the magic fix to very real problems in Tasmania, they were totally un-funded and practically implausible.
And, unfortunately, they've become emblematic of the Liberals' complete failure to deliver crucial infrastructure projects for the state.
In his budget speech last year, Peter Gutwein tried to spin his way out of projected state debt of more than $1 billion by calling it an infrastructure budget. Yet, not only has nothing happened since then, but the latest fiscal update showed that, by the end of March, the government had only spent $300m out of its $700m infrastructure budget.
How can the government build its way out of this crisis when it has demonstrated a complete inability to build anything?

There is no papering over six years of the Liberals' failure to deliver any new major projects.
Instead, they've taken credit for long-term projects designed and funded by previous Labor governments, and continually relaunched unfunded projects going nowhere.
The lack of Tasmanian projects on Infrastructure Australia's (IA) high priority list clearly demonstrates the depths of the government's problems and adds to the rapidly growing list of failures from this government.
There are no State Government projects on the priority list at all – no Tamar Bridge, nothing at Burnie Port and no solutions for Hobart's traffic congestion.
Four 'initiatives' are listed, for which the Liberals are either yet to develop a business case or have failed to define exactly what the project is.
Add to that the farcical situation with Hobart's Macquarie Point. Almost six years after the Liberals came to power, the $50 million the Macquarie Point Development Corporation started with has been whittled away to $20 million. And what do we have to show for that? Virtually nothing, save for a carpark, some food vans and the listing of a handful of small blocks on the market to plug some massive financial holes. There are no jobs, no action, no progress – and there is certainly no grand vision.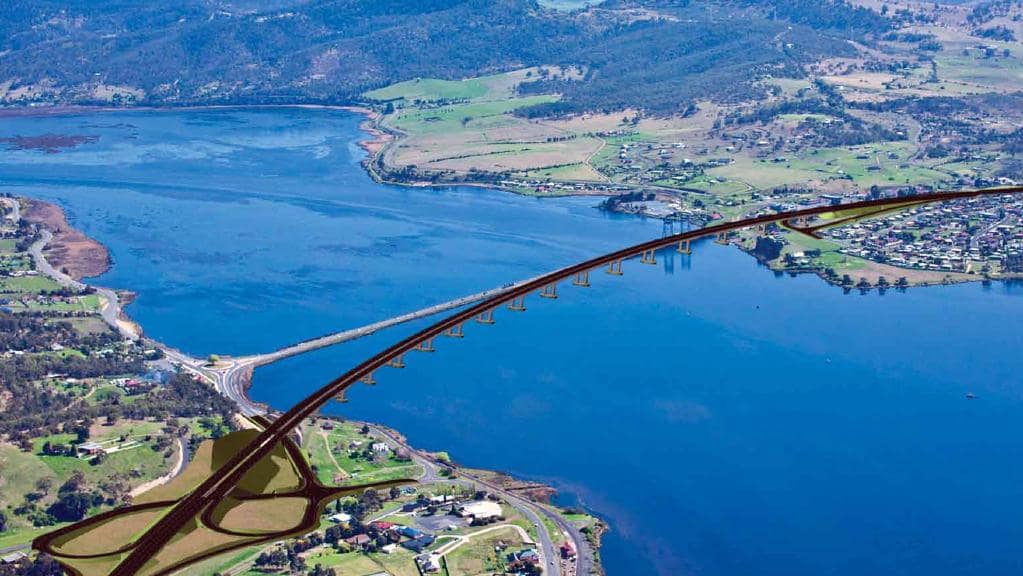 As if these project failures weren't bad enough, the $576 million Bridgewater Bridge replacement now appears to be falling victim to the Liberals' 'kiss of death' as well.
They originally promised that construction of the new bridge would begin in 2019 but here we are in 2020 and the project seems even further away from becoming a reality.
Infrastructure Australia embarrassingly rejected the Government's business case, with a new one due by the middle of this year. And despite having been on the list for four years, IA still believes the timeframe for the Bridgewater Bridge is five to ten years away.
Tasmanians have been told it's ready to go so many times, only for the timelines to continually blow out.
Now, at a time when we need to push ahead with productive infrastructure, it seems the Liberals are preparing to scale back the bridge design.
Unknown to most Tasmanians, a new survey is being quietly conducted at taxpayer expense, asking questions about the design of the bridge, even though we've been told the project is fully funded and on track. Not only that, but the survey appears to be aimed at walking away from the promised four lanes in favour of two and keeping the speed limit at 60 kilometres an hour.
For a project all set to go, that makes no sense and Tasmanians deserve to know what stage the Bridgewater Bridge is really at.
As well, the Liberals appear desperate to cover up their lack of action by employing a spin doctor, at a cost to taxpayers of more than $120,000, to try to salvage any credibility they have left in relation to the project.
All this comes after they waited until January this year before deciding to employ a project director and issue a tender for the necessary geotechnical work to figure out how deep the mud is at Bridgewater and what bridge design was even possible.
This is trademark Liberal mismanagement of major infrastructure projects. Instead of getting the job done, they continue to kick the can down the road by getting consultants to do yet another report.

Will they also spend hundreds of thousands of dollars on communications staff for the fifth lane on the southern outlet or any COVID-19 stimulus projects?
The Liberals must come clean on when the bridge will be built, how much it will cost and whether the government remains committed to the original four-lane specification.
The Liberals' failure to spend almost a quarter of their own budgeted infrastructure funds, on average, every year they've been in government, is putting a handbrake on job creation.
At a time when major projects will be vital to stimulate the economy, Tasmania is being hamstrung by a government that can't be trusted to deliver essential infrastructure projects. For the benefit of the Tasmanian economy this lack of action must end.
As we look towards economic and social recovery from COVID-19, the government must get moving on infrastructure projects so Tasmanians aren't left behind once again.
Projects like Burnie Port improvements, statewide traffic-busting investments and tourism infrastructure would employ Tasmanians, help restart the economy and set the state up for the future. We need less talk, fewer consultancies and more action from this government.
---
Dr Shane Broad is Shadow Minister for Infrastructure and a Labor MHA representing Braddon. He earned a Doctorate in Agricultural Science at UTAS, was an elite athlete, and worked in various professional fields including agriculture, finance, education, science and in government at all levels.
Source: Tasmanian Times https://tasmaniantimes.com/2020/05/bridgewater-bridge-an-icon-of-infrastructure-incompetence/#utm_source=rss&utm_medium=rss&utm_campaign=bridgewater-bridge-an-icon-of-infrastructure-incompetence