Two suicide bombers and gunmen have attacked crowds flocking to Kabul's airport, killing 60 Afghans and 12 US troops. An Islamic State affiliate has been blamed.
Two suicide bombers and gunmen have attacked crowds of Afghans flocking to Kabul's airport, transforming a scene of desperation into one of horror in the waning days of an airlift for those fleeing the Taliban takeover.
At least 60 Afghans and 13 US troops were killed, Afghan and US officials said.
The Islamic State group's affiliate in Afghanistan has claimed responsibility for the attack. The IS affiliate in Afghanistan is far more radical than the Taliban, who recently took control of the country in a lightning blitz and condemned the attack.
EXPLAINER: What is ISIS-K?
'EVIL, CALCULATED': Australia condemns airport attack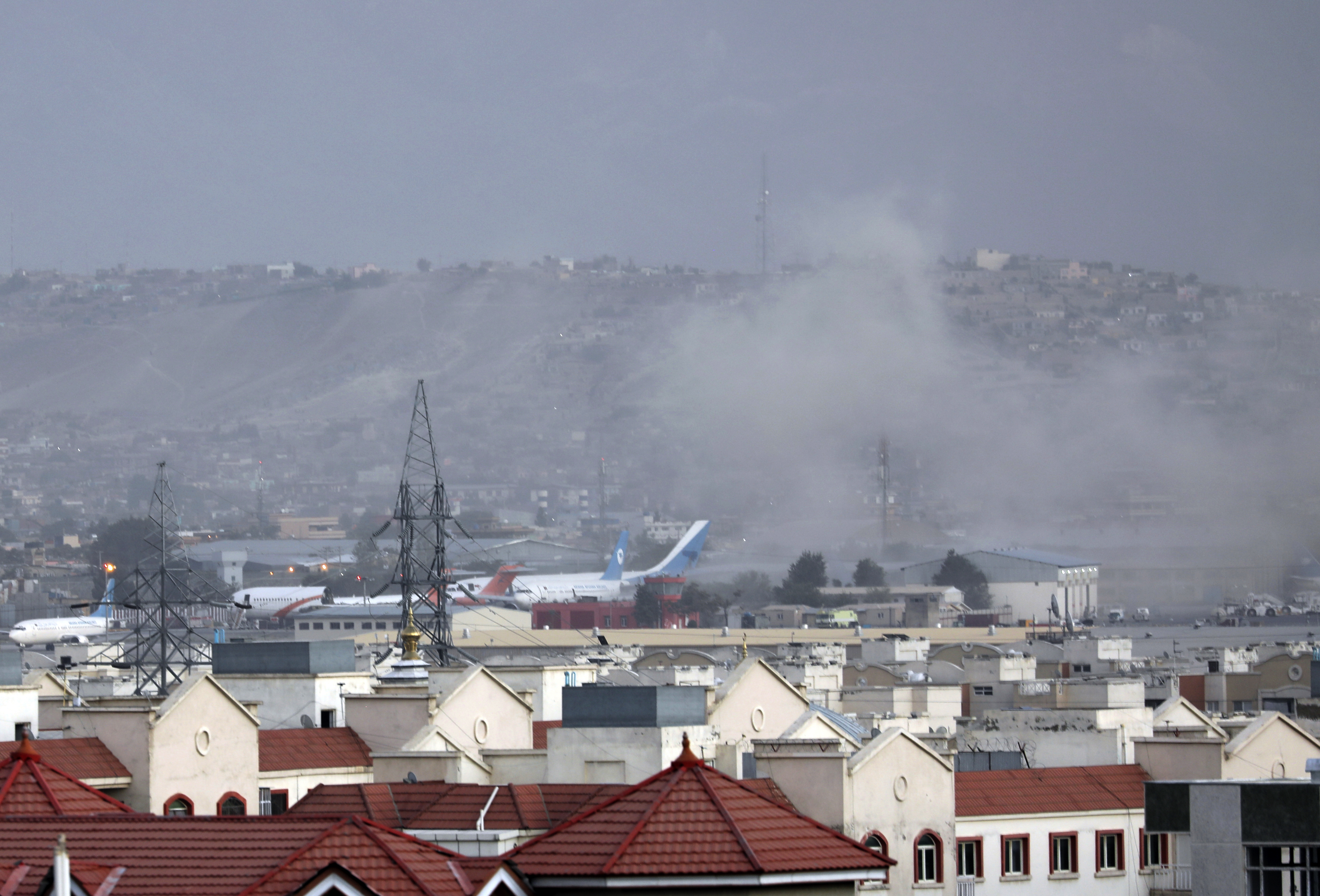 All Australian troops flown to evacuate citizens and visa holders are safe.
Australia and the US had told citizens not to go near the airport yesterday, and today, Prime Minister Scott Morrison confirmed Australia's evacuation operation had ended.
At least 13 US service members were among the dead, including 11 Marines and one Navy medic, according to two US officials, in an attack targeting crowds near the airport in the waning days of a massive airlift that has drawn thousands of people seeking to flee the Taliban takeover of Afghanistan.
Eighteen service members were wounded and officials warned the toll could grow.
More than 140 Afghans were wounded, an Afghan official said.
One of the bombers struck people standing knee-deep in a wastewater canal under the sweltering sun, throwing bodies into the fetid water.
The US general overseeing the evacuation said the attacks would not stop the United States from evacuating Americans and others, and flights out were continuing.
General Frank McKenzie, head of US Central Command, said there was a large amount of security at the airport, and alternate routes were being used to get evacuees in.
"The threat from ISIS is extremely real we've been talking about this for several days," he said, in a press conference shortly after 5am (AEST).
"We saw it actually manifest itself here in the last few hours, with an actual attack.
"We believe it is their desire to continue those attacks and we expect those attacks to continue, and we're doing everything we can to be prepared for those attacks."
The commander said he saw nothing to convince him that the Taliban had "let" the attack happen.
About 5000 people were awaiting flights on the airfield, General McKenzie said.
US President Joe Biden vowed to complete the evacuation of American citizens and others from Afghanistan.
He also promised to avenge the deaths, declaring to the extremists responsible: "We will hunt you down and make you pay".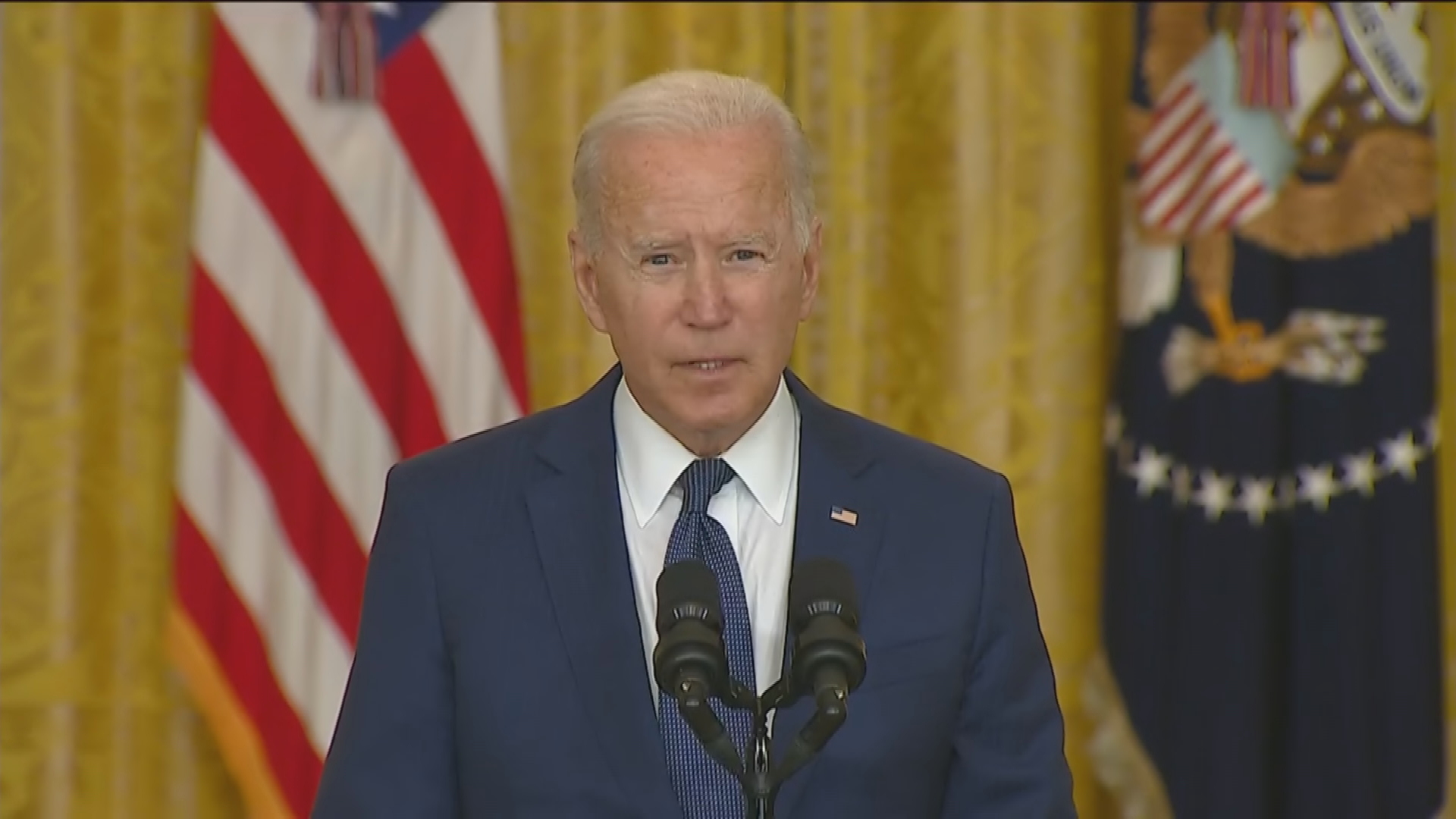 Speaking with emotion from the White House, Mr Biden said the Islamic State group's Afghanistan affiliate was to blame for the attacks that killed 12 American service members and many more Afghan civilians.
He said there was no evidence they colluded with the Taliban, who now control the country.
"We have some reason to believe we know who they are," he said of the bombers and gunmen involved.
"Not certain."
READ MORE: Adelaide father attacked in Afghanistan desperate to get home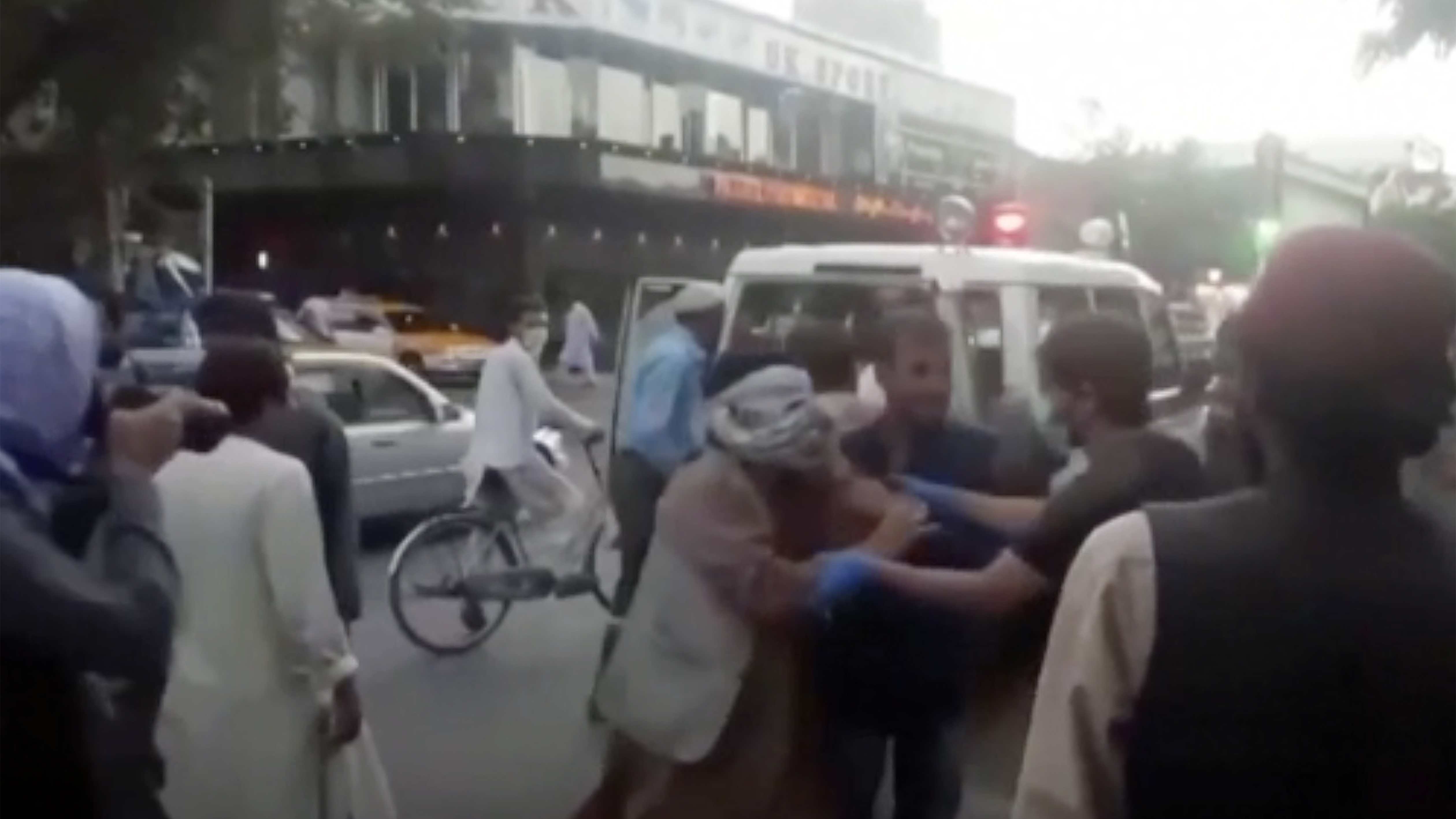 Pentagon Press Secretary John Kirby described a "complex attack that resulted in a number of US and civilian casualties" near the Abbey Gate of Hamid Karzai International Airport, which was followed by at least one other explosion close to the nearby Baron Hotel.
"We can confirm that a number of US service members were killed in today's complex attack at Kabul airport," he said, in a statement.
"A number of others are being treated for wounds.
"We also know that are number of Afghans fell victims to this heinous attack."
Emergency, an Italian charity that operates hospitals in Afghanistan, said it had received at least 60 patients wounded in the airport attack, in addition to 10 who were dead when they arrived.
"Surgeons will be working into the night," said Marco Puntin, the charity's manager in Afghanistan.
The wounded overflowed the triage zone into the physiotherapy area and more beds were being added, he said.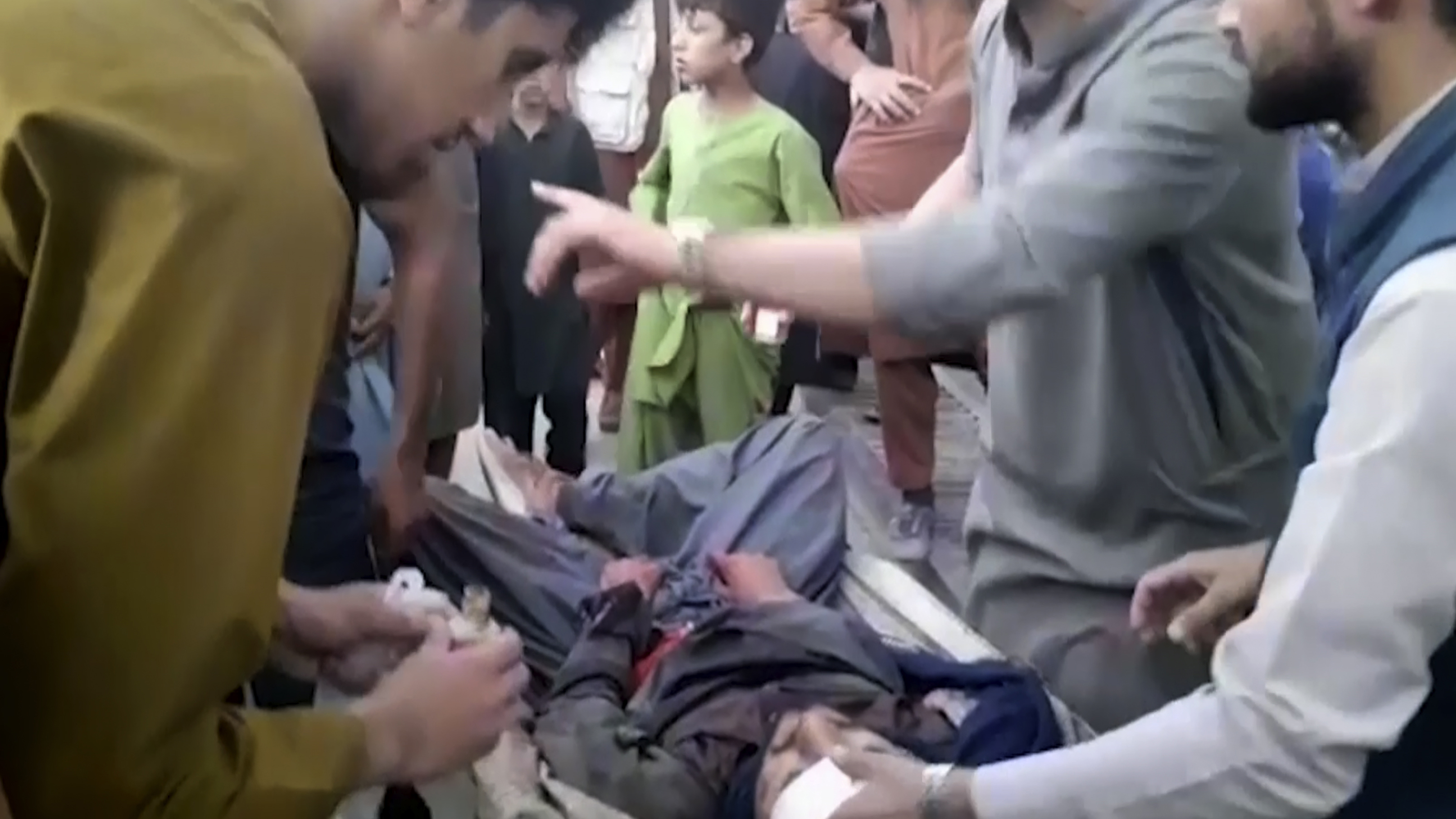 What we know about the Afghanistan attacks
At least two explosions caused multiple casualties
At least 60 Afghans and 13 US troops were killed, Afghan and US officials said
NATO, European Commission and Taliban condemn attack
Joint Operations Command, which is responsible for planning and conducting Australian military campaigns, said all Australian Defence Force personnel supporting the evacuation were safe.
9news.com.au has sought comment from the Department of Foreign Affairs and Trade (DFAT) on the situation.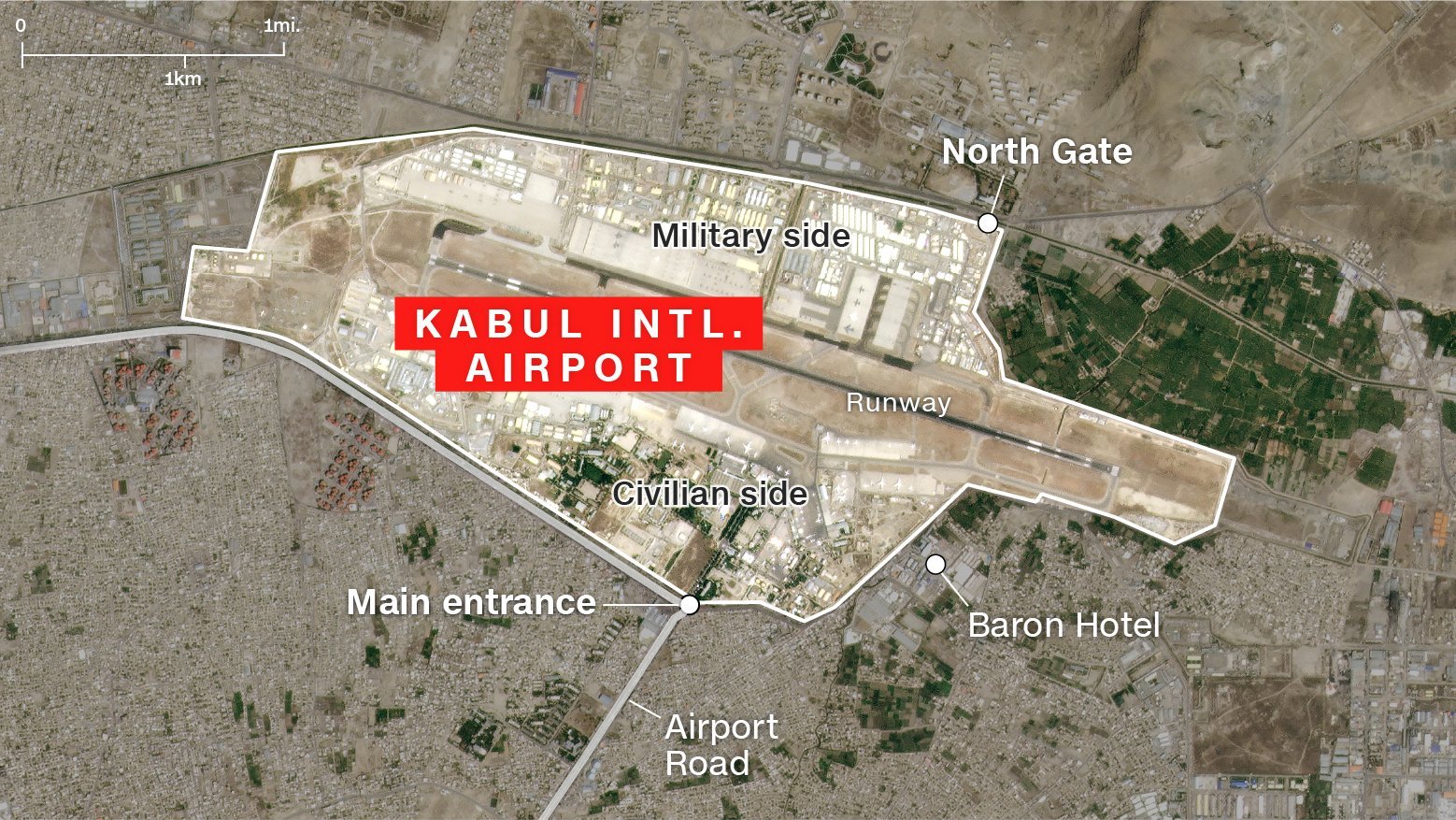 US officials believe ISIS-K was likely behind the attack at Kabul airport but are still working to confirm the terror group's involvement, according to a senior US official and another source briefed on initial assessments.
Taliban spokesman Zabihullah Mujahid said the group strongly condemned the bombing and claimed it took place in an area where the US was responsible for security.
While the US has been controlling the airport itself, the Taliban has been patrolling the entrance to the facility.
Adam Khan, an Afghan waiting outside the airport, said the explosion went off in a crowd of people waiting to enter the airport.
Mr Khan, who said he was standing about 30 metres away, said several people appeared to have been killed or wounded, including some who lost body parts.
Emergency, an NGO set up to provide healthcare to victims of war, poverty and landmines, said about 60 patients had arrived at its Kabul surgical centre following the attack.
An eyewitness told the BBC he saw at least 400 or 500 people in the area.
https://twitter.com/hqjoc/status/1430905692659994625
"The explosion was really powerful," he said.
"Half were hurled into the water, others on the ground outside.
"We carried the wounded here on stretchers and here, my clothes are completely bloodied."
Videos and pictures from the scene appear to show piles of dead bodies, many lying in a sewage canal outside the airport.
Injured people were seen carried on stretchers, by hand and in a wheelbarrow.
Former assistant secretary of state for political-military affairs and former deputy assistant secretary of defence for Middle East policy Mark Kimmitt said a "complex" attack involved an improvised explosive device and gunfire.
"The most horrific part of a complex attack is that you have an IED go off with horrendous casualties," he told the BBC.
"And then you get a lot of people rushing to the site of that IED explosion to try to help the people on the ground, the living. The wounded. 
"Then a second attack happens once that huge cluster has gone into help, so that in fact you get a double effect."
Western nations, including Australian Foreign Minister Marise Payne, had warned of a possible attack on Kabul's airport in the waning days of the massive evacuation efforts.
Several countries urged people to avoid the airport, where an official said there was a threat of a suicide bombing.
But just days — or even hours for some nations — before the evacuation effort was due to end, few appeared to heed the call.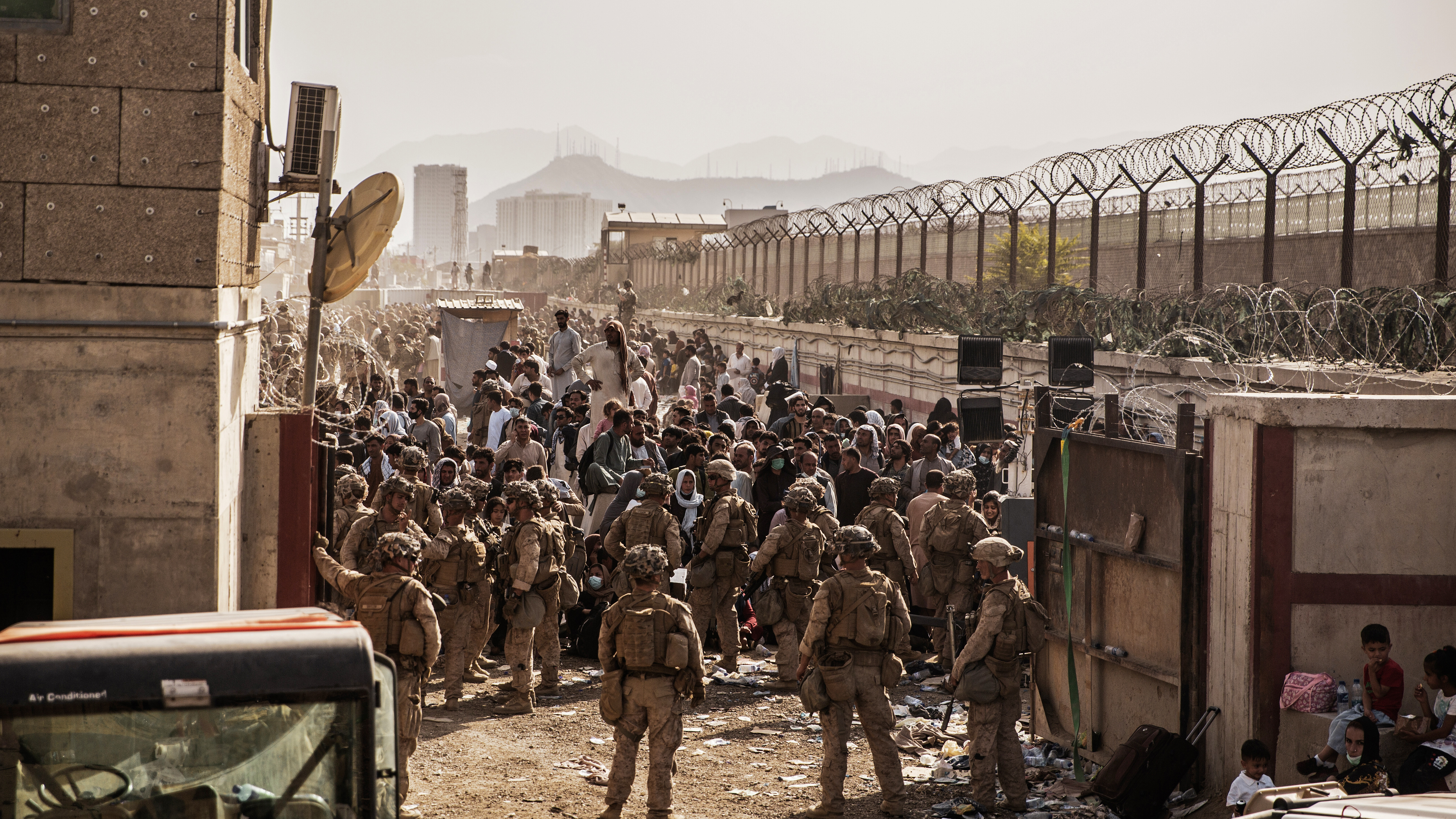 French President Emmanuel Macron said the coming hours would "remain extremely dangerous in Kabul and at the airport".
"We are confronted with a very tense situation and we are coordinating with our American allies," Mr Macron said, adding that the situation at the airport had seriously deteriorated and the French Ambassador would not be staying in Afghanistan.
The UK Ministry of Defence said there had been no reported UK military or government casualties.
"UK forces are working closely with our partners to provide security and medical assistance," the ministry said.
NATO chief Jens Stoltenberg condemned the twin explosions as a "horrific terrorist attack" that targeted desperate Afghans trying to leave the country and European Commission President Ursula Von der Leyen strongly condemned the "cowardly and inhuman attack".
Over the past week, the airport has been the scene of some of the most searing images of the chaotic end of America's longest war and the Taliban's takeover, as flight after flight took off carrying those who fear a return to the militants' brutal rule.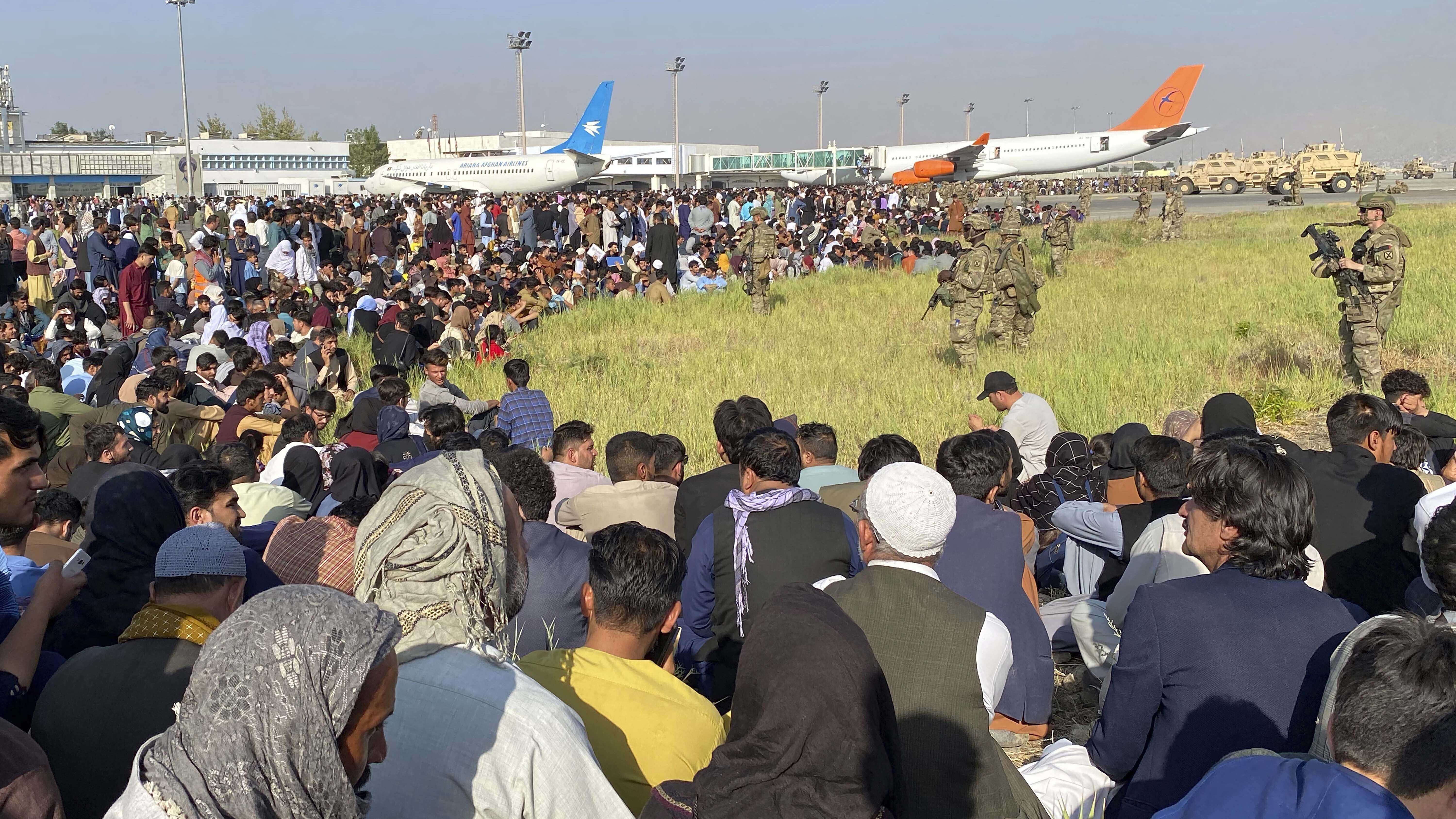 Already, some countries have ended their evacuations and begun to withdraw their soldiers and diplomats, signalling the beginning of the end of one of history's largest airlifts. 
UK Prime Minister Boris Johnson, who described the attack as "barbaric", said his country's armed forces would continue the evacuation but stated the "overwhelming majority" of UK nationals and Afghans eligible for visas had already left the country.
https://twitter.com/BorisJohnson/status/1430953808096595977
The Taliban have so far honoured a pledge not to attack Western forces during the evacuation, but insist the foreign troops must be out by America's self-imposed deadline of August 31.
HR McMaster, a former national security adviser to Donald Trump and outspoken critic of both Mr Trump and US President Joe Biden's roles in the US withdrawal, said there was now "no way" all remaining Americans could be evacuated from the country.
"Everybody's talking about the humiliating withdrawal of American forces from Vietnam in 1975," the retired general told the BBC.
"I think we're going to fast forward from that disturbing image to the hostage crisis in Tehran in 1979."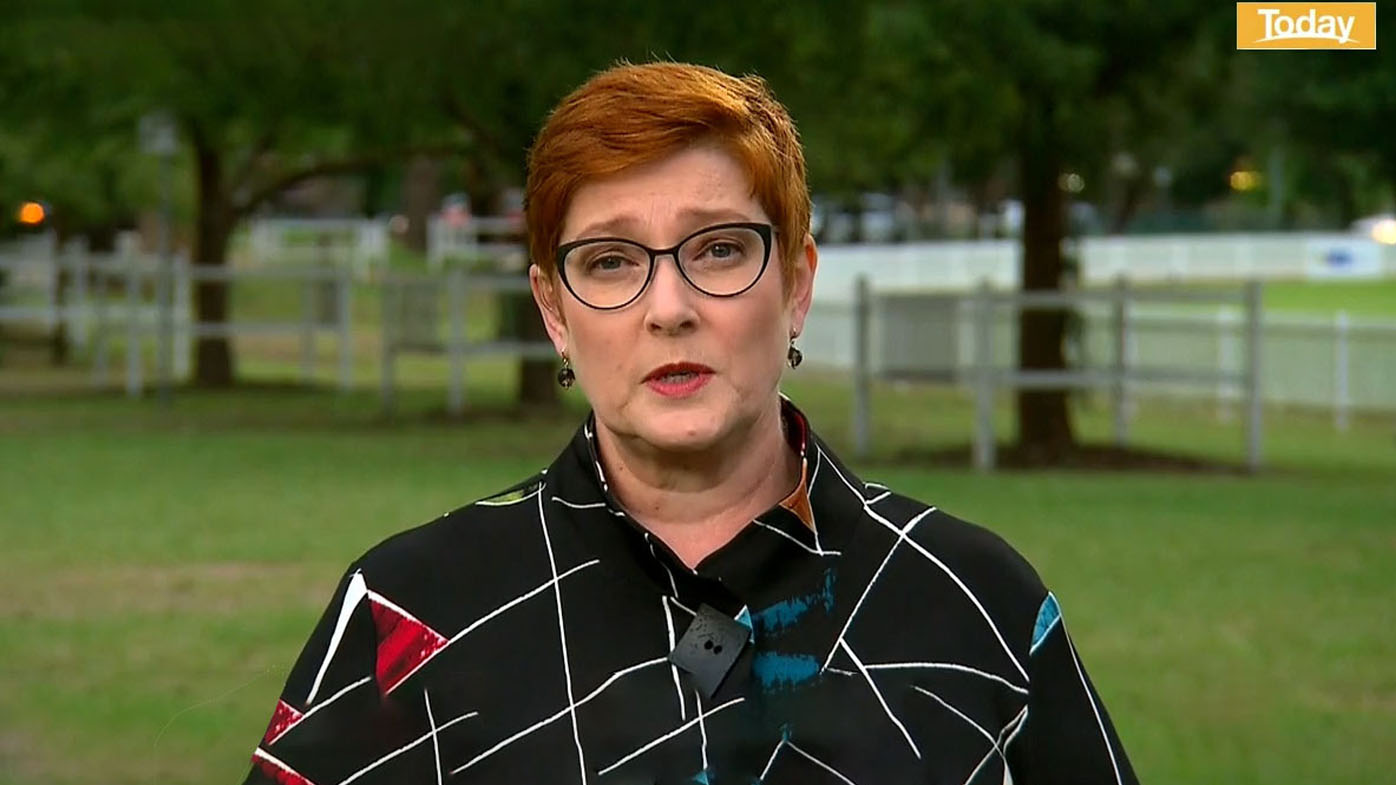 Throughout yesterday, warnings emerged from Western capitals about a threat from Afghanistan's Islamic State group affiliate, which likely has seen its ranks boosted by the Taliban's freeing of prisoners during their blitz across the country.
British Armed Forces Minister James Heappey told the BBC early Thursday there was "very, very credible reporting of an imminent attack" at the airport, possibly within "hours". 
The US Embassy had warned citizens at three airport gates to leave immediately due to an unspecified security threat.
Australia, Britain and New Zealand also advised their citizens on Thursday not to go to the airport, with Ms Payne saying the situation remained "highly volatile and dangerous".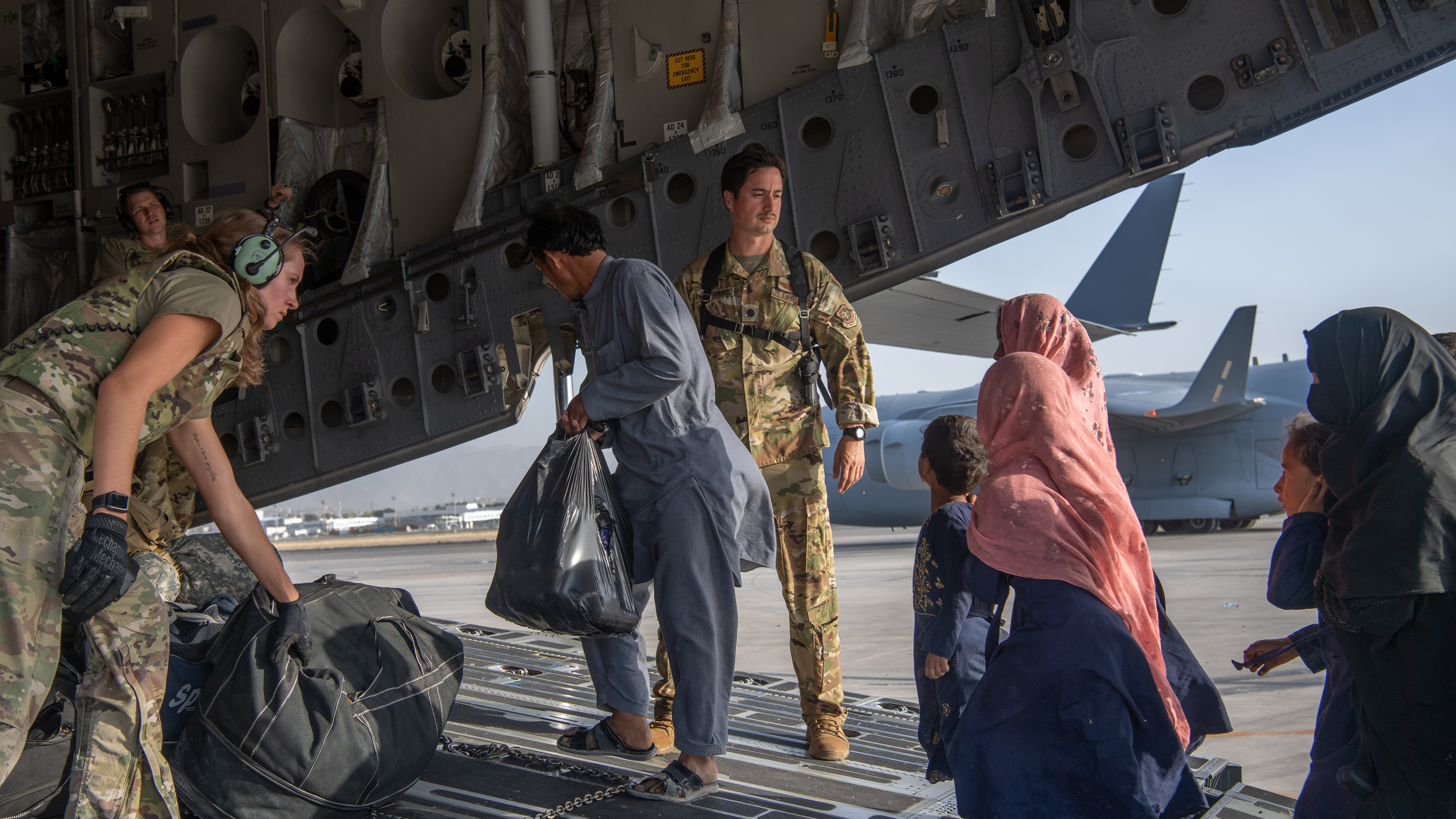 "Our clear travel advice is now, do not travel to Hamid Karzai International Airport and if you are in the area of the airport, moved to a safe location and await further advice," Ms Payne said.
"Be aware of the potential for violence and security threats with large crowds," she said.
"There is an ongoing and very high threat of a terrorist attack."
Belgian Prime Minister Alexander De Croo said his country had received information from the US and other countries about the "threat of suicide attacks on the mass of people". 
The acting US ambassador to Kabul, Ross Wilson, said the security threat at the Kabul airport overnight was "clearly regarded as credible, as imminent, as compelling".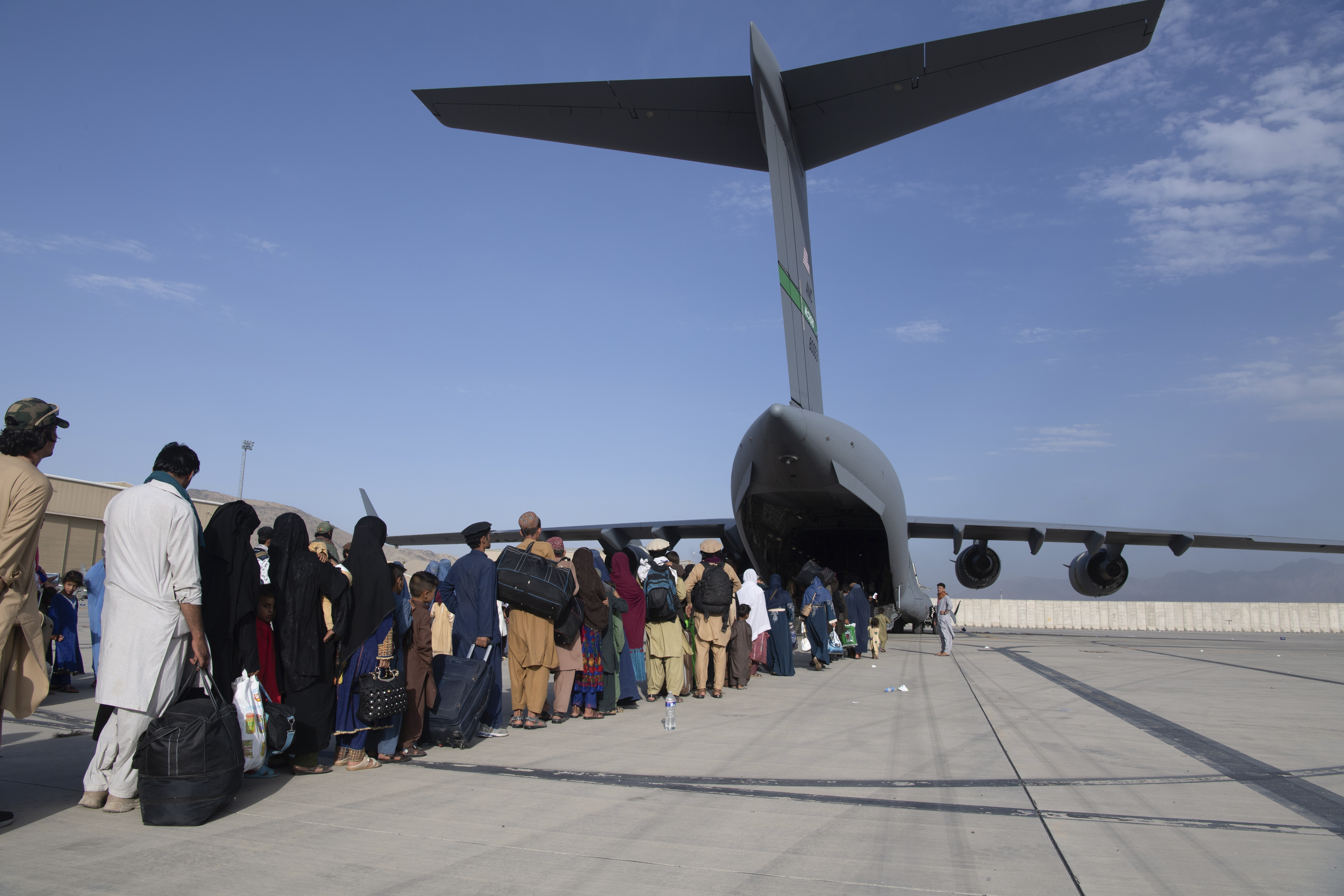 But in an interview with ABC News, he would not give details and did not say whether the threat remained. 
Taliban spokesman Zabihullah Mujahid denied that any attack was imminent in the wake of those warnings.
A while later, the blast was reported. US President Joe Biden and UK Prime Minister Boris Johnson have both been briefed on the attack and met with their security teams.
- with agencies
Source: 9News https://www.9news.com.au/national/afghanistan-explosion-outside-kabul-airport-pentagon-confirms-hamid-karzai-international-airport-blast/5e4b8f9e-1580-413e-b486-c42cfc09ee18