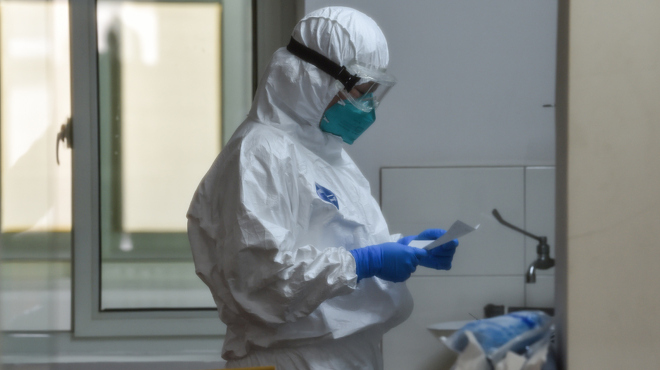 ANMF submission to the outbreak details lack of PPE, training issues, poor communication and often health staff left to 'muddle through'.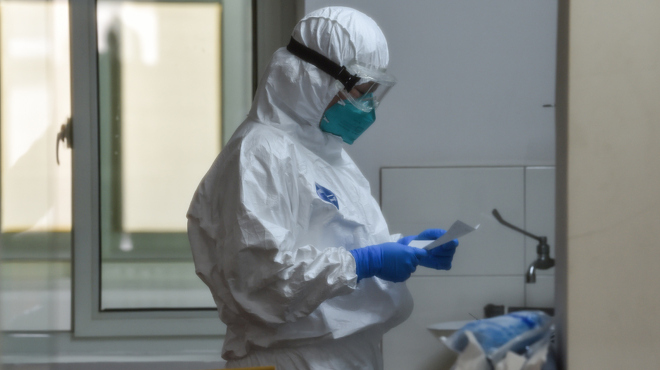 The ANMF submission to the NW Outbreak Review is reproduced below. Emily Shepherd, Branch Secretary of the Australian Nursing and Midwifery Federation (Tasmanian Branch), made the following introductory comments to TT:
"It has redacted all the member comments due to confidentiality so it doesn't flow very well and is a little disjointed.
I should also point out, that the submission is about a point in time (during the NW outbreak) and that things have changed considerably since then, many improvements have been made. Our view is that we need to focus on the broader structural improvements like electronic records, better resourced staffing from an infection control and public health perspective and also with regard to future capital works that allows for staff locker rooms, showers and spaces to accommodate socially distanced meal breaks and handover."
SUBMISSION TO: INDEPENDENT REVIEW OF THE RESPONSE TO THE NORTH-WEST TASMANIA COVID-19 OUTBREAK
Prepared 11 August 2020
AUSTRALIAN NURSING & MIDWIFERY FEDERATION (TASMANIAN BRANCH)
Organisation Overview
The Australian Nursing and Midwifery Federation (ANMF) is both the largest nursing and midwifery union and the largest professional body for the nursing and midwifery teams in Tasmania. We operate as the State Branch of the federally registered Australian Nursing and Midwifery Federation. The Tasmanian Branch represents around 8000 members and in total the ANMF across Australia represents over 285,000 nurses,midwives and care staff. ANMF members are employed in a wide range of workplaces (private and public, urban and remote) such as health and community services, aged care facilities, universities, the armed forces, statutory authorities, local government, offshore territories and more.
The core business of the ANMF is the industrial and professional representation of nurses, midwives and the broader nursing team, through the activities of a national body and branches in every state and territory. The role of the ANMF isto provide a high standard of leadership, industrial, educational and professional representation and service to members. This includes concentrating on topics such as education, policy and practice, industrial issues such as wages and professional matters and broader issues which affect health such as policy, funding and care delivery. ANMF also actively advocates for the community where decisions and policy is perceived to be detrimental to good, safe patient care.
Executive Summary
The Australian Nursing and Midwifery Federation (ANMF) Tasmanian Branch represent Nurses, Midwives and Care Workers on the North West of Tasmania across all sectors and, on the behalf of our membership, welcome the opportunity to provide a response as part of this review.
Nurses, Midwives and Care Workers were on the frontline of the COVID-19 pandemic and experienced the full effects of COVID-19 and the impact it had on their patients,residents, clients; their health care environment, the community, themselves and their families. Our members worked tirelessly to support those affected by COVID-19 in their care, while also working diligently to prevent further cases and spread of the virus. Their efforts were evident from the beginning of the outbreak, through the stage 4 restrictions and after restrictions were eased and the North West Regional Hospital and the North West Private Hospital were re-opened.
During the height of the COVID-19 pandemic in the North West, the ANMF provided constant communication, support and advice to members working in the public sector, private sector and in the community and aged care sectors. Members were in constant contact and as a result ANMF were able to build a comprehensive understanding of the experience of nurses, midwives and care workers during the COVID-19 outbreak in the North West of Tasmania.
The ANMF recently called upon members in the North West to document their views more formally in line with the Terms of Reference of this review as well as seeking view of those members who were assisting in the North West outbreak in Public Health. One hundred and thirty four members responded with their comprehensive feedback and their feedback has been collated along with the information gathered throughout the COVID-19 NW outbreak. Overall the experience of Nurses, Midwives and Care Workers was varied with the experience and whether it had a negative impact on them or their workplaces waslargely based upon work location and the number of COVID-19 cases and whether they themselves were infected with COVID-19.
However,there are many broad concerns that are shared by nurses,midwives and care workers who were working in the North West at the time of the outbreak. These predominantly relate to:
• Insufficient Personal Protective Equipment(PPE)
• Insufficient training and education on use of PPE and infection control procedures
• Poor communication to nurses and midwives and care workers and also between health providers and public health
• Lack of support and information that was easily accessible from one source that covered all the up to date information in a succinct and factual way
• Inadequate staffing levels to deal with increased patient, client and resident care requirements and time associated with applying and removing PPE
• Ineffective processes regarding contact tracing, follow up and support whilst in isolation.
Many of these concerns were raised by ANMF on behalf of members with the Minister for Health, Secretary, Department of Health and Director of Public Health in the weekly consultation forums that were organised with health stakeholders by the Minister for Health, Sarah Courtney. As a result some the feedback provided may be known, however in the interest of complete transparency, recording of events and to ensure that all areas for improvement are captured by the recommendations of this review, is repeated here.
It is certainly acknowledged by the ANMF (Tas Branch) that the novel virus which is now known as COVID-19 raised new and challenging issues which were clearly not anticipated. It is hoped that this review will allow for a more timely and effective response in the event that a new outbreak of a highly contagious respiratory (or other) illness erupts either within Tasmania, or from an external source, in the future.
Abbreviations used:
ANMF: Australian Nursing and Midwifery Federation (Tasmanian Branch)
MCH: Mersey Community Hospital
NWPH: North West Private Hospital (Burnie)
NWRH: North West Regional Hospital (Burnie)
PPE: Personal Protective Equipment
THS: Tasmanian Health Service
TERMS OF REFERENCE:
1. The chronology and response to the COVID-19 outbreak in North-West Tasmania including but not limited to:
THE PUBLIC HEALTH AND HEALTH SYSTEM PREPAREDNESS FOR THE OUTBREAK;
ANMF members reported mixed views in terms of preparedness with many members feeling that public health and the health system as well as individual workplaces were not prepared enough, particularly in the beginning of the outbreak in the North West.
The feedback to ANMF during the outbreak was that while there was preparation underway to some degree in all health settings it was largely reported by ANMF members that this planning was inadequate, occurred too late, was inconsistent, was not well communicated and focussed largely on the public health setting with members in aged care and community feeling completely unsupported and disregarded in the health system and public health response.
ANMF survey data revealed that 68.66%of ANMF respondents felt that their workplace across public, private, aged care, community settings and those in aged care was only somewhat prepared or not prepared for COVID-19, with 28.36% of respondents stating that their workplace was not prepared at all. Examples of member feedback is provided below:
Feedback from members working at the Mersey Community Hospital(MCH),North West Regional Hospital (NWRH)throughout the outbreak, during the closure of the hospitals and quarantine, was critical of the Tasmanian Health Service (THS) and the Public Health response.
Feedback and concerns were raised with ANMF from members at the NWRH about the preparedness of the Hospital and risks to the safety of staff and patients. The initial concerns related to the lack of clear direction around PPE, the lack or apparent rationing of PPE and conflicting advice as to what PPE to wear in the relevant clinical context. The other concern raised was the lack of isolation of patients with dedicated staffing outside of areas deemed to be high risk such as ICU and ED. Members were extremely concerned about what they felt were obvious gaps in infection control and conflicting information coming from a variety of sources with no consistency of information. Significant feedback from members in relation to the perception the PPE was going to be re-cycled due to mixed messages regarding keeping masks and the length of time that they could be worn was a cause for concern.
Member feedback about the Tasmanian Health Service is detailed below:
Despite the critical feedback, some members also acknowledged the unprecedented nature of the pandemic and recognised that planning for a pandemic of this scale was difficult. Members comments with respect to this are outlined below:
[BLANK]
In the initial stages of the outbreak, members were very clear that about the disjointed and often contradictory advice that they would hearfrom public health versus what they were hearing in the clinical environment. The feedback largely pertained to PPE use.
At times, and in the absence of advice from senior management at the local level, members contacted the public health hotline out of desperation for advice with regard to infection control procedures, testing and also use of PPE and isolating of patients.
Unfortunately they report receiving different information each time they called. In addition, members were quickly disillusioned by the contact tracing and follow up with close contacts. For example, members report finding out about positive COVID-19 cases among their colleagues via the media each day well before any communication with them. Members feedback is outlined below:
Some members also provided positive feedback with regard to the Public Health response and preparation and provided below:
[BLANK]
Members working in public health felt that they were completely under resourced and quickly overwhelmed as the pandemic evolved on the North West and across Tasmania. The complex nature of the work which also required comprehensive clinical understanding meant that finding staff to assist in the public health unit was difficult, leading to significant fatigue and exhaustion.
Comments from members in public health include:
[BLANK]
For those members working in Aged Care, Community and General Practice, their experience was distinctly different to those working in an acute care facility, although the concerns, anxiety about the level of preparedness were similar.
ANMF survey data, which asked members in the Aged Care, Community and General Practice settings if they felt their employer was prepared for the pandemic, found that 57.63% responded they did not believe their employer was prepared for the pandemic.
In particular, members in the aged care setting felt extremely vulnerable and at the mercy of aged care providers who at times were dismissive of concerns with regard to increasing infection control measures and requests to utilise PPE. Many members working in Aged Care felt let down by the lack of guidance and oversight due to the Federal Governance and Funding of the Aged Care Sector.
Those working in the community often in close proximity and in GP practices at times reported that there was no PPE available due to the reliance upon the National Stockpile which was slow to replenish supplies if at all. For some time, use of the national stockpile was restricted to the public sector.
Some of the member concerns are included below:
During the North West outbreak members at the two affected aged care facilities reported positive feedback and were grateful for the assistance provided to their facilities by Public Health to manage their residents diagnosed with COVID-19 and widespread testing. This sentiment is reflected below:
[BLANK]
THE ENTRY AND SPREAD OF THE VIRUS IN NORTH-WEST TASMANIA;
Members overwhelmingly acknowledge that returned travellers brought COVID-19 into Tasmania and that the entry of COVID-19 into the North West of Tasmania was through the arrival of the Ruby Princess cruise ship passengers, who were positive for COVID-19 and were admitted to the North West Regional Hospital.
However, the spread of COVID-19 following the initial cases of COVID-19 from the Ruby Princess Cruise Ship passengers and the contributing factors, are considered to be varied among members. Prior to the outbreak at the North West Regional Hospital there was a case affecting a healthcare worker at the Mersey Community Hospital Emergency Department. Following this positive case, a number of MCH ED staff were furloughed and there were no other cases, however it appears that the source of this case may not have been determined.
Regarding the spread at the NWRH and the NWPH, members report the following:
Following the closure of the NWRH and NWPH and the transfer of COVID-19 positive and non-positive patients to the MCH, the ANMF were contacted continually over a period of 48 hours regarding concerns the nursing staff had around the infection control procedures in place at the MCH and the risk that this posed for a further outbreak. These concerns included the lack of appropriate PPE (namely no gowns with long sleeves), PPE being locked in an office with no access due to it being the Easter long weekend, nebulisers (aerosol generating) being given to a COVID-19 positive patient in a ward area increasing the risk of exposure to others, as staff had not received any advice to the contrary. No negative pressure rooms available and, due to the long weekend, no on-site senior staff or management directly available to provide support and advice to nursing staff. These concerns were resolved following ANMF making contact with MCH management on Tuesday and liaising with the PPE Co-ordinator and again with the Minister for Health. However, for several days staff had been expected to just 'muddle through' without support or direction.
iii. the efficacy of decisions and actions, with respect to identification, isolation, contact tracing and quarantine for cases or potential cases in the North-West;
A slim majority of ANMF survey respondents indicated that the process for identification, isolation, contact tracing, and quarantine for cases or potential cases was either very effective (19.7%) or effective (34.09%). While 31.82% of members from across all sectors in the North West felt that these processes were somewhat effective and 14.39% felt they were not effective at all.
A key concern across the entire ANMF membership and particularly those in the North West, related to the strict criteria in the initial stages of the pandemic. Many members felt that this had potentially led to missed opportunities to detect early cases of COVID-19 among staff and also patients at the North West Regional, Mersey Community and North West Private Hospitals. It was highlighted to ANMF that the early case detected at the Mersey Community Hospital was only diagnosed when clinicians at the
time decided to test for COVID-19, despite the healthcare worker not meeting the strict criteria as they had not travelled or been in contact with anyone who had. The outcome of this scenario could have been much worse if not for the sound clinical judgment determining test for COVID-19 despite the criteria not being satisfied. This case demonstrates that it would be preferable to over rather than under test – although this approach might have been limited by the availability of swabs.
The identification and contact tracing that followed were also considerable matters of concerns for ANMF members. The communication of the positive cases announced by the media prior to clinical staff being informed was deeply distressing for nurses and midwives. In addition, the communication channels from public health directly to the area Emergency Operations Commander led to delays in communication and at times, local managers having to wait to speak with their staff in order to commence contact tracing. This led to frustration and dissatisfaction among ANMF members due to the perceived disrespect and understanding of the impact that these results were having on them, their colleagues, their patients and their families.
The resourcing and support for the senior management and the local area Emergency Management Commander were understood to be manifestly inadequate with contact tracing and notifications largely undertaken through the night over many nights in a row which led to key staff becoming fatigued with little sleep and rest. Contact tracing in clinical environment with a myriad of clinicians, visitors and support staff needing to be traced via paper based records (including rosters to identify who had been working) proved to be a mammoth task. It was also evident that staff records, addresses and phone numbers, were not necessarily kept up to date.
The support for clinical staff and those who were living with vulnerable people (as categorised by the National Health Professional Consultative Committee) was sporadic at the beginning of the outbreak. ANMF assisted 3 individual members at the beginning of the outbreak to seek alternate accommodation. Communities Tasmania directed members back to the Tasmania Health Service and their managers where their managers directed them back to Communities Tasmania. ANMF also supported managers to access the required information to assist their staff in arranging alternate accommodation. One occasion, at 6pm at night, in desperation, ANMF contacted the Minister for Health as one member had no accommodation for the night after being identified as a close contact and not being able to isolate at home due to living with a vulnerable family member. Ultimately, the agencies involved in the response were clearly not communicating effectively with each other or effectively within their own agencies.
ANMF supported the decision to close the wards at the NWRH and ultimately the entire NWRH as the outbreak and number of positive COVID-19 cases grew. However, communication surrounding these decisions was again considered grossly inadequate by members due to the lack of notice and method of communication. While a text message was sent to all staff at the NWRH regarding the closure of the Hospital and meeting was held with ANMF and the Department of Health, many members learnt about
the closure from their patients while at work. Again, learning (via the media) about the impending closure of the NWRH and the NWPH, along with a requirement to quarantine with their immediate households for two weeks, was deeply distressing for an already exhausted and vulnerable workforce.
While the need to make time sensitive decisions was no doubt a critical factor in containing the outbreak in the North West, due attention must be given to how staff can be contacted more appropriately and efficiently en masse, should this ever be required again in the future. The lack of notice also created problems for family members who were suddenly unable to attend their jobs simply because a household member was a health care worker.
Specific member feedback with respect to this is provided below:
iv. timelines and effectiveness of communications to hospital staff, the local community and private sector health service providers;
The perception of the effectiveness of communication and the timeliness of this communication was a contentious issue for ANMF members. The survey results revealed a fairly even split between those who felt that the communication was very effective (14.5%), those who felt it was effective (35.88%) and those who felt it was either somewhat effective (33.59% or not effective at all (16.03%).
The ANMF found communication to the community and the local community was very timely. Communication occurred across multiple platforms with mainstream media and social media being used to transmit key messages with regard to social distancing, testing and later on quarantining for households.
The ANMF members working in the private sector and aged care reported difficulty in accessing up to date information regarding infection control procedures and how to access PPE. When these messages did reach these members, it was often at odds with what their employers were advising.
Many members working in aged care felt that their concerns with regard to use of PPE, access to PPE and hand sanitiser were disregarded despite environments not allowing for easy access to hand washing stations or hand sanitiser 'placed in the middle of the facility for easy access'. The inability to maintain appropriate social distancing in aged care, particularly with cognitively impaired residents, added to work stressors.
[BLANK]
In addition, those members who worked within the Public Health System, but outside of the acute or hospital setting, felt very unsupported and unsure as to what infection control policies and guidelines they should follow and what PPE they were required to wear and when.
Whilst the communication to the community was generally clear(although at times not effective in achieving the desired result), the link between Public Health, the Tasmanian Government and Department of Health through to the Tasmanian Health Service appeared to be broken at times, resulting in conflicting information or worse, no information getting through at all. Examples of this and others are outlined below:
v. access to, training for and use of Personal Protective Equipment.
Many concerns were raised with ANMF throughout the pandemic regarding access to PPE and guidelines as to what PPE to wear in what clinical context. Certainly, ANMF and members welcomed the decision for the implementation of a Statewide PPE Co-ordinator for the public sector to ensure that PPE was not just being delivered to the clinical areas based on retrospective average use but based on current (and anticipated) clinical demand. The release of information regarding the current stockpiles and the amount of PPE that was on order also aided in reducing fear and concern that there was not enough PPE addressing the fear that supplies would run out. However, the access at the local level was often hampered due to lack of communication and understanding as to who and where to go to get additional supplies if required.
In the private and aged care sector, access to suppliers and ability to even access and replenish PPE was a huge concern for members, particularly as the outbreak continued. The National Stockpile was only delivering minimal amounts of P2 and N95 mask (2-3) to General Practice and Aged Care and at times surgical masks were difficult to access by members in these settings.
While 63.08% of ANMF survey respondents indicated that they had training and readily accessible support regarding infection control procedures and 36.92% of members reported that they didn't. Alarmingly, 41.1% of respondents indicated that they did not always have access to PPE in the clinical environment when they needed it and in addition, 78.29% of survey respondents indicated that they had not been fit checked for a mask. The question of mask use during the pandemic has been difficult, as conflicting positions have been taken by the World Health Organisation, governments and health departments. If a Work Health and Safety hierarchy of control approach had been adopted from the maximum protection would have been provided to health care workers in high risk environments from the outset.
Training for the use of PPE should also include training in the removal of PPE as this is often when accidental contamination occurs. Of course, safe and correct use of PPE adds to workloads and this needs to be considered.
Conflicting directions as to when to wear PPE remains, particularly in the acute sector where there is a higher risk of actual or potential COVID-19. Members are of the view that PPE in acute setting should have been worn all the time by all staff, a policy which has now been implemented in Victoria, along with the use of P2/N95 masks at all times when looking after a COVID-19 positive patient.
As an aside, nurses (particularly, but not only, in paediatric wards) were advised that procedures that normally required PPE – for example tracheostomy care and some wound care procedures – were to be done without PPE because that might be needed for the COVID outbreak. Regular care, and need for the use of PPE, does not stop because there is an outbreak of an infectious disease.
2. The effectiveness of directions, notices, orders and regulations made under the Emergency Management Act 2006 and the Public Health Act 1997, in respect of the North-West.
ANMF members largely supported the directions, notices, orders and regulations made under the Emergency Management Act 2006 and the Public Health Act 1997, in respect of the North West. 37.4% of respondents agreeing that these orders were very effective and 41.22% indicating that they were effective.
For those who felt that they were not effective some of the responses are outlined below:
While the broad measures were supported by members along with the paid pandemic leave and support to members who were directed to furlough and paid their usual wage, it was very difficult for members who had to enter into to isolation numerous times(especially after working only one shift at the NWRH after coming out of quarantine from the MCH only to then be required to again go into quarantine) along with their households who often were not able to work during this period.
In addition, the support for paid pandemic leave is a source of concern for members given the need for staff to be regularly tested. It is likely that if there were more cases of COVID-19 in Tasmania that the current provision for 20 days paid pandemic leave for healthcare workers would be manifestly inadequate. This is based on that fact that during the North West Outbreak some members had three periods of quarantine or six weeks in entirety.
3. The effectiveness of state, regional and local response, control, communication and co-ordination arrangements, including agency interoperability, and the co-ordination of activities with government and non-government organisations, including Public Health
Services, the Department of Health, the North West Regional Hospital and the Mersey Community Hospital.
ANMF members responding to the survey revealed that 60.32% felt that there was coordinated responses, control and communication between government and non-government organisations, including public health services, the Department of Health, the North West Regional Hospital and the Mersey Community Hospital. However, 39.68% of respondents did not agree there was sufficient coordination.
From an ANMF perspective there was excellent communication from the Minister for Health, Director of Public Health and the Secretary of the Department of Health, due to a weekly stakeholder meeting led by the Minister of Health. This allowed weekly updates on key issues, like PPE status, cases and levels of testing and discussion/information around any strategic decisions such as the overnight closure of the MCH Emergency Department. In addition, ANMF were also able to meet regularly with the State Emergency Controller who provided clear advice in terms of escalation plans, triggers for escalation and allowed member feedback to be provided to assist in this planning.
These stakeholder meetings certainly allowed the opportunity for ANMF to provide up to date communication to members seven days a week during the outbreak and also allowed issues to be escalated to a decision making level when often they were not able to get advice at the local level. An example of this was the ANMF being able to provide advice,support and direction to NWRHNUM's on to how to access information and approval for their staff to access supported accommodation through Communities Tasmania.
This one area of the response caused much confusion due to requests needing to be provided through a different agency and not all were aware of the process for Tasmanian Health Service staff to apply for supported accommodation. However, the level of detail that ANMF received and shared with members through ANMF communication channels was often found (by members) to be more detailed and timely than nurses, midwives, care workers and other health care staff were receiving in the clinical environment.
When members did not receive accurate and timely communication from their employer(s) in what was a highly stressful situation,they felt extremely frustrated, unsupported and distress as this caused a lack of confidence in the agencies and government bodies being able to work together to overcome the pandemic. Some examples of members feedback is below:
[BLANK]
4. The timeliness and effectiveness of closing the North West Regional Hospital and the North West Private Hospital in Burnie, and the impact on other health and related facilities.
There is no doubt that the closure of the North West Regional Hospital and North West Private Hospital was a difficult, but correct, decision made in an attempt to contain the outbreak. ANMF appreciated being informed directly before the public announcement was made that these hospitals would be closed as this allowed us to communicate effectively with members. It was understood that staffing some clinical areas was not feasible due to the numbers of staff affected by COVID-19. The problem of staffing was exacerbated by the inability to source sufficient staff from other parts of the state without having a cascading and detrimental impact on those areas as well.
The ANMF acknowledge that the decision to close the hospitals was timely based on the clinical situation both in terms of numbers of COVID-19, exposure of staff,the likelihood of further spread and the fact that there were insufficient clinical staff to safely staff the areas.
However, the impact on other health facilities was profound and ANMF consistently had to advocate on behalf of members to obtain additional resources to deal with changing workplace demands. This was particularly evident for members at the Launceston General Hospital Emergency Department and the Labour and Maternity Ward. Prior to the pandemic and the closure of the North West Regional Hospital the LGH ED had a long standing workload grievance in place due to sustained unreasonable workloads.
They had significant concerns about how the closure of the NWRH would impact on them. The impacts included increased presentations, longer waits for treatment, difficulty in getting patients presented triaged in a timely way, long waits for patients in the waiting room and also significant ambulance ramping. Little pre-planning seemed to occur in relation to the flow on impacts of closures on the NW coast.
In addition, members at the MCH did not feel supported with the transfer of the patients from the NWRH including those with COVID-19 over the Easter long weekend. Members reported feeling very underprepared and unsupported and felt that there was a distinct lack of on the ground leadership and support. This included not being able to access PPE in a timely way or being unable to directly communicate with management to raise and address concerns with regard infection control procedures, controlling of visitors and segregation of COVID-19 positive patients and staff. The failure to limit numbers of staff caring for COVID positive patients and the fact that people worked between the (so called) hot and cold zones, is likely to have resulted in a greater exposure to a larger number of people than was necessary.
ANMF advocated swiftly for members as discussed earlier, but the risk that the situation posed at the MCH hospital until those concerns were addressed was significant to further outbreaks of COVID-19.
In conclusion, the pandemic is not yet over. It is possible for lessons from the NW Coast to inform decision making both within Tasmania and across Australia. While it is hoped that the NW Coast experience will remain the worst of the Tasmanian experience, we cannot remain complacent.
The need for consistent support, education and training that is both theoretical, face to face and ongoing is critical for the ongoing prevention of COVID-19 transmission. It has been the case where funding and resourcing of public health and infection control nurses and dedicated trainers have been reduced over time in the Tasmanian Health Service and Public Health and at times non-existent in other sectors. The need to provide nurses, midwives and care workers with the support within the clinical environment is also essential given how critical the effective use of PPE is in ensuring staff and patients safety, During a pandemic with evolving infection control policy in line with evidence, it is even more essential that on ground support if provided to the clinicians to keep up to date with this information in a time sensitive way.
They acknowledge the work of the Tasmanian Government and Federal Governments have done to increase the supply of PPE in all sectors. However, work must focus on each clinical area and their processesto ensure that the PPE is making to the clinical area in a timely and efficient way.
The ANMF also requires that consideration is given to updating the PPE policy in Tasmanian to reflect the Victorian update that P2 or N95 masks be utilised in the clinical setting where there is high risk of possible or actual COVID-19exposure.
If a further outbreak occurs and COVID positive patients are admitted to a public hospital in Tasmania, it is essential that they be nursed in a specific area, separated from other patients, and that staff movements be limited between this group of patients and others who are currently not COVID positive. Additional staff will be a key requirement to accommodate the safe and efficient use of PPE.
Given that the need to wear PPE is exhausting and time consuming any full time staff working in a COVID positive ward area may need to be entitled to work slightly reduced hours but with no reduction in payment to ensure their own wellbeing.
Communication channels between all stakeholders at a government, health and local level must be improved to ensure that all clinical staff across all sectors(not just the public sector) are getting timely and accurate information as it is updated. Assessment and updating of staff contact information will be critical to allow immediate contact with all staff if required. Using text messages with bitly links back to key factsheets on a shared website (such as the Tasmanian Government COVID-19 website) or to Premier announcements with regard to isolation or quarantine as well as public health announcement may provide much more immediate communication with consistency of information to clinical staff which could also be achieved prior to any media communications.
The use of virtual meeting platforms to allow staff in all sectors to join in on information sessions and the opportunity to give mass updates in an efficient way should also be explored more broadly, which would enable those both in the workplace but also in home quarantine the opportunity to link in and stay up to date with key information while allowing a sense of connectedness at a time when social distancing is so fundamental.
With regard to clinical workplaces, significant analysis, capital work and strategic planning must be undertaken to address environmental issues with respect to enabling appropriate infection control measures like social distancing for the clinical workforce. In addition, focus needs to shifted to ways of working to also support social distancing with the use of digital health records and digital platforms for collaboration such as multi-disciplinary meetings and clinical handovers.
In aged care and the community, it is essential that these key clinical areas are included early in any planning and communication to ensure that the improvement plans are not just focussed on acute clinical areas. The impact on any future outbreak of COVD-19 in the community setting or aged care would likely be devastating and to that end, these clinical areas must be seen as critically important.
Staff need to be encouraged to refrain from working if they have symptoms of any infectious disease (not only COVID-19) and there should be access to a pool of casual staff by the Tasmanian Health Service in the North West to cover short term sick leave. It should go without saying that staff should not feel pressured to attend the workplace when they are unwell. An amendment to the current paid pandemic leave regulation to allow healthcare workers access to uncapped paid pandemic leave while unwell and awaiting COVID-19 test results would or when required to quarantine due to being identified as a close contact would also be a significant sign of support for staff to feel empowered and supported by their employer to take the time off work.
The ANMF would call upon the Tasmanian Government to lobby the Federal Government and the Minister for Aged Care to mandate that Aged Care Providers pass on the Fair Work Commissions amendment to the nurses and midwives award to those employees who are covered by Enterprise Agreements to ensure that our members in the aged care sector are similarly able to take paid leave when needing to access COVID-19 testing and for any period of required quarantine.
In addition ANMF would suggest consideration to urgently increase and funding to skill up clinical nurses in the public health space that can assist when an if required in the event of a further outbreak with regard to providing advice to clinical areas and also with contact tracing. The need to have clinical staff with that background knowledge of infection transmission and control is essential in the contract tracing process. It is unreasonable to expect that in the middle of a pandemic that clinical staff can be trained and supported 'on the job' to undertake this critical work in an efficient way without impacting on the workloads of the current public health staff.
Finally, the ANMF are grateful to provide this submission on behalf of members, acknowledge and support the finding of the North West Regional Hospital Outbreak Interim Report – Tas Health and look forward to working collaboratively with health providers with their implementation plans of those recommendations and those that are generated through this enquiry.
The ANMF would ask that the Independent reviewer consider keeping the verbatim comments contained within this submission confidential in the interest of not causing any further undue distress to any section of our membership who have been affected by the COVID-19 pandemic.
The ANMF Tasmanian Branch Secretary would also welcome the opportunity to provide further information and insight into members views at a time convenient to the reviewer.
---

Media release – Rosalie Woodruff MP | Greens Health spokesperson, 2 September 2020
ANMF Submission Confirms North West PPE Allegations
The ANMF submission to the investigation of the North West COVID-19 outbreak confirms many public reports about the lack of access to personal protective equipment by key healthcare workers.
The Greens raised concerns in early April with the Health Minister about the lack of PPE availability, and inconsistent and inadequate advice about its use. We also raised our concerns publicly during the following weeks.
Tasmanians have experienced first-hand the terrible reality of a coronavirus outbreak. It's crucial we take lessons from that experience and urgently apply them to reduce future risk.
We only have to look to Victoria to see what it looks like when a highly infectious virus takes hold in the community.
The reliance on locums and casuals in the North West, combined with community demographics, means the region is highly vulnerable. As well as addressing issues about PPE, the Government needs to look at how it can better structure and staff the health system going forward.
The evidence shows there were system failures in the North West earlier this year. We should now learn our lessons and take steps to make sure an outbreak like this – or worse – can't happen again.
---

Media release – Sarah Lovell MLC, Shadow Minister for Health, 2 September 2020
Nurses submission shocking but not surprising
Startling details have been provided of the lack of access to protective equipment and training that nursing staff experienced during the North West COVID-19 outbreak.
In some instances they resorted to the public health hotline for information.
Shadow Health Minister Sarah Lovell said evidence provided by the Australian Nursing and Midwifery Federation painted a damning picture of a health system that was not prepared for the pandemic.
"In the early stages of this crisis we were assured by Peter Gutwein and Sarah Courtney that the system was prepared, including with adequate stocks of PPE.
"That was clearly not the case.
"Health workers in the North West have had a horror year.
"Not only were many forced to quarantine, putting services under even more pressure, but at the height of the outbreak they were subjected to false and insulting accusations by the prime minister and chief medical officer.
"They can't work any harder than they already are and we need to recognise what they've done to serve the community."
Ms Lovell said while the issues reported today are concerning, they are not revelations.
"Nurses and other health workers, along with their unions and Labor raised these issues publicly at the time they were occurring months ago.
"This frank input from the nurses will hopefully provide the inquiry with the opportunity to really interrogate what happened, why it happened, what's been done since and what still needs to be done so Tasmanians can have confidence that our system is as prepared as it can be for any future outbreaks of infectious diseases."
Source: Tasmanian Times https://tasmaniantimes.com/2020/09/anmf-submission-nw-outbreak-review/#utm_source=rss&utm_medium=rss&utm_campaign=anmf-submission-nw-outbreak-review