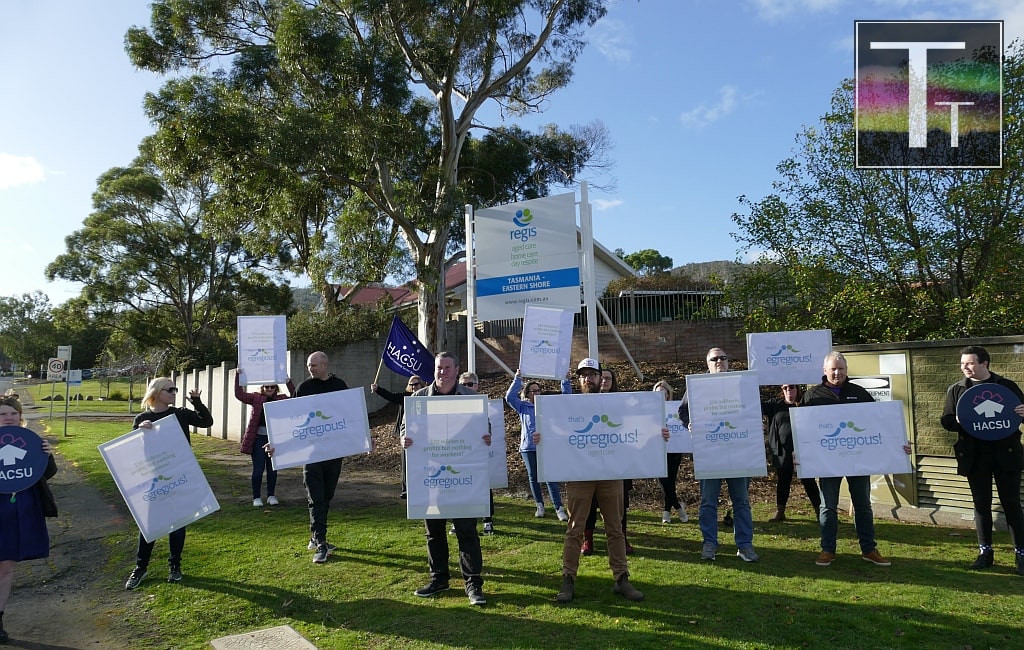 The union for aged care workers says paid pandemic leave is needed for workers at the 3 Regis facilities in Tasmania.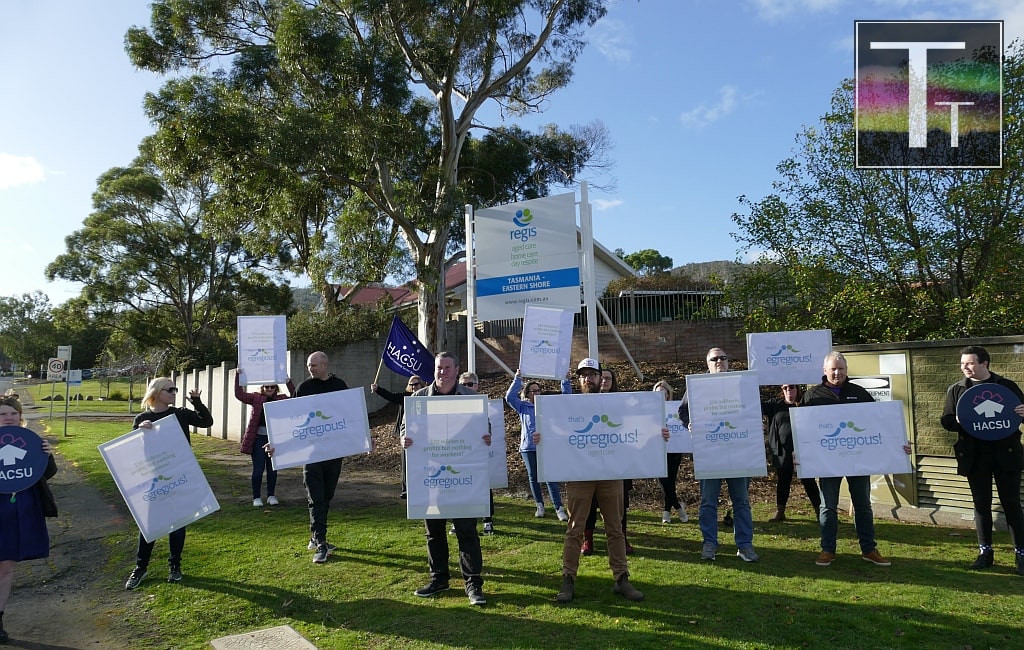 Robbie Moore, Assistant Secretary of the Health and Community Services Union (HACSU) speaking at the rally.
Workers in the aged care sector held a protest action today demanding Regis provide paid pandemic leave for workers at its Tasmanian facilities.
Robbie Moore, Assistant Secretary of the Health and Community Services Union (HACSU), said workers were 'angry' about the way they are being treated.
"Regis are a for-profit organisation who are putting money before people, by not honouring the Fair Work Commission decision to give paid pandemic leave to aged care workers for the safety of residents and other workers," he said.
Moore said HACSU had written to Regis asking them to implement the leave, and had received a brief response that effectively provided no reasons for their position.
A spokesperson for Regis Aged Care told Tasmanian Times in a brief statement: "Regis is focused on providing the best care and services for our residents, and ensuring our dedicated staff are supported financially and emotionally through the pandemic. The award variations described do not impact our enterprise agreements, which remain in operation. We are grateful for the financial support from the federal government which provides COVID-19 impacted staff access to additional leave."
Moore stated that several private aged care operators had agreed to implement the leave provisions. "Uniting Age Well, Southern Cross Care and other providers are doing the right thing but unfortunately Regis isn't and we think that's totally unacceptable and needs to be reversed," he said.
During the protest action approximately 15 people chanted and waved signs in front of the Regis aged care home in North Warrane, Hobart.
"Today we're rallying in front of a Regis aged care facility here to show them that we're going to taken this on and we're going to expose the risk they are putting the residents to by not having paid pandemic leave," Moore said.
Moore explained that the point of the leave was so that aged care workers could get tested for COVID-19 and if required self-isolate without being out of pocket.
"That's all we're asking for: simply what the Fair Work Commission handed down."
Moore said that the leave would potentially be available to hundred of workers at Regis aged care facilities in Tasmania and was 'desperately needed' by staff and residents.
The company's website shows that they provide facilities at Legana and Norwood in northern Tasmania as well as the location on Hobart's eastern shore.
Victoria
In pandemic-hit Victoria, unions cautiously greeted the introduction of a pandemic leave disaster payment of $1,500 a fortnight for workers without sick leave who need to self-isolate after a positive COVID-19 test.
Prime Minister Scott Morrison told reporters in Canberra the new payment would be available to all workers without sick leave in Victoria, and would be offered to any state that declared a state of disaster. It is being jointly funded by Victoria and the Commonwealth.
The Australian Council of Trade Unions welcomed the announcement earlier this week, but secretary Sally McManus said it "does not address the full scale of the problems which fully funded paid pandemic leave would address."
"This payment will mean that nearly all full-time workers who are forced to rely on it will take a pay cut while they isolate," she said.
Source: Tasmanian Times https://tasmaniantimes.com/2020/08/aged-care-workers-regis-pandemic-leave/#utm_source=rss&utm_medium=rss&utm_campaign=aged-care-workers-regis-pandemic-leave